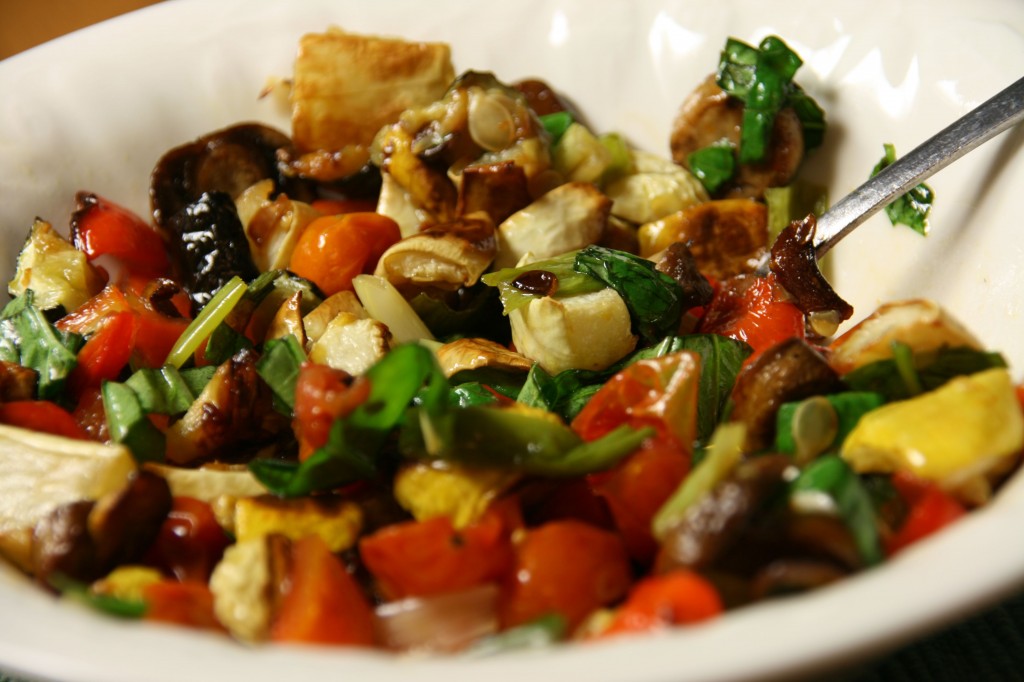 In midsummer, we're awash in fresh vegetables, and look for new ways to embrace the abundance!  Roasting is a wonderful way to bring out their sweetness.  The caramelization of the sugars imparts a subtle nutty taste. The dressing for the roasted vegetables adds a tart counterpoint to their sweetness and fresh basil is a wonderful summertime accent. Mixing green, yellow and red vegetables makes for a dish that is as pretty as it is tasty!

Roasted Summer Veggies
Recipe type:
Vegetable Side
Ingredients
1 large or 2 small zucchini,
1 large or 2 small yellow squash
1 patty pan squash (or additional yellow squash if unavailable)
1 red bell pepper, halved and seeded
1 pint grape tomatoes
8 oz sliced mushrooms
4 green onions
7 Tbsp extra virgin olive oil, divided
2 Tbsp cider vinegar
2 Tbsp honey
1 tsp kosher salt
6 large basil leaves
Instructions
Preheat oven to 450 degrees F.
Cut squashes into ¾ inch cubes.
In a large bowl toss squash and pepper with 2 Tbsp oil and ½ tsp salt.
Rub some oil on a baking sheet.
Spread squash and pepper halves on sheet and roast about 45 minutes, tossing halfway through, until nicely browned.
Toss grape tomatoes and mushrooms with 2 Tbsp oil and ½ tsp salt.
Rub some oil on another sheet pan and spread tomatoes and mushrooms on it.
Put it in the oven after the squash has roasted about 20 minutes and roast for about 25 minutes.
During the last 10 minutes of roasting coat the green onions with 1 Tbsp oil and add to roasting pan.
When veggies are done roasting and have cooled enough to handle, chop green onions and bell pepper.
Whisk together 2 Tbsp olive oil, cider vinegar and honey and toss with roasted veggies in a serving bowl.
Julienne the basil by stacking the leaves together, rolling up and slicing. Toss with veggies and serve.