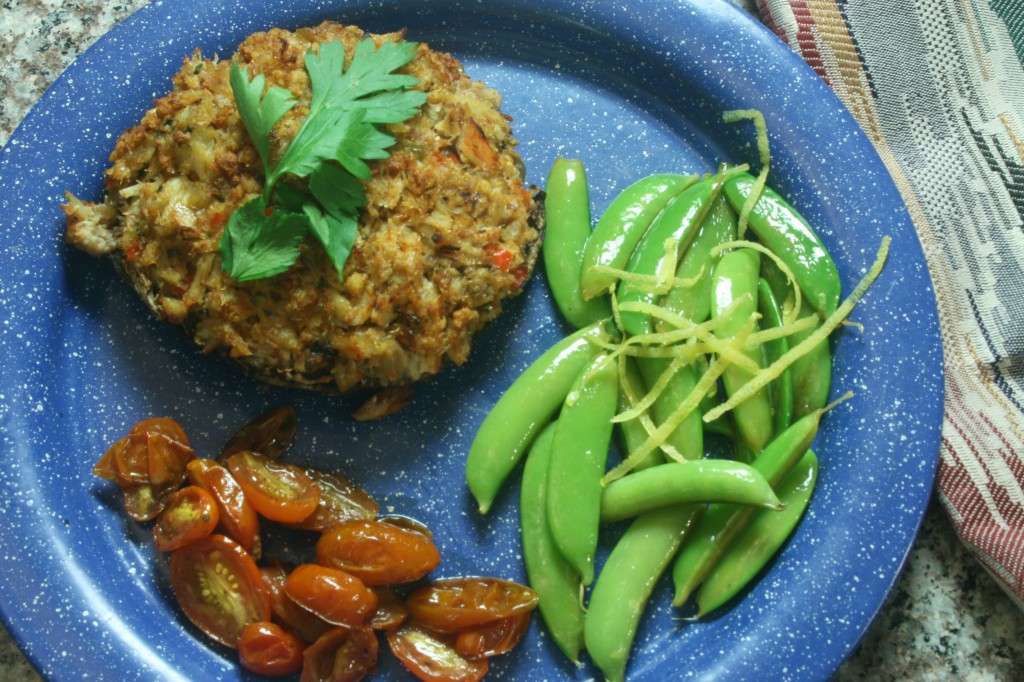 Stuffed mushrooms aren't just for appetizers anymore! Large portabella mushroom caps make a tasty entrée sized container for any number of yummy fillings. Here they hold a Creole influenced crabmeat stuffing. I roasted some grape tomatoes from the garden along with them and rounded the dish out with some lemony snap peas. Their citrusy brightness is a nice counterpoint to the richly flavored stuffed mushroom.

Crab-Stuffed Portabella Mushroom Caps
Recipe type:
Entree with Sides
Ingredients
3 Tbsp Earth Balance (has heart-healthy fat types and is dairy-free but you can use your favorite margarine or butter)
¼ cup celery, dice finely
¼ cup green pepper, diced finely
¼ cup red bell pepper, diced finely
½ cup onion, diced finely
1 Tbsp diced fresh parsley plus a few leaves for garnish
½ tsp paprika
½ tsp Old Bay or similar seafood seasoning
⅛ tsp cayenne pepper
1 tsp Worcestershire Sauce
¼ cup dry sherry plus a little more for drizzling
1 cup soft gluten-free bread crumbs (2 slices GF bread toasted and processed in a mini-chopper or food processor)
1 lb crabmeat
4 "griller" size portabella mushroom caps
Instructions
Preheat oven to 400 degress F.
In a large sauté pan, melt margarine. Add veggies and sauté over medium high heat 2-3 min until soft.
Add seasonings, parsley through cayenne pepper, and stir about a minute. Add Worcestershire and ¼ cup sherry and cook on low 6 min.
Mix veggies with bread crumbs.
Remove any pieces of shell from crab, chop and mix with veggie mix.
Remove stems and scrape gills out of caps.
Brush tops and insides with olive oil.
Stuff generously with crab filling.
Drizzle stuffed mushroom caps with a few drops of sherry and bake at 400 degrees 35-40 min until stuffing is browned on top and heated through.
Notes
Sides:

Tomatoes:
Simply cut them in halves and toss them with a little extra virgin olive oil and salt and roast them along with the mushrooms. Drizzle with balsamic vinegar when done.

Lemony snap peas:
Melt 1 Tbsp margarine over medium high heat. Add 2 cups snap peas and sauté about 2 min until tender/crisp – you want them to still have their bright green color.
Transfer to serving bowl and salt to taste.
Add juice and grated peel of 1 lemon and 1 ½ tsp honey to the pan. Heat until reduced to a syrup and pour over peas.
If you like garnish with some lemon peel ribbons.