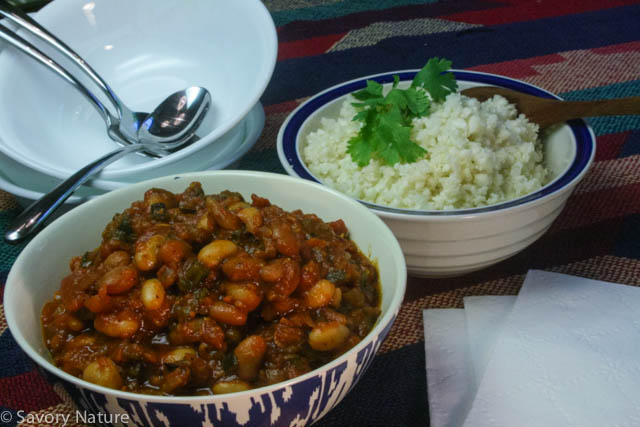 We just had a gorgeous weekend with nice dry air and morning temps around 60 degrees F. It was a hint that fall is around the corner and it got us hankering for chili. But with it still being fairly warm we wanted something brighter and fresher than those hearty meaty chilies that are so comforting on cold winter nights.
This chili is just the right blend of summer meets fall!
My husband, Greg, put his culinary thinking cap on and came up with a vegetarian chili made with fresh jalapeno and poblano peppers and Roma tomatoes that was just the right blend of summer meets fall.  It's not too heavy for a warm summer night, but will get you looking with anticipation toward those cool days ahead.

Hint of Fall Vegetarian Chili
Ingredients
5 carrots, peeled and shredded in a processor
2 medium onions, diced
1 large poblano pepper, seeded and diced
2 jalapeno peppers, seeded and diced
10 Roma Tomatoes
12 oz vegetable juice (tomato-based)
1 can pinto beans with their juice
1 can great northern beans with their juice
1 tsp chili powder
1 tsp granulated garlic
1 tsp cumin
1 tsp kosher salt
½ tsp cayenne pepper
3 Tbsp extra virgin olive oil, divided
Instructions
Fill a large pot about half-full with water and bring to a boil.
Cut out stems of tomatoes and cut X's through the skin on the bottoms of each tomato and drop them in the boiling water. Boil about a minute and then strain out the water and let them cool.
When cool enough to handle, peel off the skins.
Heat a large pot over med high heat. Add 2 Tbsp extra virgin olive oil.
Add onion and sauté 2 minutes.
Add peppers and sauté 2 minutes.
Add carrots and sauté until all vegetables are softened.
Add another Tbsp oil to the pan and add the chili powder, granulated garlic, cumin, salt and cayenne pepper. Cook stirring for about 30 seconds to extract the flavors from the spices.
Add vegetable-tomato juice.
Crush tomatoes with hands and add to pot.
Simmer covered for 20 minutes.
Add beans with their juices and simmer with cover tilted for 2 hours stirring often.
Notes
My husband read an article about cauliflower rice recently – literally rice made from cauliflower. We decided to try it as a lower carbohydrate, more nutritious version of the usual rice served with chili.

Basically you take a head of cauliflower, chop coarsely and then pulse it in a processor until the pieces are the size of grains of rice. Saute up some chopped onion and then add the cauliflower and a little salt and sauté a few minutes until softened. It worked very nicely as a light base for the chili. You can actually make pizza crust out of this stuff too! We'll be trying that in a later post so stay tuned!