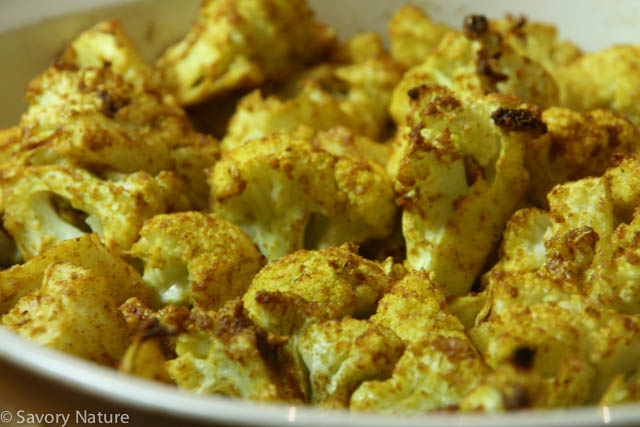 There's something about curry and cauliflower that just naturally go together. The curry really perks up the mild slightly earthy flavor of the cauliflower. Maybe that's why there are so many recipes on the Internet for curry roasted cauliflower.  This one is super simple but oh so good! The cauliflower comes out of the oven all golden brown and caramelized with a wonderful aromatic slightly nutty flavor.

Curry Roasted Cauliflower
Ingredients
1 head of cauliflower chopped into roughly bite-sized florets
1 Tbsp mild yellow curry powder
1 tsp granulated garlic (granulated roasted garlic if you can find it)
½ tsp salt
1 ½ Tbsp extra virgin olive oil
Instructions
Preheat oven to 400 degrees F.
In a large bowl toss the cauliflower with the other ingredients. Use your hands and get it well coated.
You can roast it on a cookie sheet or put it in a shallow ceramic casserole dish just large enough to fit it in one layer so that it can go straight from oven to table.
Bake for 35-40 minutes until browned and beautiful!