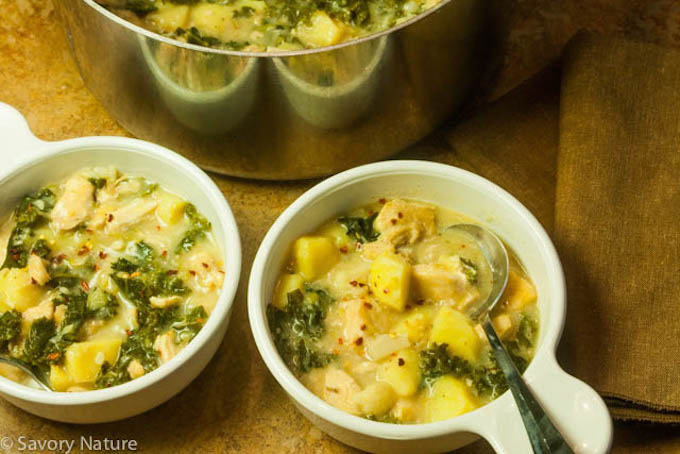 There's nothing like a stew to comfort you on a cool fall or winter evening. Most often we think beef when we think stew. But this chicken stew is wonderfully hearty. The thick broth is flavored with caramelized leeks, wine, the delicious toasted bits left in the pan from browning the flour-coated chicken pieces and just the right hint of Dijon mustard for tanginess. The chicken, potatoes and kale are oh so satisfying!
This recipe is a long time family favorite from Cooking Light magazine. My husband and I have subscribed for years and love it. I'll just post a link to the recipe, but I do have some advice for making it gluten-free. It's very simple – just substitute sweet rice flour, also known as glutinous rice flour (even though it contains no gluten) for the flour called for by the recipe. It has the same thickening capacity as wheat flour. You can find sweet rice flour in Asian markets.
I have varied the recipe a bit over the years. It calls for chicken breast and thighs, but I've made it with just chicken breasts with equally good results. I've also used Yukon Golds instead of white potatoes, which also work fine and add a little color.
Enjoy this hearty one-dish meal!