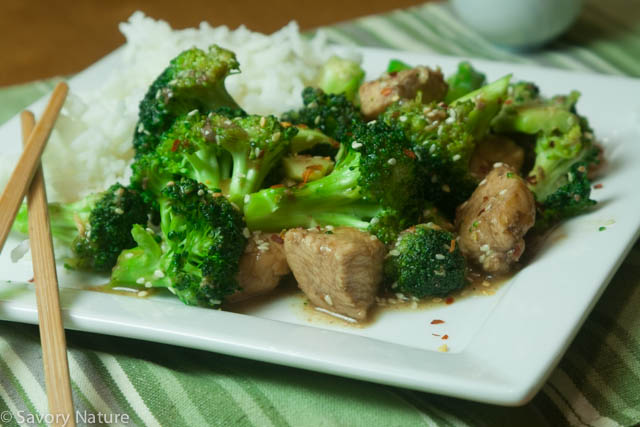 My friend Maxine first made this dish for me years ago and I liked it so much I asked for the recipe. It has since become one of my family's favorites!
Everyone has a few "Go To" recipes, favorites that you make over and over again because they're just that good and simple and comforting. This chicken broccoli stir fry is that kind of recipe! It's easy to prepare. You can even marinate the chicken the day before and then stir-fry the dish in no time. The broccoli is cooked quickly leaving it with great crunch and bright green color. That little bit of sweetness from the brown sugar is just right and makes the dish especially appealing to the kids. We add minced garlic and grated orange peel to the marinade sometimes for a more complex flavor. Either way this recipe is a keeper!

Asian Hot Sweet Chicken Broccoli Stir Fry
Ingredients
¼ cup packed brown sugar
3 Tbsp lite gluten-free soy sauce
1 tsp ground ginger
1 tsp crushed red pepper (optional according to taste)
1 ½ lbs boneless chicken breast, cubed
1 bunch or 2 crowns of broccoli, roughly chopped
2 Tbsp peanut oil
½ cup gluten-free chicken broth, divided
1 Tbsp plus 1 tsp cornstarch
2 Tbsp toasted light sesame seeds
Instructions
Combine brown sugar, soy sauce, ground ginger and red pepper in a large zip-lock bag and add chicken. Seal, toss to coat and marinate at least 2 hours.
Heat 1 Tbsp oil in a large skillet over medium high heat.
Stir fry broccoli 1 min, then add ¼ cup broth.
Cover and steam for 1 min.
Remove to large serving bowl.
Add remaining Tbsp oil to pan. Remove chicken from marinade, reserving marinade. Add chicken to pan and brown on all sides.
Add marinade to pan, cover and cook about 2 minutes until chicken is cooked through but still tender.
Stir cornstarch into remaining broth and stir into pan juices.
Return broccoli to pan and stir just until heated through and sauce is thickened.
Sprinkle with toasted sesame seeds.
Serve over rice.