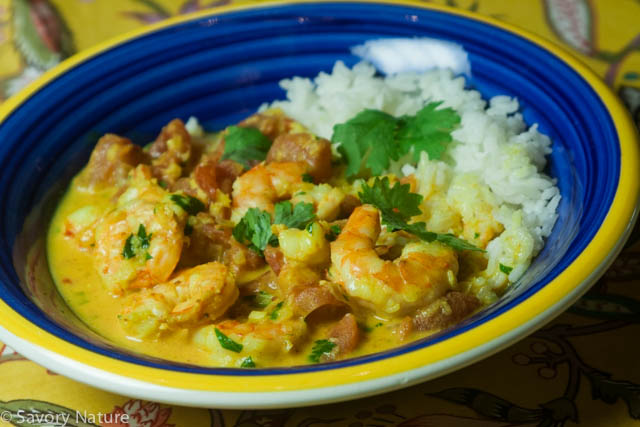 I'm a big fan of Indian food and I especially like curries. Curry is a generic term that usually indicates some blend of spices, hot peppers and a sauce although there are dry curries, too.
This shrimp curry is simple yet flavorful, and pretty, too!
In this very simple shrimp curry, aromatic spices flavor a slightly sweet creamy coconut milk sauce that really lets the taste of the shrimp shine through. The dish has a nice touch of heat from the hot curry powder and cayenne pepper. The beautiful color of this shrimp curry makes it as much a feast for the eyes as the tastebuds!
The dish is very easy to make and cooks up in no time. It's perfect for a week night dinner or for entertaining, freeing you up to spend time with your guests.

Shrimp Curry
Ingredients
1 ½ lbs shrimp, shelled and deveined
1 inch piece of ginger root, peeled
½ medium onion
1 Tbsp peanut oil
1 tsp madras hot curry powder
¼ tsp ground cardamom
⅛ tsp cayenne pepper
¼ tsp turmeric
1 14 oz can diced tomatoes
1 14 oz can coconut milk
2 Tbsp chopped fresh cilantro plus a few leaves for garnish
Instructions
Chop the onion and ginger very finely. If you have a mini-chopper/processor it will make short work of this.
Heat the oil in a large skillet over medium heat and sauté the onion and ginger about 4 minutes until onion is translucent.
Add the spices (curry powder through turmeric) and cook stirring another 2 minutes.
Add the tomatoes and coconut milk and stir scraping the browned bits from the bottom of the pan.
Increase the heat to bring the sauce to a simmer.
Cook about 10 minutes stirring occasionally until slightly thickened.
Add the shrimp and cook about 2 minutes just until the shrimp are cooked through.
Stir in the chopped cilantro.
Garnish with cilantro leaves and serve over rice.