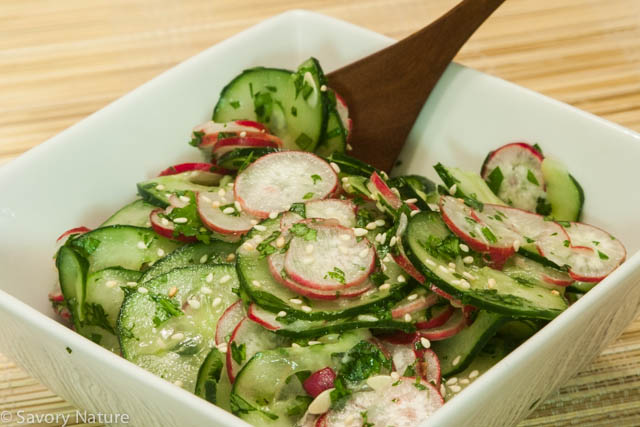 Radishes are in season locally. I got a couple of bunches of long pink radishes in my Papa Spuds box recently.  I wasn't sure what to expect when I ordered them – that's half the fun! But they tasted very much like regular radishes and so I set off to figure out what to do with them.
Using Radishes
Radishes have a very distinctive taste, which makes them a little challenging to incorporate into recipes. You can always just slice them into a green salad but their slightly bitter/hot flavor can add pizzaz to lots of dishes. Radishes are an especially good complement to cool flavors.
Cucumber and Radish and Cilantro
I have some Nepali friends who once made me a wonderful sort of salad/relish with grated cucumber and radish and cilantro. This recipe is inspired by that dish, but incorporates some other Asian flavors as well. The cool cucumber is a great counterpoint to the spicy radish, which is mellowed just enough by the rice vinegar in the dressing.
A mandolin slices the cucumber and radish thinly and quickly.
The cucumber and radish need to be sliced very thinly for this recipe. A mandolin – one of my favorite neat gadgets – does a great job. The cucumber is salted and allowed to drain to remove the excess water.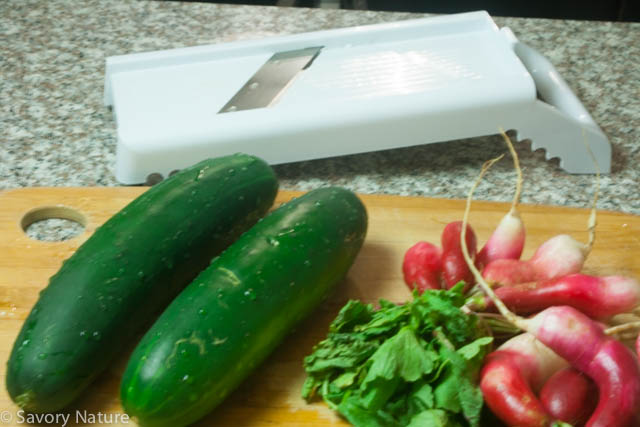 This cool, colorful cucumber and radish salad is so refreshing! Enjoy!

Asian Cucumber and Radish Salad with Cilantro
Ingredients
1 large cucumber
12 oz radishes
5 Tbsp chopped cilantro (about ½ bunch)
½ inch section of ginger root, peeled
1 Tbsp canola oil
1 tsp sesame oil
2 Tbsp rice vinegar
1 Tbsp mirin
1 tsp honey
1 tsp plus ¼ tsp salt, divided
1 tsp toasted light sesame seeds
Instructions
Slice cucumbers and radishes very thinly. Use a mandolin if you have one.
Spread cucumber slices out in a colander and sprinkle with 1 tsp salt. Toss to coat and let drain 20 minutes. Rinse and blot dry with paper towels.
You can grate the ginger root or if you have a mini-blender or mini-chopper, some more of my favorite neat gadgets, you can simply toss the piece of root in with the dressing ingredients (canola oil through ¼ tsp salt) and blend.
Mix the ginger, oils, vinegar, mirin, honey and ¼ tsp salt well.
In a serving bowl, combine the cucumber, radish, cilantro and dressing.
Toss gently to coat, separating cucumber slices as you toss so that they all get coated with dressing.
Let salad sit at room temperature about a half hour for flavors to meld and radish to mellow a bit.