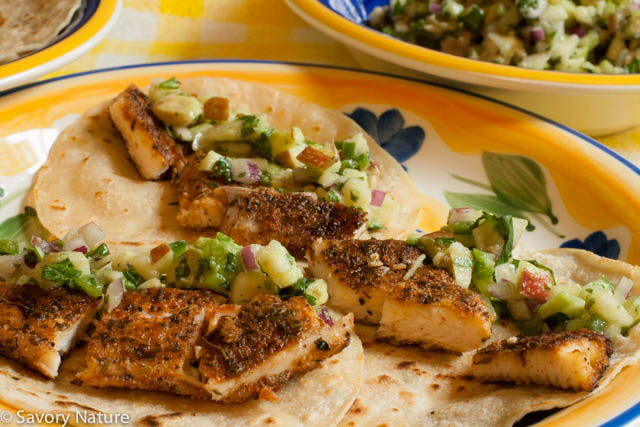 Cooking with the Season
In keeping with the season, I am declaring this apple week at Savory Nature! This actually happened a little bit by chance. I wanted to make fish tacos and thought I'd make a mango cucumber salsa to go with them – not very seasonal in October, I know – what was I thinking? Off to the store I went and no mangoes, but it occurred to me that I had some nice apples from one of my Papa Spuds produce deliveries in the fridge at home. I thought they'd make for a nice sweet note in my salsa. And wow, did it work! The sweet, slightly tart crisp apples, cool cucumber, creamy avocado, a little red onion for bite all complemented with cilantro was the perfect accompaniment to the spicy fish.
Spicy Fish
Hubby was responsible for the fish and he came up with an awesome spice mix. I'd like to give a little shout out to our spice provider, Savory Spice Shop. They have every spice you could imagine, all ground fresh every week and their prices are great. We never get our spices at the grocery store anymore. They have limited locations around the country – we're lucky to have one in Raleigh – but you can order online from them, too.
The chipotle, cayenne and smoked paprika in my husband's blend make for a nice mild heat and rich color. Some green herbs, lemon pepper and onion and garlic powder round out the flavors.
Fish Tacos with Apple!
Fish tacos with apple – why not? Give these a try and you won't be disappointed!

Fish Tacos with Apple Cucumber Avocado Salsa
Ingredients
2 Tbsp canola oil
2 Tbsp rice vinegar
2 tsp honey
½ cup chopped cilantro
1 large cucumber, peeled, seeded and chopped
⅓ cup chopped red onion
1 ripe avocado
1 apple, chopped (I recommend crisp sweet slightly tart apples like Gala, Fuji or Honeycrisp – they won't brown and will retain their crispness)
1 jalapeno, seeds and membranes removed, chopped finely
12 corn tortillas
extra virgin olive oil
1 ½ lbs catfish or firm white fish of your choice
2 tsp granulated garlic (roasted if it's available)
1 ½ tsp onion powder
1 Tbsp kosher salt
2 tsp freshly ground black pepper
1 Tbsp lemon pepper
3 Tbsp smoked paprika
1 ½ tsp ground chipotle pepper
a dash ground cayenne pepper
1 tsp dried thyme
1 tsp dried tarragon
1 tsp dried basil
Instructions
For the salsa:
To chop the avocado, cut a slit all the way around the avocado from top to bottom down to the pit.
Rotate the two halves formed and they should come apart with the pit in one side.
Tap the pit with the blade of your knife to embed it slightly, then turn the pit releasing it.
Score a crosshatch pattern through the pulp of the 2 avocado halves down to but not through the peel.
Then use a teaspoon scooped against the peel to scoop out your avocado cubes.
Mix the cilantro, cucumber, red onion, avocado, apple and jalapeno in a serving bowl.
Whisk together the canola oil, rice vinegar and honey and pour over the vegetable/fruit mixture. Toss to coat.
For the tortillas:
Heat 1 Tbsp olive oil in a large preferably heavy skillet like cast iron over medium high heat.
Add some tortillas and let them develop some brown spots on the bottom and then flip and brown the other side. Repeat adding a little more oil to the pan as necessary until all tortillas are toasted.
For the fish:
Mix all the spices: granulated garlic through basil in a small bowl.
Sprinkle the spice mixture liberally over the fish and pat it on so it's well adhered.
Using the same pan you toasted the tortillas in (who wants to do extra dishes?!) heat 1 ½ Tbsp olive oil over medium high heat and lay out the fish fillets in the pan.
Cook several minutes until the spice coating is well browned on the bottoms of the fillets.
Flip them and cook until the other side is browned and the fish is cooked through.