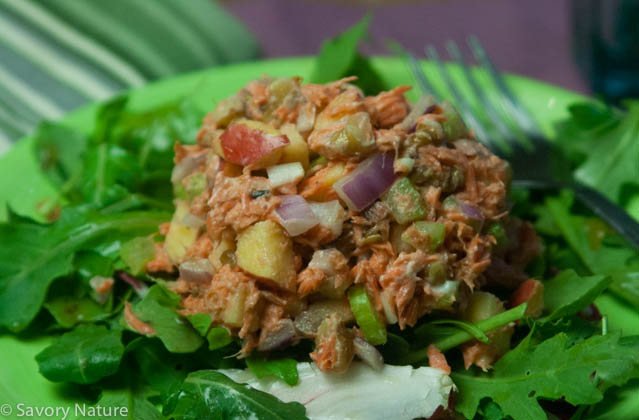 Versatile Apples
Apple week is wrapping up here at Savory Nature. Not that we won't continue to cook with apples, but maybe not every day! It's been fun to play around with apples – their sweet/tart flavor perks up lots of dishes. We've done crunchy hot and today cold salads, a fresh salsa for fish tacos and a simmered pork dish where the apples are succulently soft. Apples are a very versatile fruit and definitely not just for dessert! They keep so well that they're available all year long, but now when they're in season locally is a great time to experiment with them in recipes.
Apple Walnut Salmon Salad
Today's offering is an apple, walnut salmon salad. This is a great way to turn leftover salmon into a special lunch! I bought a big fillet of Sockeye salmon recently. When I see wild salmon on sale, I buy it! Love the taste, that beautiful color and love the omega-3 fatty acids – so good for you! It was almost 2 pounds and it made an ample dinner for four and I still had a bit leftover. So I decided to make a salmon salad. The apple and walnuts add a nice crunch to the salad. The apple is sweet. The walnuts add depth and make this a real omega-3 fest!
The dressing is kind of a cross between a vinaigrette and a mayo based dressing – just enough mayo to make it creamy but not so much that it masks the pretty look of this salad. It can be served over a green salad or you could make a sandwich of it on gluten free bread. Either way it's a seriously tasty and kicked-up lunch!

Apple Walnut Salmon Salad
Ingredients
6 oz cooked salmon, skin removed and broken into pieces
½ cup chopped celery (about 1 stalk)
⅓ cup walnuts, chopped
1 cup chopped apple
⅓ cup chopped red onion
⅛ tsp kosher salt
freshly ground pepper to taste
1 Tbsp canola oil
2 Tbsp rice vinegar
2 Tbsp mayonnaise
½ tsp honey
Instructions
Toast the walnuts in a pan over medium high heat a few minutes until you can smell them starting to toast.
Combine the salmon, celery, walnuts, apple and red onion in a bowl.
Sprinkle with the salt and pepper.
Whisk together the canola oil, rice vinegar, mayonnaise and honey and pour over salad.
Toss well to coat.
Serve over a green salad or on gluten free bread