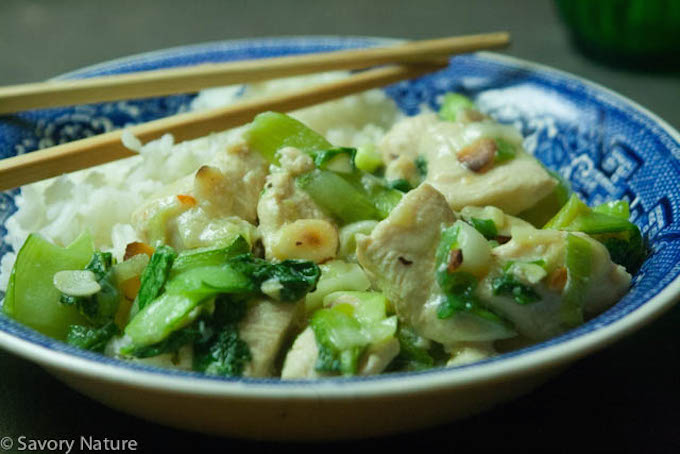 I came up with this dish because I wanted a soy-free stir-fry that my daughter could eat. Well, OH MY – it's not missing anything for the lack of soy sauce! The ginger is the real star of the sauce. It makes it so aromatic! The other flavors, the fish sauce for some umami, some acid, some sweetness, the toasty sesame and just a tiny bit of heat all balance it out beautifully. And the chicken is so tender! The whole family loved this chicken with baby bok choy!
Cooking Techniques
It's kind of a mish-mash of techniques. The combination of the sherry, vinegar and the cornstarch in the marinade really tenderize the chicken. There's a technique called velveting in southern Chinese cuisine that takes advantage of this type of marinade although it involves egg and the cooking steps are a bit different than what I've done here. Nonetheless, the similarities to velveting make the chicken come out super tender. The bok choy is stir-fried, but the chicken is turned in the skillet until just white on all sides (similar to velveting) and then finishes cooking by simmering/steaming in the marinade, which becomes the sauce.
Asian Chicken with Baby Bok Choy in White Sauce Is Quick and Delicious!
The crunchy bok choy, almonds and scallions perfectly complement the silky sauce and tender chicken. Other than the marinating time, which can be done overnight, this dish cooks up quickly. It's perfect for a weeknight when you're looking for something satisfying, healthy and out of the ordinary!

Asian Chicken with Baby Bok Choy in White Sauce
Ingredients
2 chicken breasts, trimmed of fat and cut into 1 inch cubes
3 Tbsp fish sauce
3 Tbsp rice vinegar
¼ cup dry sherry
1 Tbsp toasted sesame oil
1 Tbsp honey
1 Tbsp finely chopped fresh peeled ginger root
1 garlic clove, minced
Pinch red pepper flakes
⅛ tsp salt
1 Tbsp cornstarch
6 oz baby bok choy, cut into 1 inch slices (You can use regular bok choy – just chop it into roughly bite-sized lengths.)
3 green onions, chopped
¼ cup sliced almonds
2 ½ Tbsp peanut oil, divided
Instructions
Whisk together fish sauce through cornstarch to make marinade.
Mix marinade with chicken in a large zip-lock bag and marinate in the refrigerator 2 hours or overnight if more convenient.
Heat a large skillet over medium high heat and toast almonds until lightly browned.
Remove almonds to a bowl.
Heat 1 Tbsp peanut oil in skillet over medium high heat.
Stir-fry bok choy about 3 min until wilted and thicker portions are tenderized a bit but still have some crunch.
Remove to bowl with almonds.
Heat another 1 ½ Tbsp oil in skillet.
Remove chicken pieces from marinade and add to skillet, reserving marinade.
Cook chicken pieces, turning and rearranging as necessary to make them white/opaque on all sides, about 6 minutes.
Add marinade to pan, scraping bottom of pan with a wooden spatula to bring up any browned bits, cover and simmer about 3 minutes until chicken is steamed through.
Add bok choy, almonds and green onions to pan and stir about 2 minutes until heated through.
Serve over rice.