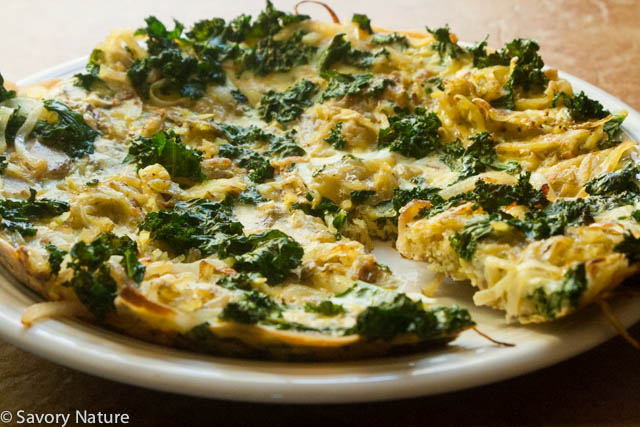 Eggs, sweet caramelized onions, browned shredded potatoes and hearty kale – how can you go wrong with this kale onion potato frittata? This is a comfort food kind of dish. And it could be breakfast, lunch, dinner or all three, although it doesn't tend to stay around long enough for all that! Three of us had it for dinner and my daughter happily took the rest for lunch the next day. The potatoes are key to the comfort factor, but the sweet caramelized onions, earthy kale and protein-rich eggs really round it out and make it a meal. You can't really tell there's Dijon mustard in there but it gives the frittata a subtle tanginess and the cayenne pepper adds a gentle heat.
Make this kale onion potato frittata stress-free!
It doesn't take long to shred the potatoes on a grater, but if you like you could substitute frozen shredded hash browns and just cook according to the instructions on the package. You could also prepare the frittata through the point where you add the eggs and refrigerate it overnight. Then bake before mealtime – the frittata will take longer to cook being cold from the fridge but just bake until the eggs are set.
This kale onion potato frittata would make an attractive and satisfying brunch offering or a great simple supper!

Kale Onion and Potato Frittata
Ingredients
1 medium onion, sliced thinly
1 clove garlic, minced
2 cups packed shredded potatoes (about ¾ lb)
2 cups packed chopped kale
6 large eggs
½ tsp salt
freshly ground black pepper to taste
⅛ tsp ground cayenne pepper
1 tsp Dijon mustard
3 ½ Tbsp extra virgin olive oil, divided
Instructions
Preheat oven to 350 degrees F.
Heat 1Tbsp oil in a large non-stick skillet over medium heat.
Add onions and cook them stirring occasionally about 15- 20 min until soft and lightly browned. Remove to a bowl.
Heat 1 ½ Tbsp oil over medium high heat and toss potatoes with oil. Spread out in pan and cook 5-6 minutes until browned on bottoms.
Flip and cook about another 5 minutes until browned on other side. Remove to bowl.
Add 1 Tbsp oil to pan and kale and cook over medium heat a few minutes until wilted – it will still have a bit of curliness to it.
Turn off heat.
Add onions and potatoes back to pan and toss to mix.
Spread mixture evenly.
Beat eggs, salt, pepper, cayenne pepper and Dijon mustard to mix well.
Pour egg mixture over onion, potato, kale mixture and swirl pan to evenly coat.
Place pan in oven and bake for 15 minutes until egg is set.