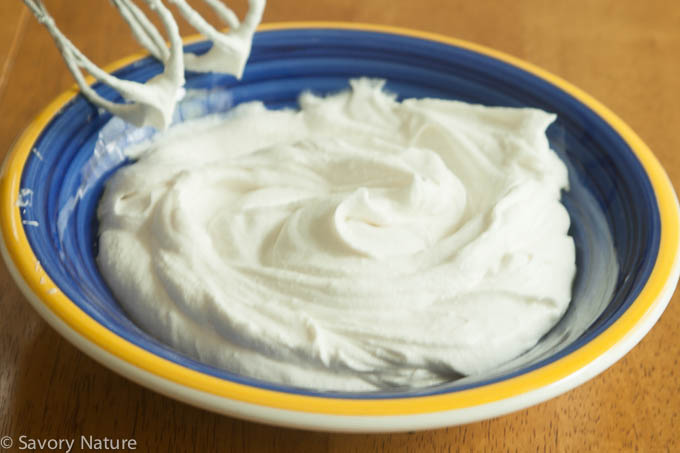 I learned this technique from Angela at the vegan blog, Oh She Glows. This dairy free whipped cream is so simple and tastes great! Even your dairy-eating friends will love it!
It starts with a can of full fat coconut milk. It has to be full fat, not light. Something that happened after the first time I made this – most of the manufacturers started adding emulsifiers, such as guar gum or xanthan gum to prevent separation. Good if you need uniform coconut milk for, say, a curry, but bad for whipped cream! This recipe depends on the cream separating from the water in the refrigerator, and then you whip the cream. Angela Buchanan at Seasonal and Savory tells me that Native Forest brand, even though it does have a little guar gum, seems to separate well, and that some brands carried by Asian groceries do not have the emulsifiers. So check your can ingredients. Trader Joe's also sells a canned coconut cream that is just about all cream, very little water, that works well for this.
Put the can in the fridge overnight – you need that much time for the layers to separate. After the chill, flip the can upside down (this will usually put the liquid on top, cream on bottom), open, pour off the liquid and you'll be left with a stiff thick cream that's settled out.
Scrape it out into a mixing bowl and beat it like crazy with a hand mixer or stand mixer. And magically it will get fluffy!
Add 1 Tbsp granulated sugar or you could use honey and ½ tsp vanilla extract and beat some more to mix. That's it!
You can store it in the fridge. It will harden up a bit, so just rewhip it before you serve. Top your favorite dessert with it, dig in, and prepare to be amazed! It looks, feels and tastes just like whipped cream with a pleasant hint of coconut.