Happy day after Thanksgiving! And on to the leftovers! Of course Thanksgiving leftovers are wonderful just heated up and done all over again. And an open-face turkey sandwich smothered with gravy is a classic. Here are a couple quick ideas that are something a little bit different.
Pan-fried Stuffing with Fried Eggs
Heat a couple of tablespoons of oil in a non-stick skillet. Spread some stuffing out in the pan and sauté it until it's browned and crispy. Transfer to serving plates. Add a little more oil to the pan and fry some eggs however you like them. Top the stuffing with the eggs. Breakfast is served!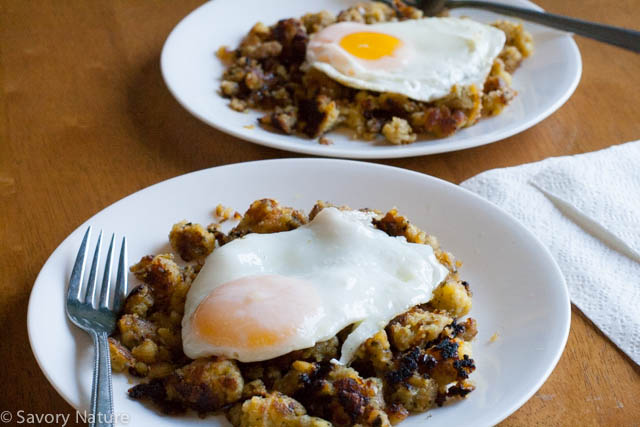 Grilled Turkey Sandwiches with Cranberry Apple Chutney
Warm some turkey slices in the microwave – just until barely warm. Heat a little oil in a skillet. To make sandwich, layer turkey, cheese if you like (preferably reduced fat), and cranberry apple chutney (or cranberry sauce) between 2 pieces of gluten-free bread. Place sandwich in hot oil and cover pan. Cook until browned on one side. Flip, cover and cook until browned on the other side. Serve with your favorite pickle if you like. See the pepperoncini in the picture – I love those things – I snack on them all the time!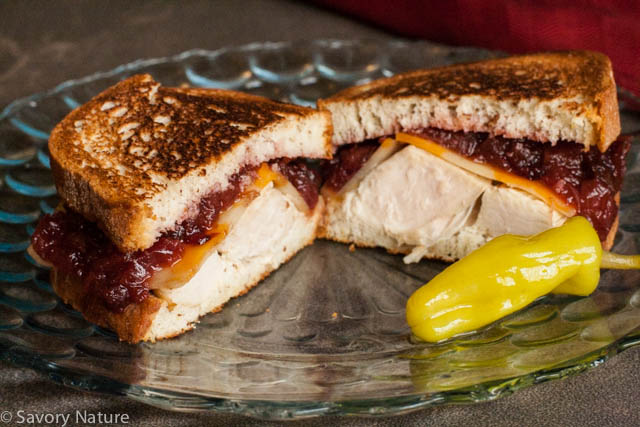 Enjoy those Thanksgiving leftovers – you worked hard for them!