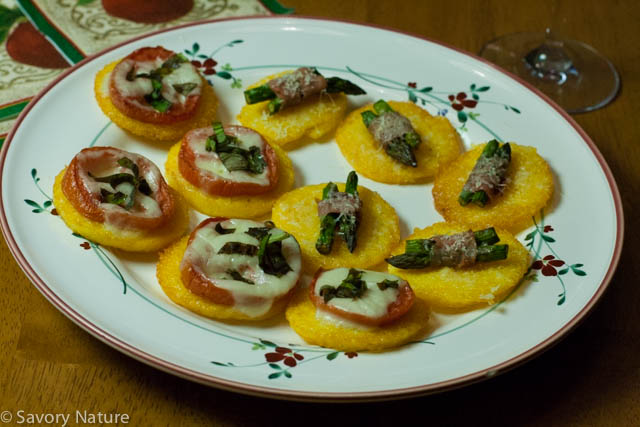 With Thanksgiving falling so late this year, it seems like there's hardly any time until Christmas will be here! The holiday season is kind of a whirlwind of cooking and entertaining. It's a great time to reconnect with family and friends. Appetizers tend to move front and center – what better way to socialize than with a glass of wine and some tasty bites – but this can be challenging for a gluten free diner/cook.
Polenta makes a great appetizer base.
As gluten sensitivity and intolerance become more well-known, more and more people are finding out they feel better on a gluten-free diet. But gluten-free foods don't have to be just for the gluten-sensitive. They can be enjoyed by all! Polenta makes a crispy on the outside, creamy on the inside, tasty base for an array of toppings.
Polenta Appetizers
Here I share a general technique for making baked polenta appetizers. I offer a couple of topping options: Roma tomato slices topped with mozzarella and fresh basil, and asparagus wrapped in prosciutto and sprinkled with grated Parmesan. You could use Daiya mozzarella instead if you're dairy sensitive. But polenta appetizers don't have to have cheese either. You can top them with pretty much anything. An olive tapenade would work nicely maybe topped with a piece of roasted red pepper. Let your creativity run wild!
Everyone will love these polenta appetizers!
These warm, tasty bites will be savored by both your gluten-free and "regular" friends. And they're great for bringing along to parties, too. If you're gluten-sensitive, you know there'll be at least one dish you can eat and you'll be introducing the crowd to the wonderful possibilities of polenta!

Polenta Appetizers
Ingredients
1 tube of polenta
3 Tbsp extra virgin olive oil
1 bunch asparagus (you'll probably have some leftover for another use)
3-4 Roma tomatoes
2-3 slices prosciutto
Some thin mozzarella slices and a little grated Parmesan
A few fresh basil leaves, julienned
Instructions
Preheat 425 degree F oven with a sheet pan in it.
Slice polenta into ¼ inch thick rounds.
Break stem ends off asparagus and cut into 1 ½ inch long pieces.
Cut Roma tomatoes in half crosswise and scoop out watery pulp and seeds.
Slice Romas crosswise into ¼ inch slices.
Trim fat from edge of prosciutto and then cut in half crosswise and then slice into 1 inch wide strips.
Wrap each prosciutto strip around 2 pieces of asparagus. (It looks nice if one of the pieces is the tip of the asparagus spear.)
When oven is preheated, remove pan and pour oil into pan and brush it around to coat.
Arrange polenta slices on pan.
Bake 25 min.
Flip.
Top with toppings (asparagus wrapped in prosciutto or seeded sliced Roma tomatoes – no cheese yet. The vegetables are going to roast as the polenta rounds finish baking.)
Bake 10 min.
Top with mozzarella for tomatoes and grated parmesan for asparagus.
Bake 6 min until cheese melts.
Top tomatoes and mozzarella with some fresh basil strips.
Notes
If you're taking this along to a party, bake up to the point where you top with the cheese. Arrange on an oven-safe serving plate. Top with the cheese and basil but don't bake and just heat for a few minutes in the oven when you get there.