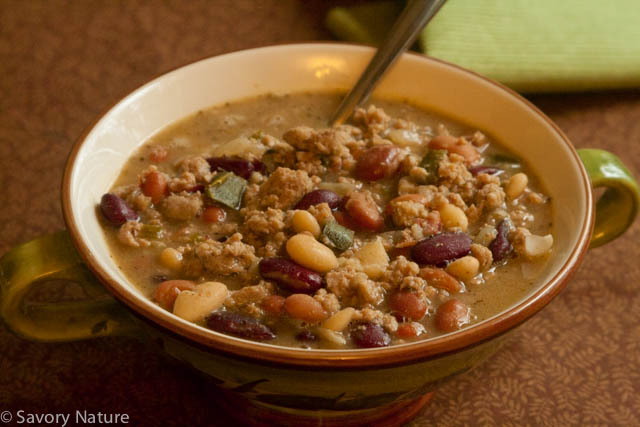 This white chili actually has a little bit of color. It's white because it's made with ground turkey and no tomatoes but colorful with three beans including dark red kidney beans, and the fresh peppers add some color too. This white chili recipe is more delicately spiced than your standard red chili, but still packs plenty of flavor and a gentle heat. If you have some diners who can't handle a whole lot of heat but like spicy food, this white chili could be your dish! It's simple to make and simmers for quite a while giving you time to socialize or just get some evening chores done. It could be done a night ahead. Like most chilis, this white chili is even better reheated! And what's more comforting on a cold fall or winter night than a hot bowl of chili?

White Chili with Three Beans
Ingredients
27 oz lean ground turkey
1 onion, chopped
1 jalapeno pepper, seeded, membranes removed, chopped finely
1 poblano pepper, seeded and chopped
2 cloves garlic, minced
3 Tbsp extra virgin olive oil, divided
1 cup chicken stock
1 cup white wine
1 can pinto beans with juice
1 can great northern beans with juice
1 can dark red kidney beans, drained and rinsed
1 tsp ground cumin
½ tsp ground coriander
½ tsp dried oregano
1 tsp rubbed sage
⅛ tsp ground cayenne pepper
Instructions
Heat 1 ½ Tbsp oil over medium high heat in a large pot.
Add onion and peppers and sauté a few minutes until onion is softened.
Add garlic and sauté just until aroma comes and then transfer vegetables to a bowl.
Heat remaining 1 ½ Tbsp oil over medium high heat and add turkey to pan.
Cook stirring and breaking up turkey until it is fully browned.
Add the rest of the ingredients: chicken stock through cayenne pepper.
Add the sautéed vegetables back in.
Bring to a boil and then turn down heat and simmer covered for 45 min stirring occasionally.
Tilt lid to allow some liquid to evaporate and simmer about another 30 minutes.