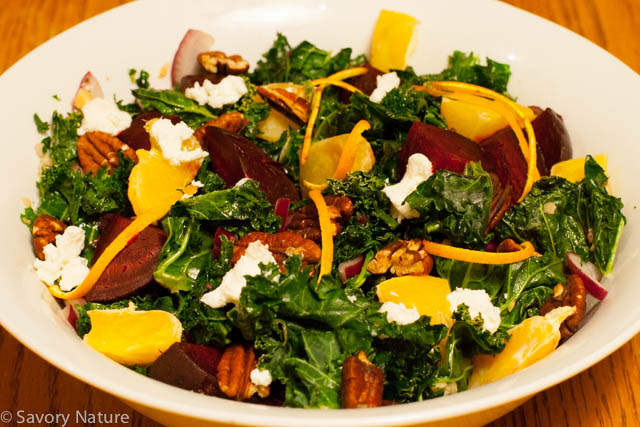 Kale is so versatile and healthy!
Kale is so popular these days and with good reason. It tastes great cooked as a side dish or adds heartiness to stews and it can even be roasted to make crispy kale chips. Raw kale makes a great salad base with way more nutritional value than lettuce. Kale is rich in vitamins A, C and K, and in lutein and zeaxanthin, which are important for eye health. It's a good source of several minerals and as a cruciferous vegetable it contains glucosinolates, which may protect against cancer.
Kale salad with roasted beets, oranges, pecans and goat cheese packs plenty of flavor and nutrition!
This kale salad with roasted beets, oranges, pecans and goat cheese is jam packed with flavor and nutrition while being low in calories. How can you go wrong with that combination? The carmelized beets have a warm sweetness while the oranges are bright and sweet. Beets contain betalains that have antioxidant and anti-inflammatory properties and are involved in detoxification. Oranges are rich in vitamin C, which among other functions, helps the immune system work more effectively. The pecans and creamy goat cheese make this salad satisfying while providing essential fatty acids and calcium.
This colorful kale salad is so appetizing!
This colorful kale salad is so visually appealing! And it makes a great lunch or even light supper or serve it as a side dish. Any way you go, you'll be satisfying your palate and fueling your health!

Kale Salad with Roasted Beets, Oranges, Pecans and Goat Cheese
Ingredients
2 small navel oranges: 1 for juice for dressing, 1 for segments and zest strips
1 clove minced garlic
½ inch section fresh ginger root, peeled and minced
¼ cup canola oil
1 bunch kale (about 4 cups chopped)
3 beets
olive oil
½ cup pecans
2 oz goat cheese
¼ cup sliced red onion
½ cup water
1 Tbsp sugar
Instructions
Preheat oven to 400 degrees F.
Wash beets, dry, rub with some olive oil, seal in a packet of aluminum foil, place on a sheet pan and roast about 1 hour until a fork penetrates easily.
While the beets are roasting, toast the pecans in the oven for about 5 minutes until you can start to smell their aroma.
While beets are roasting, whisk together juice of one orange, garlic, ginger and oil.
Cut red onion slices in quarters, break apart and submerge in dressing for a half hour to take bitter edge off onion.
Meanwhile, tear kale leaves away from stems/ribs, discard stems/ribs and chop leaves.
Use a peeler to peel a few pieces of peel off remaining orange.
Scrape any white pith that's on the peels off with a paring knife.
Cut peels into very narrow julienne strips.
Place peel strips in a microwave safe container with ½ cup water and 1 Tbsp sugar and microwave on high for 5 minutes to remove their bitterness.
Take peel off orange, separate segments and cut segments in half.
Once cool enough to handle, rub skins off beets and cut into roughly 1 inch pieces.
Toss kale with dressing about a half hour before serving to soften kale a bit.
Just before serving, lightly mix in orange segments, pecans and beets.
Crumble goat cheese over salad and garnish with julienne strips.