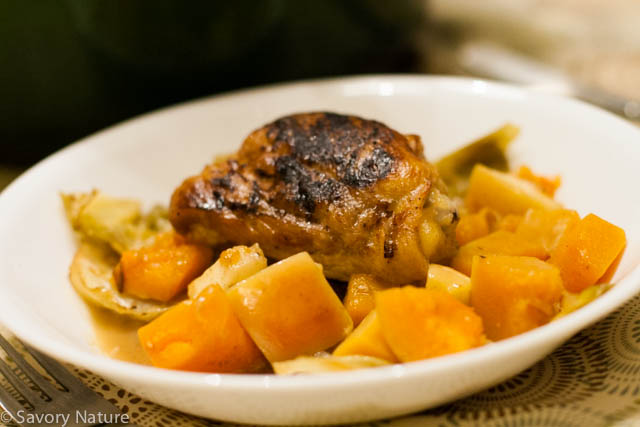 Don't you love one-dish meals? Easy clean-up. A little bit of work on the front end and then they generally bake or simmer while you get to relax. And the flavors all meld into a concert of goodness during the cooking!
The One-Dish Process
Here's an overview of the process. We start by flouring and browning the chicken in a Dutch oven and setting it aside. Then sauté some onion, briefly wilt the cabbage and sauté the garlic all in the same Dutch oven. Deglaze with wine, add the seasonings, cider, chicken stock and squash. Top it off with the chicken and bake for 45 minutes adding chopped apple in for the last 10 minutes so it cooks but retains some crunch.
East meets West in this aromatic savory, sweet chicken dish.
Don't be afraid to mix your cuisines! This chicken dish has a little bit of East meets West going on in the flavors and it really works! Aromatic star anise, lemon grass and cinnamon gently complement the sweet cider and savory chicken stock and wine. The squash, apple and cabbage round out the sweet/savory balance and provide a nice blend of soft and crunchy textures.
Chicken, Squash, Apples and Cabbage – Pretty and Nutritious!
This chicken, vegetable and fruit dish is colorful, comforting and nutritious with plenty of fiber, vitamins and minerals. The cabbage, being a cruciferous vegetable has the added benefit of glucosinolates, which may help prevent cancer.
This is the perfect one-dish meal to comfort and nourish you on a cold winter night!

Chicken Thighs with Apple Cider Stewed Squash and Cabbage
Ingredients
1 Tbsp bacon fat (adds flavor but use all canola oil if you prefer)
1 Tbsp canola
6 chicken thighs
1 medium onion, sliced and slices cut in quarters
1 clove garlic, minced
1 medium to large butternut squash
½ large head of cabbage
1 apple
½ cup rice flour (or sweet rice flour)
1 tsp salt
generous grind of black pepper
½ cup dry white wine
½ cup chicken stock
½ cup apple cider
1 stalk fresh lemon grass
1 whole star anise
¼ tsp cinnamon
Instructions
Preheat oven to 325 degrees F.
Remove skin from chicken thighs and trim of as much fat as possible.
Peel butternut squash, cut off ends, cut in half top to bottom, scoop out seeds and cut into roughly 1-inch cubes.
Remove outer leaves of cabbage, cut out core and chop into 1 – 2 inch chunks.
Combine rice flour, salt and pepper in a shallow bowl.
Heat the bacon fat and oil over medium high heat in a Dutch oven.
Dredge chicken pieces in flour mixture, shake off excess and place pieces in hot oil.
Cook about 1 – 2 minutes until browned, then flip and brown on the other side.
Remove chicken to a plate.
Add onions to pan and sauté a few minutes until just starting to brown.
Add cabbage to pan and cook stirring 1 minute.
Add garlic to pan and stir until aroma comes.
Add wine and simmer, scraping bottom with a wooden spatula until reduced by about half.
Add cider and stock to pan.
Stir in star anise and cinnamon.
Cut ends off lemon grass and remove outer layer if loose. Cut into 3 inch lengths and tap on pieces with the back of a knife to bruise. Add to liquid in pot.
Add squash cubes to pot and stir in. Make sure onion, star anise and lemon grass stay in liquid at bottom of pot.
Place chicken thighs, meaty side up on top of squash/cabbage mixture.
Place pot in oven and bake 35 minutes.
Chop apple into 1-inch pieces. Add into pot below chicken and bake an additional 10 minutes.
Serve chicken in shallow bowls with some vegetables and broth.