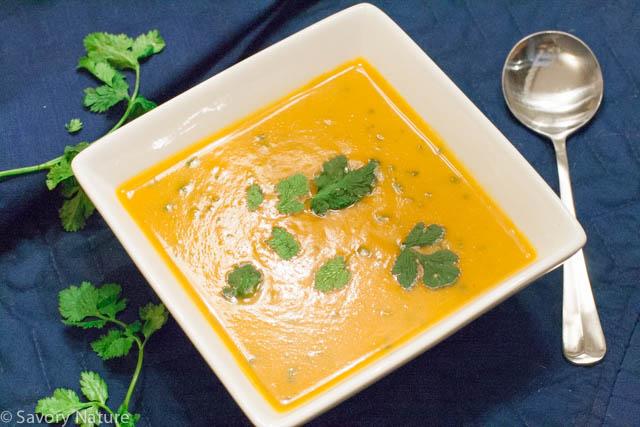 My son had his wisdom teeth removed recently. He took a lot of kidding about losing his smarts as a result.  But seriously, seeing as he had to eat soft foods for a while, it was a perfect opportunity to devise a tasty creamy soup. I love sweet potatoes – that subtle sweetness, satisfying starchiness and gorgeous color – they're awesome turned into a creamy soup! Sweet potatoes are high in fiber, a great source of vitamin A and perhaps less well known, are also fairly rich in vitamin C.
Thai flavors punch up this sweet potato soup!
Thai ingredients really punch up the flavor of this sweet potato soup. The ginger, cumin and coriander add wonderful aromatic notes. The fish sauce adds that hard to describe but essential umami. Cayenne pepper provides a nice kick. And the almond paste lends richness to the sweet potato soup.
Variations you can make.
Peanuts are perhaps more typical in Thai cooking than almonds and you can substitute 3 Tbsp peanut butter if you prefer for the almond paste. I used almonds because my daughter is allergic to peanuts, but I have to say the almonds gave the soup a really nice flavor and I think I actually prefer them. People either love or hate cilantro. Personally I love its almost lemony, fresh flavor but if it tastes like soap to you, just leave it out. I used chicken stock in this recipe, but if you want a vegetarian/vegan version just substitute vegetable stock and either soy sauce or chickpea miso for the fish sauce (see recipe below).
This Thai sweet potato soup tasted so good I wanted to go finish what was left in the pot right after dinner, but hubby played calorie policeman and talked me into leaving it for a snack another day. It was just as delicious the second time around!

Thai Sweet Potato Soup
Ingredients
2 Tbsp olive oil, divided
⅓ cup slivered almonds
1 medium shallot, diced
1 inch section of ginger root, peeled and grated
3 medium cloves garlic, minced
2 lbs sweet potatoes, peeled and cut in 1-2 inch cubes
4 cups chicken stock (or vegetable stock)
1 14-oz can light coconut milk
2 Tbsp fish sauce (or 1 Tbsp gluten-free soy sauce or 1 tsp chickpea miso)
½ tsp ground cumin
½ tsp ground coriander seed
¼ tsp cayenne pepper
½ tsp salt
generous grind of black pepper
2 Tbsp chopped fresh cilantro plus some leaves for garnish
Instructions
In a large pot, heat 1 Tbsp oil over medium high heat.
Add almonds and toss until browned. Remove to a bowl and allow to cool.
When cool process in a processor or mini-blender until the almonds form a paste/butter.
Heat remaining Tbsp oil over medium heat.
Sauté shallot and ginger about 2-3 minutes until shallot is softened and ginger is aromatic.
Add garlic and sauté 30 seconds to a minute until aroma comes.
Add some of stock to about ½ inch depth in pan and scrape bottom of pan with a wooden spatula to release any browned bits.
Add rest of stock and coconut milk scraping any fat from can into pot.
Mix in fish sauce (or soy sauce or miso), almond paste and spices: cumin through black pepper.
Add sweet potatoes and bring to a boil.
Reduce heat and simmer covered about 15 minutes until sweet potatoes are fork tender.
Use an immersion blender to puree soup or pour it in batches into a blender and puree.
Mix in chopped cilantro and serve garnished with a few cilantro leaves.