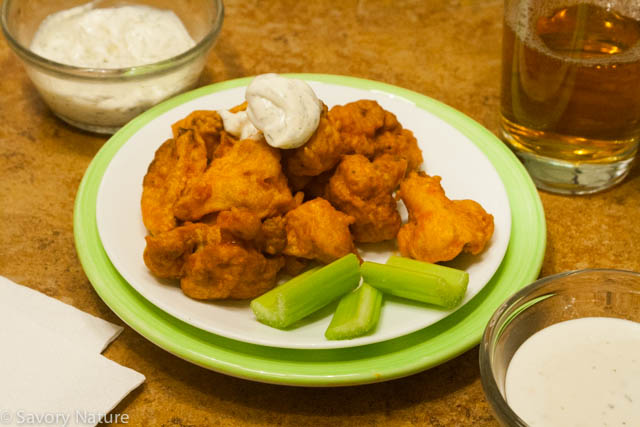 Oh my gosh! You won't believe this stuff! You'll almost swear you're eating buffalo chicken. This Buffalo cauliflower is so good! We made it New Year's Eve and made it again a week later. Even my son who's in that early 20's burgers, bacon, chicken biscuits and French fries stage loved this recipe!
Buffalo Cauliflower Even Better Gluten-Free!
The idea for Buffalo cauliflower comes from J. Kenji Lopez-Alt at SeriousEats.com. I used his hot sauce but used my own gluten-free tempura batter. I actually prefer the texture of this rice flour-based batter to wheat flour batter for deep-frying. It produces a lighter, crispier coating.
Bleu Cheese, Dairy-Free or Vegan Dips are tangy and cooling.
I provide some dip options in the recipe from the standard blue cheese dressing to a dairy-free lemon dill mayonnaise that can also be made with vegan mayonnaise. And I have to say the non-dairy and vegan dips aren't just settling – they're really good!
There are so many things you can do with cauliflower!
Cauliflower is showing up in all kinds of interesting low carb, paleo and vegan recipes from cauliflower rice to cauliflower pizza crust to cauliflower steak. Cauliflower is low in carbohydrates, high in fiber, is a member of the healthy cruciferous vegetable family and has a surprising ability to mimic meat or grains when cooked creatively.
This buffalo cauliflower recipe is a shining example of the versatility and downright deliciousness of cauliflower!

Gluten Free Buffalo Cauliflower
Recipe type:
Appetizer or Side
Ingredients
For the Buffalo Cauliflower
1 large head cauliflower, cut into roughly 1 inch florets
2 egg whites (substitute 2 Tbsp tapioca starch for a vegan version and add 1-2 oz more seltzer water - the batter should be thick enough to coat the cauliflower well but thin enough that the excess runs off easily)
2 cups white rice flour plus more for dredging (I prefer the really fine white rice flour you find at Asian groceries (not glutinous rice flour - just regular).)
10 oz seltzer water
½ tsp salt
½ tsp garlic powder
generous grind of black pepper
peanut or rice bran oil for deep-frying
⅓ cup hot sauce such as Frank's
1 medium garlic clove, minced
celery sticks (optional)
For the Dips
Your favorite bleu cheese dressing (Ken's light is very good)
Or for a dairy free dip
⅔ cup mayonnaise
2 tsp lemon juice
1 tsp dried dill weed
Or for a vegan dip
Simply substitute one of Veganaise's or Smart Balance Mindful Mayo's mayonnaises in the dairy-free dip above. These are made with a variety of oils and include some soy-free versions.
Instructions
To make the dips simply whisk together the ingredients until well blended.
Preheat oven to 200 degrees F (for keeping batches warm while you finish frying).
Line a baking sheet with a couple layers of paper towels.
Heat oil in a large pot or preferably Dutch oven (which retains heat better) to 350 degrees F.
Meanwhile mix flour, salt, pepper and garlic powder.
Whisk egg whites in a small bowl. (Substitute 2 Tbsp tapioca starch for a vegan version.)
Add egg whites to flour and whisk to mix (texture will be uneven).
Add seltzer water and whisk well, breaking up any lumps against side of bowl, until smooth. (If doing vegan version, add an extra 1-2 ounces seltzer water to get right batter consistency.)
Place ⅓ to ½ cup of rice flour in a shallow bowl for dredging.
Dredge cauliflower pieces in flour, shake off excess, then dredge one piece at a time in batter, allow excess to run off and then drop into hot oil.
Repeat with several pieces of cauliflower but do not crowd pan – you'll need to do a few batches.
Fry about 4 minutes, (if they go a bit longer it's not a problem) periodically stirring them around, keeping an eye on the oil temperature and adjusting the burner heat as necessary to keep the oil as close to 350 degrees F as possible. If it gets a bit hotter don't worry but you may find the florets appear browned and crispy before the 4 minutes are up – it's ok to take them out a little early.
Use a slotted spoon or slotted rounded spatula to remove the cauliflower from the oil and place on the paper towel-lined baking sheet.
Place the sheet in the oven to keep warm.
Put the hot sauce and garlic in a large bowl (big enough to toss all the cauliflower), add 1 Tbsp hot oil from the fryer and whisk to mix. Set aside for the garlic to "cook" a bit and the sauce to cool.
Repeat the dredging and frying procedure with successive batches until all the cauliflower florets are fried.
Gently toss the cauliflower with the hot sauce mixture until well coated and serve immediately with dip and celery sticks if desired.