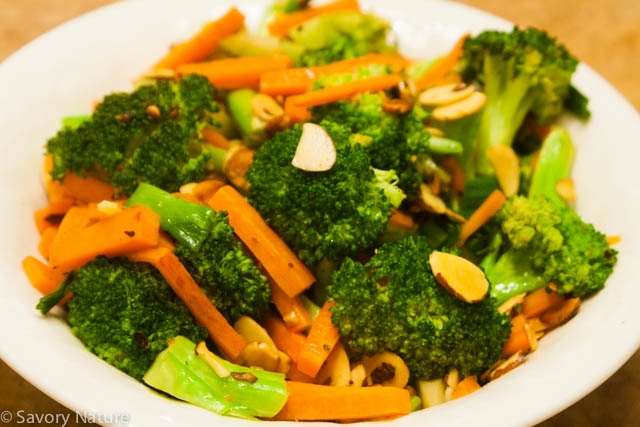 Tired of the same old vegetables with butter? This broccoli stir-fry with carrots and almonds makes up quickly for a tasty, colorful, interesting side dish that goes great with so many entrees. A little sherry and sesame oil perk up and round out the flavors and green onions add a pleasant mild bite.
This broccoli stir-fry with carrots and almonds packs plenty of nutritional punch!
This broccoli stir-fry with carrots and almonds doesn't just taste great. It's loaded with nutrients, too – plenty of fiber for starters. Broccoli is rich in vitamins C and K and contains vitamin A as well as several B vitamins and minerals. Broccoli also contains glucosinolates, which may help prevent cancer. Carrots bump up the vitamin A significantly, as well as supplying some vitamin C, K, E, B vitamins and minerals. Carrots appear to help lower the risk of cardiovascular disease and have their own special phytonutrient called polyacetylenes, which may have anti-cancer benefits. And the almonds are a great source of essential fatty acids as well as vitamin E, magnesium and several other minerals.
Eat your veggies for good health and good eating!
The health benefits of eating lots of vegetables have been known for a long time, while science is just beginning to analyze all the phytonutrients that may play a role. So keep your diet colorful with a variety of veggies and feed your good health!

Broccoli Stir-Fry with Carrots and Almonds
Ingredients
2 ½ Tbsp extra virgin olive oil divided
⅓ cup sliced almonds
1 carrot, peeled and cut into roughly ¼ inch wide by 1 inch sticks
1 bunch broccoli, cut into bite-size pieces
4 green onions, cut in 1 inch pieces
¼ cup dry sherry
¼ cup water
1 Tbsp toasted sesame oil
Instructions
Heat 1 Tbsp oil in a large skillet over medium heat.
Add almonds and toss until lightly browned (about 4 minutes – watch them closely). Remove to a bowl.
Heat remaining 1 ½ Tbsp oil to pan and heat over medium high heat.
Add broccoli and carrots and stir-fry 3 minutes.
Add sherry and water, cover and simmer vigorously 2 minutes.
Remove cover, add sesame oil, green onions and almonds and stir over heat 1 minute.
Serve immediately.