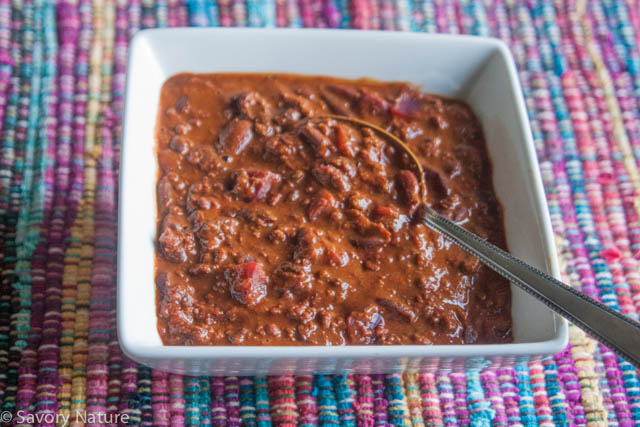 New year, new food challenge! I've come to look at these as a creative opportunity rather than denial. The great thing about the diversity of nature is that when one or a few foods are taken away, there are always plenty of other nutritious, colorful delicious foods that can be used as alternatives. And it can be fun playing around with foods in ways you might not have thought of before or experimenting with foods you never tried before.
I am starting to experiment with nightshade-free recipes because my daughter may be sensitive to the nightshade vegetables. Vegetables in the nightshade family, tomatoes, tomatillos, eggplant, sweet and hot peppers and potatoes, contain alkaloids to which some people are sensitive. It is thought they may be involved in arthritis like symptoms, nerve-muscle problems and digestive problems.
In my daughter's case, we found out she was allergic to tomatoes as well as soy and peanuts a few months ago. When we eliminated them from her diet, the constant congestion she suffered improved a great deal, but I noticed when we substituted roasted red peppers in dishes that would normally call for tomatoes, she tended to get congested and feel generally awful for a day or two after eating them. Wondering if the whole nightshade family might be a problem, we are trying a diet without nightshades for a few weeks. Lo and behold, the congestion has improved and her knees don't hurt like they used to after a full day of work. We'll see how it goes a little longer and then probably do a challenge, but I have a feeling I'm going to be doing a lot more nightshade-free cooking.
So this is how this nightshade-free chili came about. It was a cold dreary winter day – just the kind of weather to give you a hankering for a hot bowl of chili. But cooking nightshade-free meant no tomatoes or hot peppers. I did a little Googling for nightshade-free chili and came across a recipe that used beets, which I unfortunately can't credit because I have not been able to refind it on Google.  I have discovered there are a few beet-based nightshade-free chili recipes out there though, most notably one that uses beets and squash at andloveittoo.com.
My Nightshade-Free Chili Recipe
My recipe development went like this: I had a few small beets in the fridge so I decided to use them and to add some carrot juice to make the color more tomato-y and the flavor more complex. I started by cooking some onion and garlic and ground beef, added chopped beets, kidney beans with some of the liquid and bean paste from the cans, carrot juice and chicken stock. I seasoned with ground cumin and coriander, and oregano, tasting and adding more as needed. For heat I used black pepper, white pepper and horseradish. A bit of cocoa added a little warm, bitter note and a little vinegar provided some acidity.
The result was a nightshade-free chili that was every bit as satisfying as its tomato-based cousins and it really did look and taste just like chili. The heat was a bit gentler than what I would normally opt for but it was there and pleasant. Developing this recipe made me think of beets and carrots in a whole new light! I'm playing around with ketchup and barbecue sauce now, inspired by a meatloaf recipe with a ketchup-based glaze – stay tuned!

Nightshade-Free Chili
Ingredients
3 Tbsp extra virgin olive oil, divided
1 onion, chopped
1 large clove garlic, minced
1 lb lean ground beef
1 cup chicken stock (make sure there are no nightshade vegetables in the stock)
1 ½ cups carrot juice (usually found in the refrigerated section of the produce area)
½ lb beets, peeled and diced (1/4 inch)
1 can dark kidney beans with juice and paste from can
1 can light kidney beans, drained, with paste from can
3 Tbsp white distilled vinegar
1 Tbsp cocoa powder
1 Tbsp plus 1 tsp ground cumin
1 tsp ground coriander
1 tsp dried oregano
1 tsp salt
1 ½ tsp ground white pepper
very generous grind of black pepper
3 Tbsp prepared horseradish
Instructions
In a large pot, heat 1 ½ Tbsp oil over medium high heat.
Sauté onion several minutes until softened and starting to brown.
Add garlic and sauté about 30 seconds until aroma comes.
Remove to a bowl.
Add remaining 1 ½ Tbsp oil and ground beef.
Cook, stirring until all browned.
Add chicken stock and scrape any browned bits from bottom of pan with a wooden spatula.
Add onions and garlic back in.
Add in all remaining ingredients: carrot juice through horseradish.
Bring to a boil, reduce heat and simmer covered, stirring occasionally for 1 hour.