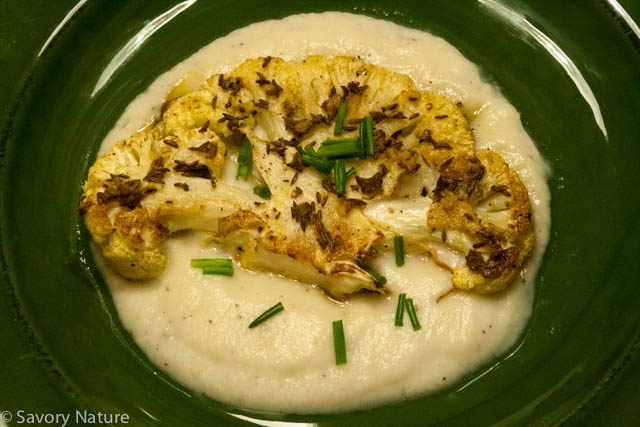 We like to eat vegetarian fairly often and I'd heard about cauliflower steaks and wanted to give them a try. Now don't think these will taste anything like a beef steak, but they are awesome in their own right! The basic technique involves searing the cauliflower steaks in a skillet and then seasoning and roasting them, giving them a wonderful caramelized, nutty flavor.
Cauliflower puree makes this dish so much richer!
You slice the cauliflower steaks vertically from the center of the cauliflower head, where you'll get the largest steaks. One head will yield four cauliflower steaks and then you'll have quite a bit of cauliflower left from the edges, so why not make a puree with it to serve your steaks over? The puree cooks quickly while the cauliflower is roasting and it makes the dish so much richer, especially since it's flavored with truffle oil – yumm! There's something about truffle oil and cauliflower – it's a match made in heaven!
These Cauliflower Steaks with Cauliflower Puree make a great entrée or extraordinary side dish!
The cauliflower steaks are seasoned with a little Dijon mustard, garlic and caraway seed – a nice mix of flavors that augments, but doesn't overpower the wonderful nutty, roasty cauliflower. These cauliflower steaks with cauliflower puree are substantial enough to pair with a large green salad and make it a meal or you can serve them as a truly out of the ordinary side dish.

Cauliflower Steaks with Cauliflower Puree
Recipe type:
Entree or Side
Ingredients
1 large head of cauliflower
5 Tbsp extra virgin olive oil, divided
1 tsp caraway seeds
1 tsp Dijon mustard
2 garlic cloves, minced, divided
salt and freshly ground black pepper
1 cup water
¼ cup almond milk (or rice milk for nut-free)
1 ½ tsp truffle oil
Chopped chives (optional)
Instructions
Preheat oven to 400 degrees F.
Cut leaves and stem away from cauliflower as close to the bottom of the head as possible, but do not cut out the core.
Starting from the top/center of the cauliflower head slice down through it, cutting four ¾ inch thick "steaks".
Heat 1 Tbsp oil over medium to medium high heat in a large skillet.
Add caraway seeds and stir to toast until nutty aroma comes. Remove to a small bowl.
Add 1 clove minced garlic to pan and stir about 30 seconds until aroma comes. Remove to bowl with caraway seeds.
Add 2 Tbsp oil, and 1 tsp Dijon mustard to bowl with garlic, caraway seeds, mix and set aside.
Heat 2 Tbsp oil over medium high to high heat until quite hot but not smoking.
Add cauliflower steaks to pan, season them with salt and pepper and allow to sear without moving them about 2 minutes until browned.
Gently turn them over with a spatula, sprinkle with salt and pepper and cook about 2 minutes until other side is browned.
Gently move them to a sheet pan.
Stir the caraway seed, garlic, mustard, oil mixture and brush the top of the steaks with it.
Roast at 400 degrees for 15 minutes.
Chop unused cauliflower coarsely and add to a saucepan with 1 cup water, remaining minced garlic clove, ¼ tsp salt and ground pepper to taste.
Bring to a boil and simmer covered 10 minutes.
Remove from heat, add almond milk (or rice milk) and truffle oil.
Puree with an immersion blender or pour into a blender and puree.
To serve divide puree between 4 plates and serve steaks over puree. Garnish with chopped chives if desired.