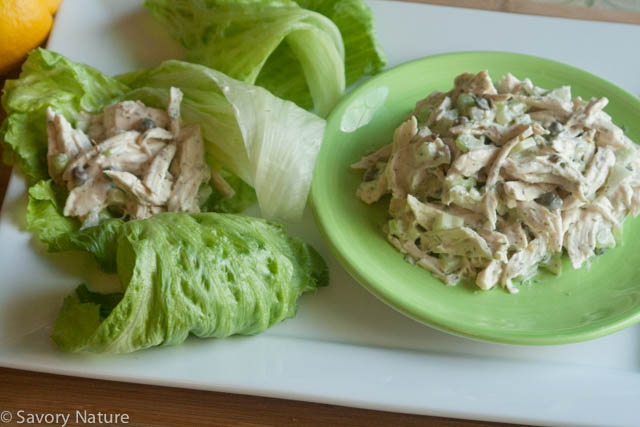 Think it's cold enough, folks? Ugh, this kind of weather just makes you want to curl up and hibernate until spring! Well, there is light at the end of the tunnel – just another month or two and spring weather will be here. This chicken salad with lemon and dill is a little taste of what's to come! The flavors are so fresh and bright, it'll perk you up just like seeing the first daffodils poking through the soil!
I have to give my husband credit for this chicken salad. I made a dipping sauce with mayo, lemon juice and dill for Buffalo cauliflower a few posts back and he thought it would be a great base for a chicken salad dressing. I was a little skeptical at first. I tend to do that with his culinary ideas – really need to stop that! He comes up with lots of good ideas and once I get my head around them, we have a great time developing the recipes together. Well, we came up with a winner here, mostly through his contributions!
Fresh lemon juice and lemon zest make this chicken salad shine!
Fresh lemon juice and lemon zest provide the brightness for this chicken salad, with just a little bit of dill for green herby flavor, a touch of honey to temper the acid in the lemon juice and some capers for a gentle tangy note. Crunchy celery contrasts with the creamy dressing and rounds out this simple, refreshing chicken salad. If you're on a Paleo diet here's a link for Paleo mayonnaise recipes, which would make this chicken salad Paleo. Serve this chicken salad on gluten-free bread or for a lower calorie and more spring-like feel, serve it with lettuce wraps.
Lettuce wraps are a great low carb way to serve this chicken salad.
To make the wraps, gently pull away the large outer leaves from a large head of iceberg lettuce. Cut off about the bottom 1 ½ to 2 inches of the leaf (the crisper part near the base of the head). Slice each leaf from top to bottom into 3 roughly equal size pieces. As the leaves get smaller towards the inside of the head you can cut them in 2 pieces or leave whole. I like to layer 2 leaf pieces for each wrap so that they don't tear and spill the filling. Simply spoon on some salad and roll up.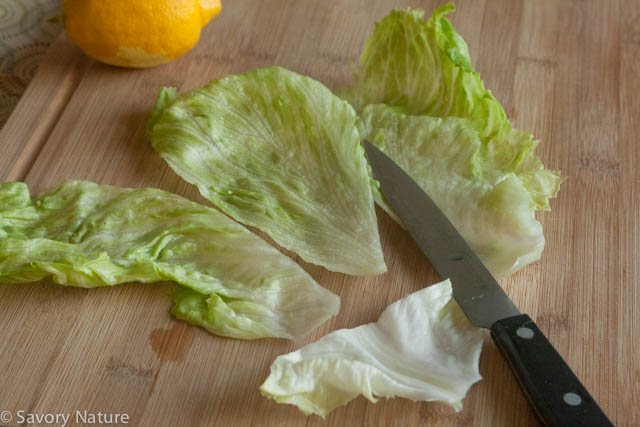 This chicken salad with lemon and dill is a great way to use leftover roast chicken. Serve it up for a pretty, refreshing lunch or brunch!
Chicken Salad with Lemon and Dill
Recipe type:
Lunch or Brunch
Ingredients
3 cups cooked chicken, shredded
1 ½ stalks celery, diced finely
3 Tbsp capers, minced
1 ½ Tbsp capers, whole
½ cup mayonnaise
1 Tbsp fresh lemon juice
1 tsp fresh lemon zest
¾ tsp dried dill weed
1 ½ tsp honey
Instructions
In a large bowl, whisk together mayonnaise, lemon juice, lemon zest, dill weed and honey until well blended.
Add chicken, celery and capers and toss to coat and mix well.
Serve with lettuce wraps or on gluten-free bread.
Notes
The fresh lemon juice and fresh lemon zest really make this dish! I don't recommend using bottled lemon juice or dried zest.