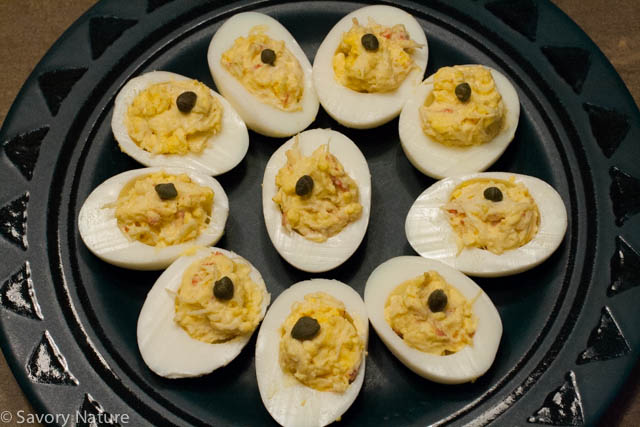 I've always loved deviled eggs! I have a hard time stopping myself when there's a plate full of them in front of me! Well, these deviled eggs are something special. The sweet crabmeat takes that creamy decadence up a notch! There's no mustard or pickle or even salt in these deviled eggs. You might think that's strange, but it works – the sweet flavor of the crab really shines through! The eggs are seasoned with just a pinch of white pepper and topped with a caper for a tangy note.
These Crab-Stuffed Deviled Eggs are so creamy and good, they won't be around for long!
I promise these will disappear in a hurry! If you have a little crabmeat left over you could make a little crab salad for lunch or just scale up the recipe and make more eggs – they won't go to waste!

Crab-Stuffed Deviled Eggs
Recipe type:
Appetizer or Side
Ingredients
12 extra large eggs
⅔ of a cup crabmeat (about 2 ½ ounces, dry), blotted dry on paper towels, any shell fragments removed, and shredded finely
4 ½ Tbsp mayonnaise
a pinch (about ⅛ tsp) of white pepper
24 capers
Instructions
Hard boil eggs by placing them in a saucepan that will accommodate them all in one layer.
Cover by an inch with cold water.
Bring to a boil. Cover and remove from heat and let sit 15 minutes.
Drain and cover with ice water to cool.
Peel within 10-15 minutes for easiest peeling.
Slice eggs in half lengthwise.
Remove yolks, discarding 2 ½ of them and placing the rest in a mixing bowl.
Add mayonnaise and white pepper to bowl and mash yolks and mix until uniformly creamy.
Add crabmeat and mix well.
Fill egg halves with crabmeat mixture and top each with a caper.