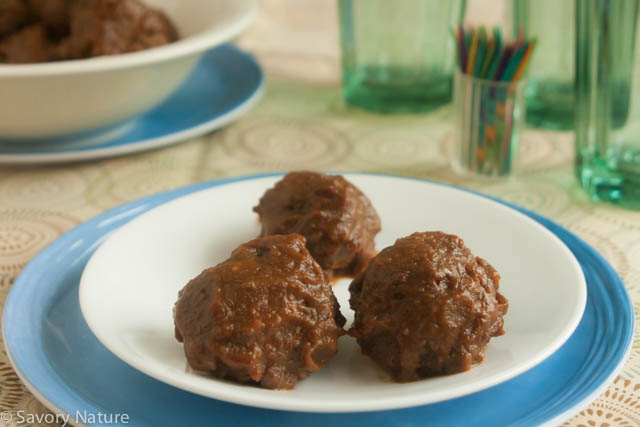 These babies are so good! You can serve these barbecue meatballs to your non-food sensitive friends and they will never know there are no breadcrumbs, no tomato and by the way no dairy or soy either.
Quinoa makes these barbecue meatballs soft and springy.
Quinoa gives these barbecue meatballs a soft, springy texture that I think is better than any gluten-containing meatball I've ever had! This recipe is adapted from a BBQ Meatballs recipe by Kristin Porter of IowaGirlEats and her use of the quinoa in these meatballs is brilliant! I use half ground beef and half ground turkey to lighten them up a little, but they do not lack for moisture or flavor.
Tomato-less Barbecue Sauce – Yes you can!
The nightshade-free barbecue sauce is amazing! You'd never know there's no tomato sauce or ketchup in it. It's sweet, savory, tangy, and the color is just, well, the color of barbecue sauce. This is the real deal!
Carrots, beets, onions, garlic and vinegar make a fine substitute for tomatoes in the sauce for our barbecue meatballs.
The nightshade-free barbecue sauce, based loosely on a Nomato Sauce from Food.com, starts with carrots, onions, garlic and beets and a little white and balsamic vinegars to yield a thick sauce reminiscent of tomato paste.
From there it's thinned with water and seasoned with a little more of the vinegars, brown sugar, molasses, Dijon mustard, fish sauce, salt and some white pepper for a little bite. It simmers for a while to thicken and bring the flavors together and Voila! – one of the tastiest barbecue sauces you'll ever have – and no tomatoes!
Add the meatballs and let them heat through and you're ready to serve some serious party fare!

Barbecue Meatballs – Gluten-Free, Nightshade-Free
Ingredients
For the meatballs:
1 lb lean ground beef
1 lb lean ground turkey
⅔ cup quinoa
1⅓ cup water
1 onion, diced finely
1 tsp dry mustard
1 tsp Kosher salt
freshly ground black pepper to taste
1 tsp granulated garlic (granulated roasted garlic if available)
1 tsp dried oregano
1 tsp dried basil
2 Tbsp fish sauce
2 eggs, beaten (large or extra large)
For the nightshade-free barbecue sauce:
To make the notmato paste (this basic paste can be used for all sorts of things: sub'ed into recipes that call for tomato paste or thinned for tomato sauce. Cook it with some herbs to make spaghetti sauce.):
1 onion, chopped
6 carrots, peeled and coarsely chopped
1 small beet (about 2 oz), peeled and chopped
1 large garlic clove, minced
¼ cup extra virgin olive oil
1 cup water
1 Tbsp balsamic vinegar
2 Tbsp white vinegar
To make the barbecue sauce to the notmato paste add:
¼ cup balsamic vinegar
2 Tbsp white vinegar
2 Tbsp fish sauce
1 Tbsp Dijon mustard
1 Tbsp plus 1 tsp brown sugar
¼ cup molasses
1 tsp salt
1 tsp white pepper
2 ¼ cups water
Instructions
For the meatballs:
Preheat oven to 350 degrees F.
Rinse quinoa well in a strainer stirring it around as you rinse.
Combine rinsed quinoa and water in a saucepan and bring to a boil.
Reduce heat, cover and simmer for 15 minutes until water is absorbed and quinoa is light and fluffy. Let cool.
Combine cooked quinoa and all the rest of the ingredients and mix well.
Roll mixture into balls (it will be wet and sticky but will form balls well) and place on a sheet pan.
Bake meatballs 30 minutes at 350 degrees F, then turn on the broiler and cook about another 3-4 minutes, watching them, until the tops are nicely browned.
Notmato paste:
Heat ¼ cup oil in a large saucepan over medium to medium-high heat.
Add onion and carrots and cook, stirring occasionally about 10 minutes until onions are tender.
Add garlic and stir just until aroma comes and then add 1 cup water.
Add beets, 1 Tbsp balsamic vinegar, and 2 Tbsp white vinegar.
Bring to a boil.
Reduce heat and simmer, covered for 20 minutes until carrots and beets are tender.
Let cool a bit and then puree in a food processor.
(At this point you have a notmato paste that looks and tastes very much like tomato paste and as mentioned above can be used in a multitude of ways.)
Barbecue sauce:
Return the notmato paste to the saucepan.
Add the rest of the ingredients: ¼ cup balsamic vinegar through 2 ¼ cups water.
Stir to mix and bring to a boil.
Reduce heat and simmer with cover tilted, stirring occasionally, about a half hour until thickened. You may add more water if it gets too thick.
Add meatballs to barbecue sauce and continue to heat until they're heated through (about 5 minutes) and serve.