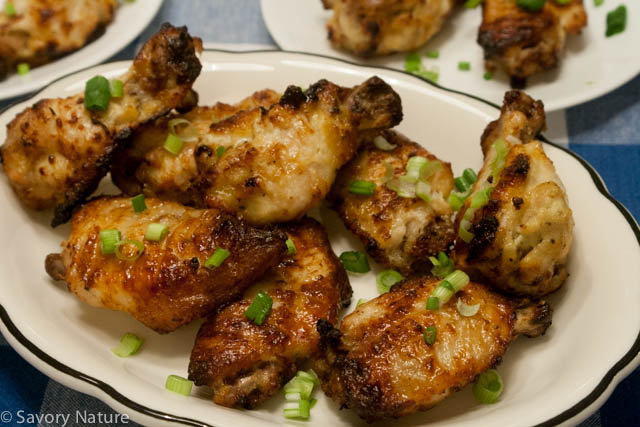 According to the National Chicken Council, and they would know, there will be 1.25 billion chicken wings consumed during Super Bowl XLVIII. That's a lot of chicken! Chicken wings have become the go-to food for Super Bowl parties.
These Honey Ginger Chicken Wings are crispy, sweet and savory.
There are lots of recipes out there: hot, sweet, sticky, crispy.  These Honey Ginger Chicken Wings are crispy, sweet and savory and nice and tender. And addictive! An added plus – they won't goo up your fingers or your face!
Simple chicken wings recipe delivers great flavor!
This is a no fuss recipe: small effort – big reward! The bulk of the preparation is just cutting the chicken wings into pieces and with a little technique that is easily done. Just grab the two main parts of the wing and push to invert the joint. Now you'll be able to see/feel where the edges of the bones meet at the joint. Simply take a Chef's knife and place it between the bones in the joint and bear down and cut through. The wing tip can be cut through just past where it begins and discarded.
Place your wing portions in a large mixing bowl. Mix together the oil, honey and spices. Pour the mixture over the wings and toss until your chicken wings are well coated with all of the mixture. Bake on a rack in a 450-degree oven, first with the skin side down for 20 minutes, and then flipped to skin-side up for another 10-20 minutes until well browned. Serve immediately. If you like you can sprinkle the chicken wings with a little chopped green onion tops for a pretty presentation.

Honey Ginger Chicken Wings
Ingredients
4 lbs chicken wings (about 14 wings)
6 Tbsp olive oil (3 oz)
2 Tbsp honey
1 Tbsp plus 1 tsp granulated garlic (roasted granulated garlic if available)
2 tsp granulated onion
1 Tbsp plus 1 tsp dried ginger
1 tsp salt
2 tsp white pepper
3 green onion tops (the green part) sliced finely (optional)
Instructions
Preheat oven to 450 degrees F.
Cut apart the 2 main pieces of each wing by inverting the wing and cutting through the joint between the bones. Cut off the wing tips and discard.
Place chicken wings in a large mixing bowl.
Mix oil, honey and spices: granulated garlic through white pepper in a small bowl.
Pour mixture over chicken wings and with your hands, toss until chicken wings are thoroughly coated with all the mixture.
Place a rack in a sheet pan and place the chicken wings skin side down on the rack.
Bake for 20 minutes.
Flip the chicken wings over and bake another 10-20 minutes until well browned.
Serve immediately. Garnish with chopped green onion tops if desired.