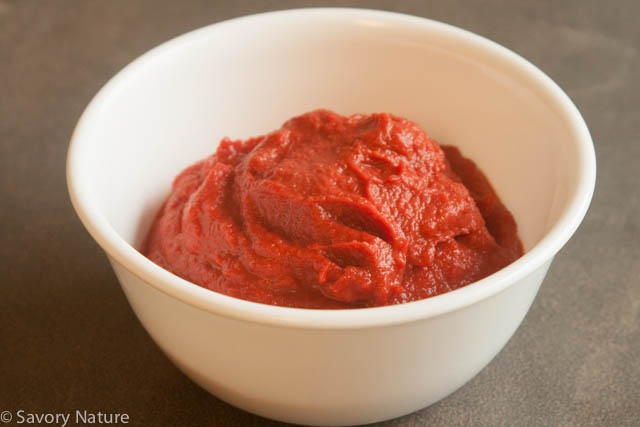 Tomatoes are such an important ingredient in so many foods: marinara sauce, barbecue sauce, ketchup, stews, curries … So having a tomato allergy or a nightshade sensitivity can really crimp your culinary enjoyment.
Well, fear not, there is a very good substitute! This recipe for Notmato Paste is  adapted from a Nomato Sauce from Food.com.
Notmato Paste – The Method
Start by sautéing chopped onion and carrots in some oil.
Add in a little garlic and cook briefly. Add water, chopped beet, and balsamic and white distilled vinegars. Simmer covered for 20 minutes until the vegetables are tender. Puree in a food processor and Voila! You've got Notmato Paste! It really does look and taste like the real thing!
What can you do with your Notmato Paste?
There are lots of options. One thing I like to do is freeze individual portions in an ice cube tray. Once it's frozen, stick the cubes in a zip-top bag, keep in the freezer and use in any recipes that call for tomato paste. I just used some in an awesome Salisbury Steaks recipe, which will be my next post. You can also use it to make barbecue sauce or marinara sauce.
Make Notmato Paste in volume and use it to create multiple sauces.
I recently made a quadruple batch of Notmato Paste – if you're going to go to the trouble, might as well have enough to make a few things. I froze some cubes, made a bunch of marinara sauce for spaghetti and meatballs, had enough marinara sauce to freeze for future use and still had some Notmato Paste left to play around with ketchup recipes. I'll be posting the marinara sauce recipe soon – we loved it! Once the ketchup is perfected, I'll share that, too.
And added plus: beets and carrots are really good for you! So make up a batch of Notmato Paste and never want for tomatoes again!

Notmato Paste – Nightshade Free
Recipe type:
Tomato Paste Substitute
Ingredients
1 onion, chopped
6 carrots, peeled and coarsely chopped
1 small beet (about 2 oz), peeled and chopped
1 large garlic clove, minced
¼ cup extra virgin olive oil
1 cup water
1 Tbsp balsamic vinegar
2 Tbsp white vinegar
Instructions
Heat ¼ cup oil in a large saucepan over medium to medium-high heat.
Add onion and carrots and cook, stirring occasionally about 10 minutes until onions are tender.
Add garlic and stir just until aroma comes and then add 1 cup water.
Add beets, 1 Tbsp balsamic vinegar, and 2 Tbsp white vinegar.
Bring to a boil.
Reduce heat and simmer, covered for 20 minutes until carrots and beets are soft.
Let cool a bit and then puree in a food processor.