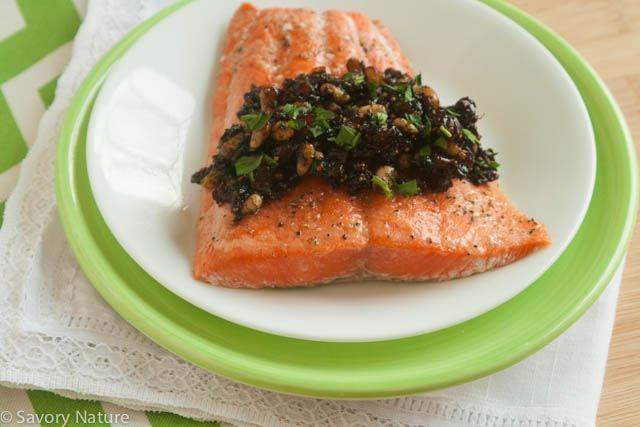 Salmon is such a healthy food, high in beneficial omega-3 fatty acids and it is one of the lowest mercury fish. I like to stick with wild salmon, because a lot of the benefits of salmon and that lovely color come from the natural diet it eats in the wild. And while being high in omega-3's, wild salmon is also much leaner than farm-raised salmon. There are also sustainability issues with farmed salmon. That said, salmon farming practices are getting better. Here are a couple of articles on the progress from The Washington Post and the Washington State Department of Health.
Baked salmon is quick, easy and comes out right every time!
This salmon recipe is super quick and easy, but at the same time really flavorful and elegant. I want to thank Elise Bauer of Simply Recipes for the general technique of baking the salmon – it's simple, quick, mess-free and cooks the salmon perfectly. Basically you brush the salmon fillets with some oil, sprinkle with salt and pepper and bake at 400 degrees F for 10 minutes on a foil-lined sheet pan for easy clean-up. What could be simpler?
A balsamic reduction of figs, shallots, garlic and pine nuts accents the salmon.
While the salmon bakes, I sauté a topping of dried figs, pine nuts, shallots and garlic brought together with a little balsamic vinegar and honey and freshened up with a little parsley. The mix of tart and sweet with a little bit of crunch is the perfect accent for the simple baked salmon and makes for a pretty presentation, too.
This salmon recipe is quick and easy enough for a weeknight meal, but fancy enough to serve to guests and frees you up to socialize instead of tying you to the stove – Yay!

Salmon with Balsamic Glazed Figs and Pine Nuts
Ingredients
4 single serving sized salmon fillets (about 1 ¾ pounds) (if you have one long fillet, cut it into serving sized pieces before cooking)
extra virgin olive oil
salt and pepper to taste
3 Tbsp finely chopped shallot (about 1 small-medium shallot)
⅓ cup pine nuts
⅓ cup chopped dried figs
2 garlic cloves, minced
½ cup loosely packed Italian flat leaf parsley, chopped finely
3 Tbsp balsamic vinegar
1 Tbsp honey
Instructions
Salmon
Preheat oven to 400 degrees F.
Line a sheet pan with aluminum foil and spread oil over it.
Spread oil over salmon and place skin-side down on foil.
Sprinkle with salt and pepper.
Bake at 400 degrees F for 10 minutes.
Balsamic fig pine nut reduction
Heat 1 ½ Tbsp oil in a medium skillet over medium heat.
Add shallots, pine nuts and figs and cook stirring frequently about 3 minutes until shallot is soft and pine nuts have started to brown.
Add garlic and stir briefly (about 20 seconds) until aroma comes.
Add balsamic vinegar and honey.
Reserve 1 Tbsp of the chopped parsley for garnishing and add the rest to the pan, stirring for about 30 seconds until vinegar is just slightly reduced and syrupy.
Remove from heat.
Top salmon with fig, pine nut reduction and sprinkle reduction with reserved parsley.