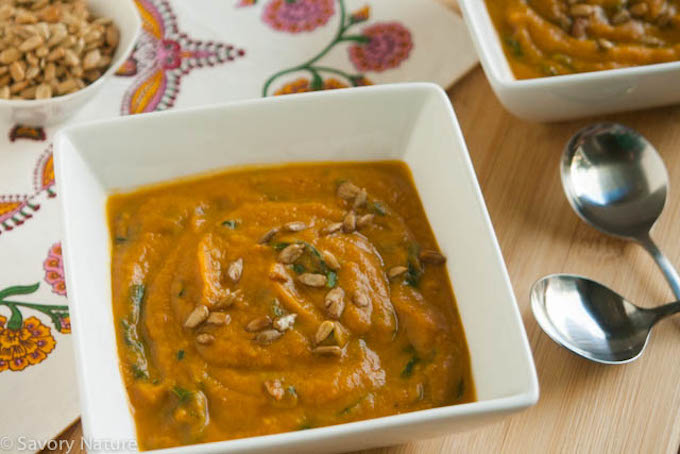 What a tasty way to eat your veggies! If you love creamy soups like I do, you'll love this creamy carrot cauliflower spinach soup. It's full-flavored thanks to some Indian spices and all those veggies! I often have a hard time finding the words to describe the flavors of vegetables. Sweet, earthy, and nutty come to mind here, but that only begins to describe the flavor palette. The cauliflower has a certain richness and the spinach is a little bit peppery. Almond milk (or the milk of your choice) amps up the creaminess and a topping of roasted sunflower seeds is a nice crunchy counterpoint. A little fresh lemon juice and zest, added at the end of cooking, lend a bright note that perks up the earthy flavors of the vegetables. The whole combination comes together to create a soup that's colorful, a taste sensation… and packed with nutrition!
Carrot, cauliflower and spinach are so good for you!
So what's this soup got going for it nutritionally? First off, a diet rich in vegetables with a variety of colors is just plain good for you. Numerous studies have found that eating more vegetables is associated with a lower risk of cardiovascular disease. Non-starchy vegetables also provide bulk and fiber to fill you up without a lot of calories – great for weight control. Beyond that carrots and spinach are great sources of the eye-healthy nutrients vitamin A and lutein. Spinach has lots of vitamin K, important for bone health and blood clotting. It's also a good source of folate, vitamin C, Vitamin E and several minerals. Cauliflower is especially rich in vitamin C and contains glucosinolates, which may have anti-cancer properties. Carrots and spinach contain several phytonutrients, as well, that are being investigated for their disease fighting characteristics. Want to know more – check out these links: carrots, cauliflower and spinach. The almond milk and sunflower seeds in this recipe provide essential fatty acids (necessary fats that our bodies cannot make). A fact that is not well-known: cauliflower and spinach are pretty good sources of omega-3 fatty acids, which may help prevent inflammation.
This Creamy Carrot Cauliflower Spinach Soup makes a great lunch or dinner!
What's not to like about this creamy carrot cauliflower spinach soup? It's pretty, healthy and is a real taste treat! Have it for lunch or enjoy it as a light supper – that's what we did and it was plenty satisfying!

Creamy Carrot Cauliflower Spinach Soup
Ingredients
2 lbs carrots, peeled and coarsely chopped (about ¾" pieces)
½ large head of cauliflower, cored and coarsely chopped
2 packed cups baby spinach, coarsely chopped
2 Tbsp olive oil
1 large (or 2 small) onion, chopped
3 garlic cloves, minced
2 tsp ground cumin seed
2 tsp ground coriander seed
1 tsp ground cardamom
2 cups chicken or vegetable stock
3 cups water
2 cups almond milk (or milk of your choice such as rice or coconut)
1 tsp salt
¼ tsp cayenne pepper (or white pepper if you're allergic to peppers or nightshade sensitive)
1 inch piece of peeled ginger root, grated or finely chopped
Juice and grated zest of half a lemon.
Roasted or toasted sunflower seeds for garnish.
Instructions
Heat oil in a large pot over medium heat.
Add onion and lightly brown, 5-10 minutes.
Add garlic and cumin, coriander and cardamom and stir until aroma comes (30 sec-1 min)
Add water and scrape bottom of pan to release browned bits.
Add stock, almond milk, salt, cayenne or white pepper and carrots and cauliflower.
Bring to a boil, reduce heat and simmer covered about 20 minutes until carrots are tender.
Take off heat, add ginger and use an immersion blender to puree or transfer portions to a blender and puree and then return to pan.
Reheat with lid ajar to prevent splattering.
Stir in baby spinach and simmer about 2 minutes until spinach softens and just barely wilts.
Take off heat and stir in lemon juice and zest.
Serve topped with sunflower seeds.