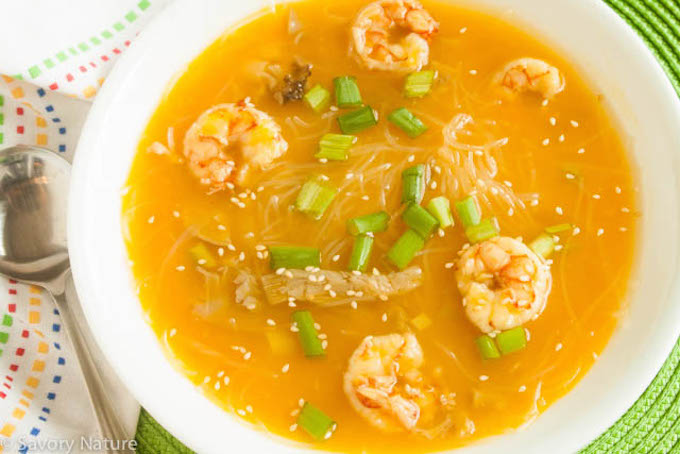 Long name – simple soup! And it is as beautiful and delectable as it is simple! Butternut squash gives the broth that gorgeous color and gentle sweetness, while fish sauce and fresh ginger delicately fill in the background. The flavors may be subtle, but don't expect subdued comments when you serve this. Here's what I heard from my husband: "This is wonderful!….This is awesome!….This is a keeper!" And from my daughter: "This is amazing – you have to make this again!" So just be prepared and try not to gloat! ☺
Thank You!
I need to give a couple shout-outs for the inspiration for this recipe. I discovered it at the Potluck page of Oh My Veggies – Kiersten Frase's wonderful vegetarian blog. On the Potluck page, featured recipes from other bloggers and home cooks are shared. The recipe that inspired this soup was Butternut Squash Noodle Bowl with Seitan and Scallions by Haley Lillehei, originally shared at her blog, Egginon.
This Thai shrimp noodle soup is just one example of the creations possible using this butternut squash broth.
I loved the idea of using a butternut squash broth as the base for a noodle bowl. I couldn't use seitan for the protein, since it's wheat and I cook gluten-free. I think some sautéed mushrooms like baby bellas or shiitakes could be a good alternative to the seitan for a gluten-free vegetarian version, but I also thought the slightly sweet broth would complement shrimp really well. I hope Haley and Kiersten won't be too upset with me for transforming this recipe into a non-vegetarian soup.
Squeezed for time? Use store-bought butternut squash soup.
Haley made her recipe super quick and easy by using store-bought butternut squash soup as the base for her broth. I happened to have another recipe I wanted to make that requires half a butternut squash, so I used the other half to make my own broth. It really didn't take much time, but I'll give guidance in the recipe for doing it either way. As always be careful if you have allergies and go the store-bought soup route – I noticed one brand contained soymilk which is off limits for my daughter.
Classic Thai seasonings like garlic, ginger and fish sauce infuse the Thai shrimp noodle butternut squash soup.
I wanted a little more complexity of flavor, so I added a little garlic, and toward the end of the cooking, some fresh ginger (to preserve its flavor). I also replaced the soy sauce in the original recipe with fish sauce. And I added some oyster mushrooms to get some more veggies into the mix. Oyster mushrooms are more delicate in flavor and softer in texture than most mushrooms and work well with the nuanced flavors here.
The pretty garnish of green onions and sesame comes from Haley. If you like it, I think a little fresh cilantro could be a nice addition, too. You might be tempted, but stay away from heat here. It will overpower the subtle flavors. My husband, who has a Sriracha mug and a Sriracha tee shirt (you get the picture – heat lover!) tried a little bit added to his last few spoonfuls of soup, and said, "Nope, it's way better without it."
So there you have it – Thai Shrimp Noodle Butternut Squash Soup – a quick, delicious, and exceptional weeknight meal!

Thai Shrimp Noodle Butternut Squash Soup
Recipe type:
Soup, Entree
Ingredients
7 oz bean threads (cellophane noodles)
½ medium butternut squash (about 1 ½ lb for the half), seeded, peeled and chopped
1 small onion, chopped
4 cups chicken stock or vegetable stock
4 cups water
(Or substitute 5 cups store-bought squash soup plus 3 cups stock for squash, onion and stock/water)
2 medium garlic cloves, minced
1 ½ inch piece ginger root, peeled and grated
3 Tbsp fish sauce
½ tsp salt
3 oz oyster mushrooms, tops and stems separated and coarsely chopped
1 ½ lbs extra large (26/30 count) or jumbo shrimp (21/25 count), shelled and deveined
A bunch green onions, chopped, white parts and green parts separated.
Toasted white sesame seeds for garnish plus fresh cilantro leaves if desired.
Instructions
Soak bean threads in hot water about 15 minutes until softened.
Once soft, rinse well with cold water, drain, lay out on a board and cut into shorter lengths.
Place in a bowl. (If you end up storing any of these for another meal, toss them with a little oil so they don't stick together before putting them in the fridge.)
Meanwhile:
If making your own broth, add squash, onion, stock and water to a large pot, heat to boiling, reduce heat and simmer about 15 - 20 minutes until squash is quite tender when pierced with a fork.
Take off heat and use an immersion blender to puree mixture or pour in batches into a blender and puree. When finished blending, return puree to pot.
If using store-bought soup, add your soup and water to a large pot.
Add garlic, ginger, fish sauce, salt, white parts of green onions and chopped mushroom stems to pot.
Bring to a boil, reduce heat and simmer 5 minutes.
Add mushroom tops and continue simmering 3 minutes.
Add shrimp and simmer about another 2 minutes until shrimp are pink and just cooked.
To serve place some noodles in each bowl, top with hot soup and garnish with green tops of green onions, sesame seeds, and cilantro if desired.
Notes
If you make your own squash broth:
Preparation Time: 15 minutes, Cooking Time: 30 minutes, Total: 45 minutes

If you use store-bought squash soup:
Preparation Time: 5 minutes, Cooking Time: 10 minutes, Total: 15 minutes