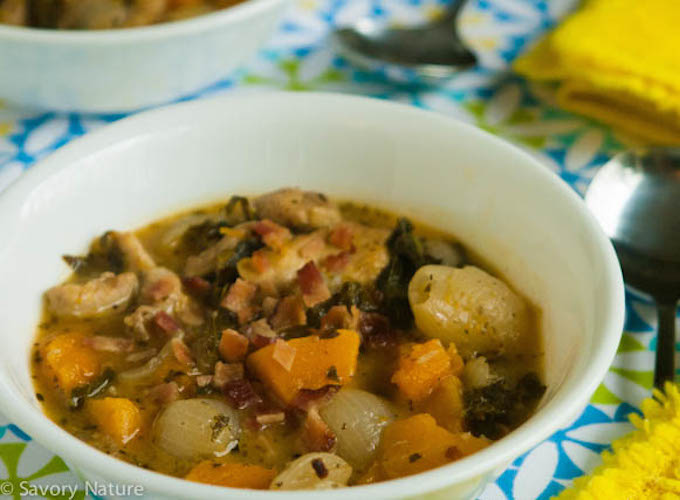 Stews are such perfect cold weather meals! There's something about the combination of meat and earthy vegetables in a hot savory broth that just chases the chill away. This stew is no exception, but it's a little brighter both in flavor and color than your average stew, thanks to some tangy vinegar and pretty butternut squash. This stew cooks more quickly than most, making it the perfect weeknight comfort food.
I'm frankly hoping this is my last stew recipe of the season. It's the end of March. Seriously, spring is supposed to be here, right? I live in North Carolina – the daffodils and Bradford pears are in full bloom and we've been teased with a few near 70-degree days. And yet, a possible wintry mix arrives tomorrow. Let's hope this is Old Man Winter's last gasp!
Anyway, on to the Chicken Stew with Butternut Squash and Kale recipe!
First of all, don't be afraid it's going to take you forever to peel the pearl onions. Cut their ends off, drop them in boiling water for 3 minutes. Cool them off in some cold water and you can squeeze them right out of their skins. I prefer the firmer texture of fresh pearl onions, but in a pinch for time, you can also use frozen and thawed pearl onions.
Start cooking some bacon until crisp. What stew can't benefit from a little bacon!?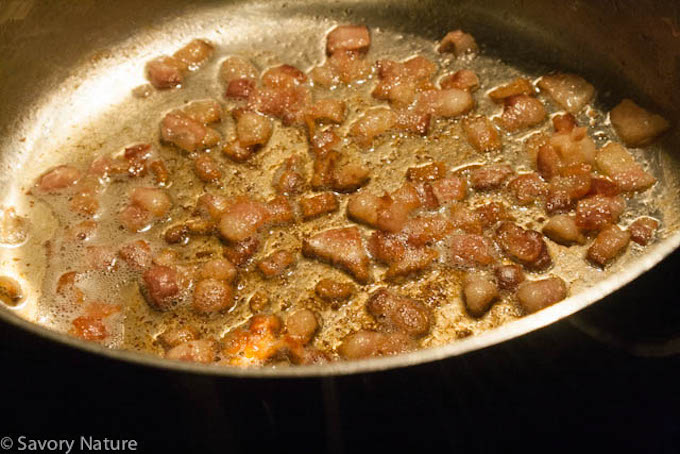 Remove bacon and pour off all but about a tablespoon of the bacon fat. We're limiting the saturated fat here, but we'll still get plenty of flavor.
Chicken thighs make for a richer stew than breast meat, but trim as much fat as you can from them. Then chop into bite-sized pieces. Add a little olive oil to the bacon fat in the pan and lightly brown the chicken pieces. Add the pearl onions and cook another couple minutes.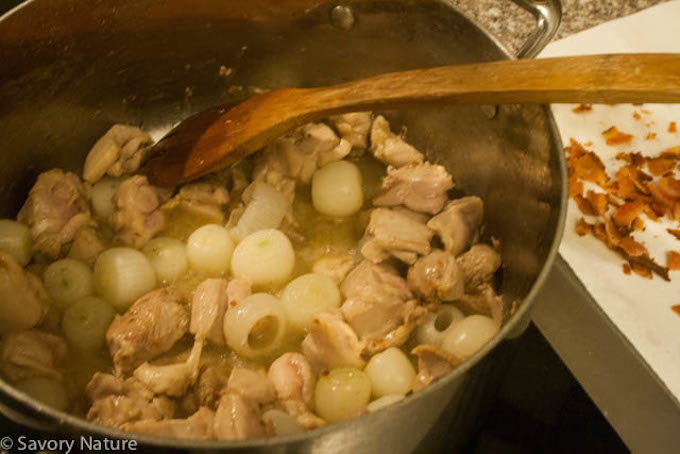 Add garlic and stir just until the aroma comes, 30 sec to a minute. Then add ½ cup white wine and scrape the bottom of the pan to release those delicious browned bits (the fond). Let the wine simmer until reduced by half. Then add the chicken stock, cider vinegar, seasonings, cooked bacon and squash. Simmer 20 minutes covered until the squash is fork tender. Add the kale and cook another 5 minutes and you're done!
Queue this recipe up for next time winter makes a comeback!

Chicken Stew with Butternut Squash, Pearl Onions and Kale
Ingredients
1 bag pearl onions (around a dozen – quantity not critical)
4 strips bacon, chopped (½ inch)
5 boneless, skinless chicken thighs
½ medium butternut squash, peeled and chopped (about 1 ½ lb for the half)
3 medium-large garlic cloves, minced
½ cup white wine
2 ¾ cups chicken stock
½ cup apple cider vinegar
1 tsp dried marjoram
1 tsp dried tarragon
½ tsp salt
Generous grind of black pepper
1 bunch kale, stems removed, chopped (about 3 cups, chopped)
Instructions
Cut ends off pearl onions, drop in boiling water for 3 minutes, drain, cover with cold water to cool and then squeeze onions from skins. (Or substitute frozen pearl onions thawed.)
In a large pot, cook bacon until crisp. Remove and reserve.
Meanwhile, trim chicken of fat and cut into bite-sized pieces.
Discard all but about 1 Tbsp of bacon fat from pan, add 1 Tbsp olive oil and lightly brown chicken about 4 minutes. Add pearl onions and cook stirring occasionally 2 minutes.
Add minced garlic and cook just until aroma comes (30 sec to a minute).
Add wine and simmer until reduced by half, scraping bottom of pan to release browned bits.
Add stock, vinegar, seasonings (marjoram through pepper), reserved bacon and squash.
Bring to a boil, reduce heat and simmer covered 20 minutes until squash is fork tender.
Add kale, cover and simmer another 5 minutes.