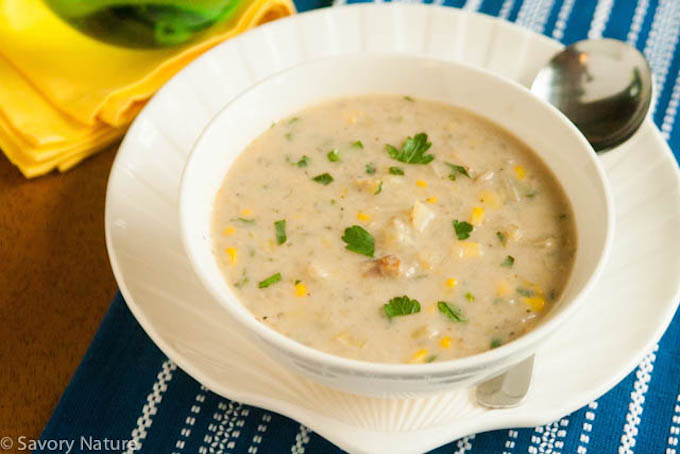 Having grown up in New England, I love all things clam – fried clams, clam rolls, clam chowder – as long as it's the creamy New England variety, not that thin tomato-brothy Manhattan stuff! Sorry, New Yorkers, but yes, I'm a New England clam chowder bigot.
New England Clam Chowder was just a memory.
Being a dairy-free household now, and with my daughter not liking clams, I hadn't had New England clam chowder in years. Can you imagine anyone not liking clams? My daughter says they remind her of worms. I tell her I especially used to like the fried clams you can get with the gooey bellies on Cape Cod, and that really grosses her out! I'll admit clams are a love 'em or hate 'em kind of food, but if you've gotten this far, you're probably a clam lover, so read on!
And then opportunity knocked!
One recent evening, it was just my husband and me for dinner. This generally leads to thoughts of "Let's take advantage of the opportunity and eat something our daughter either can't or won't eat!" And visions of New England clam chowder came into my head. I could have made it with real cream, since our daughter's the only one in the family with a dairy allergy, but I thought it would be fun to develop a really good dairy-free version.
You can use fresh clams or speed this chowder up with canned clams.
I looked around on Google for recipes and Elise Bauer's version at Simply Recipes was a great place to start. Her recipe uses fresh clams, but she also gives a canned clam option. Hubby and I went back and forth about this. I was good with the canned clam approach. He doesn't feel like he's cooked a real dinner unless there's a certain level of technique involved – I have no such qualms. We ended up going with the fresh clam approach – he prepared the clams and I cooked the soup – fair deal! Like Elise, I'll give you both options.
New England Clam Chowder – Dairy Free, Gluten Free and Delicious!
So the difficulty is when you don't use real cream or milk, there's kind of a sweet, fullness of flavor and lush consistency that gets lost. I thought adding leeks would bring a subtly sweet, complex flavor to the soup and pureeing part of the potatoes would add creaminess. Think of it kind of like clam chowder meets vichyssoise. Can't go wrong with that combination! I also sautéed some celery to fill in the flavor profile a little more. And if you like, corn adds a nice pop of sweetness and color.
The resulting chowder was everything I'd hoped for – a trip down nostalgia lane! There are a couple more optional additions you can make to give it a little extra zing. I like a splash of dry sherry added to the finished soup – it's a little sweet, a little warming, a little spicy – just a nice touch. A dash of hot sauce doesn't hurt either if you enjoy a little heat.
Here are some pictures of the steps along the way.
On to the recipe!

New England Clam Chowder – Dairy Free, Gluten Free
Recipe type:
Soup, Entree
Ingredients
If using fresh clams:
About 32 small fresh clams like littlenecks (about 3 lbs – we used two 16 count bags)
Water (about 2 ½ cups)
If using canned clams:
Three 6.5 oz cans chopped clams with liquid plus
8 oz clam juice
3 strips bacon, chopped
Olive oil (if needed)
1 small onion, chopped
2 leeks
1 cup finely chopped celery with leaves
2 Tbsp sweet rice flour (also called glutinous rice flour, found at Asian markets)
½ cup dry white wine
1 lb Yukon Gold potatoes, chopped (your choice whether you want them peeled or not)
½ tsp dried marjoram (or thyme if you prefer)
1 bay leaf
½ tsp salt (omit if you have used canned clams)
freshly ground black pepper to taste
1 to 1 ½ cup almond milk (or other milk alternative like rice milk or soy milk)
2 Tbsp chopped fresh parsley
¾ cup frozen corn thawed (optional)
Up to ¼ cup dry sherry (optional)
dash Tabasco or ½ - 1 tsp Sriracha or your favorite hot sauce (optional)
Instructions
If using fresh clams:
Rinse and scrub them clean. Then submerge them in cold water and refrigerate for 30 minutes to an hour to allow them to expel any sand inside. Discard any broken clams or open clams that do not shut when touched.
Put ½ inch of water (about 2 ½ cups) in a large pot. Put in a steamer basket if you have one and put the clams on top. Otherwise just put the clams in the pot. Cover, bring to a boil and steam the clams covered about 5 – 10 minutes just until they all open. Be careful if the heat's too high the pot may boil over.
Remove clams reserving liquid.
Remove clams from shells and coarsely chop, discarding shells.
Strain liquid through two layers of cheesecloth to remove grit and reserve.
(If using canned clams start here.)
Cut root end and green tops off leeks and discard.
Slice leeks in half lengthwise, remove outermost layer and discard.
Run leeks under running water, separating layers to wash the sand out from between them.
Slice leeks thinly.
Cook bacon in a large pot until crisp.
Remove bacon and leave about 2 Tbsp bacon fat in pan (add a little olive oil if you don't have that much).
Add chopped leek, onion and celery to pan and sauté over medium heat until tender, about 5 minutes.
Add sweet rice flour and wine and stir about 30 seconds.
Slowly at first to avoid lumps, stir in reserved cooking liquid from clams or clam juice/liquid from canned clams and scrape bottom of pot to loosen any browned bits.
Add potatoes, marjoram, bay leaf, salt (if using) and pepper.
Liquid should cover potatoes. If not add a little water and bring to a boil.
Reduce heat and simmer about 15 minutes until potatoes are fork tender.
Remove bay leaf and discard.
Using an immersion blender, puree about ⅓ of the potato mixture or ladle out about ⅓ of the mixture into a blender, puree and then return to pot.
Mix in 1 cup of the almond milk (or other non-dairy milk), reserved bacon and corn (if desired) and heat mixture back up to a simmer.
Cook about 2 minutes.
If it's thicker than you like, stir in more almond milk.
Stir in clams and parsley and remove from heat.
Add sherry and/or hot sauce if desired.
Notes
If you use fresh clams:
Preparation Time: 40 minutes, Cook Time: 45 minutes, Total: 1 hour, 25 minutes

If you use canned clams:
Preparation Time: 10 minutes, Cook Time: 35 minutes, Total: 45 minutes