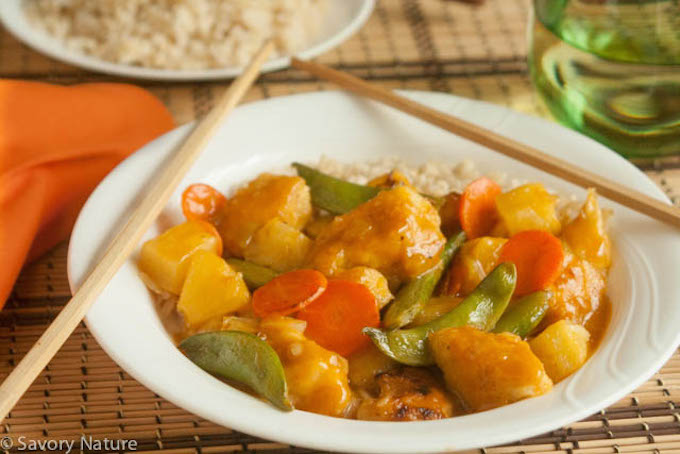 Sweet and sour tastes are so complementary, and the combination is used in many cuisines. Sweet and sour chicken is a dish that is hugely popular at American Chinese restaurants. It's thought to originate with Cantonese Chinese cooking, but it's been Americanized with the addition of things like ketchup. We also tend to compose a whole dish with it, meat, vegetables, sauce all together, whereas it's used more as a dipping sauce in China.
Sweet and Sour Chicken makes a great family meal!
Sweet and sour chicken makes a great home-cooked weeknight meal, too! It's quick to prepare, a full meal in one dish, and sure to please adults and kids, alike! You can put in all sorts of vegetables. Green and red bell peppers are common and pineapple is a frequent addition. That's how I used to make mine, pre-allergies.
How to make Sweet and Sour Chicken soy free and nightshade free?
Recently, I got some sweet and sour chicken cravings, and needed to come up with a tomato/nightshade-free (no ketchup, no peppers) and soy-free version. The solution: sub carrots and snap peas for the peppers, add in some celery and a little carrot juice for color and more "vegetable flavor" and use chickpea miso in place of soy sauce. I'm happy to announce, the allergen-free version is just as delicious and colorful as the original!
Step-by-Step Process for making the Soy Free, Nightshade Free Sweet and Sour Chicken
Start by cutting chicken into bite-size pieces, dredging in cornstarch and browning in a large skillet. It doesn't need to be cooked through, just browned on all sides. Remove to a plate.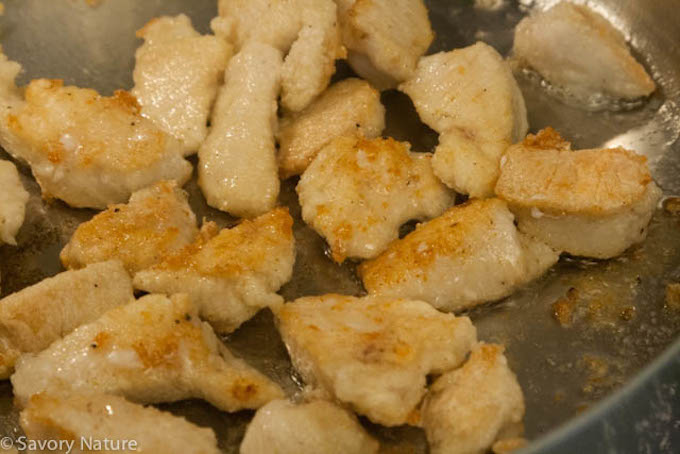 To prepare vegetables, chop onion, slice celery and carrot thinly, and snap stem ends and pull strings off of insides of snap peas. A mandolin makes quick work of the carrots. (Tried it with the celery – fail – it just gets mangled.)
Add some more oil to your skillet and stir-fry the onion, carrot and celery about 3 minutes. Add snap peas and stir a minute. Add minced garlic and stir just until aroma comes. Add sauce, pineapple, return chicken to pan and simmer covered about 3 minutes to thicken sauce and finish cooking the chicken.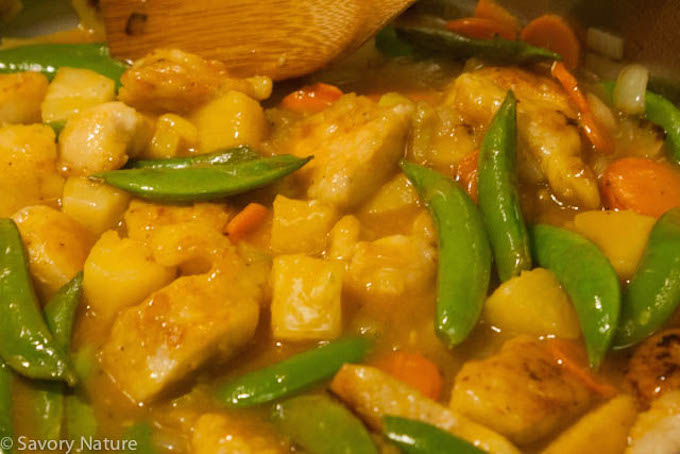 Serve the sweet and sour chicken with brown or white rice.

Sweet and Sour Chicken - Soy Free, Nightshade Free
Ingredients
3 boneless chicken breasts
½ cup cornstarch plus 2 Tbsp, divided
1 tsp salt
freshly ground black pepper
¼ cup olive oil (more as needed)
1 medium onion, peeled and chopped
1 stalk celery (with leaves if they're there), sliced thinly
2 large carrots, peeled and sliced thinly (a mandolin will work well)
10 oz snap peas, stem ends removed and strings pulled off
2 large garlic cloves, minced
1 20 oz can pineapple chunks in juice (reserve juice)
½ cup chicken stock (check ingredients depending on your food sensitivities)
⅓ cup carrot juice (found in the refrigerated section of the produce area)
1 Tbsp chickpea miso (or soy sauce if you're not allergic)
½ cup rice vinegar
3 Tbsp brown sugar
1 tsp ground ginger
Instructions
For sauce, mix juice from pineapple can (reserving pineapple), chicken stock, carrot juice, chickpea miso, rice vinegar, brown sugar, ginger and 2 Tbsp cornstarch and set aside.
Trim fat from chicken and cut into bite-size pieces.
Heat ¼ cup olive oil in a large skillet over medium high heat.
Mix ½ cup cornstarch, 1 tsp salt and a generous amount pepper in a shallow bowl.
Dredge chicken pieces in cornstarch mixture to coat and add to hot oil. (Don't crowd pan – do 2 batches.)
Let chicken pieces brown on bottoms and then stir as necessary to brown on all sides. (No need to cook chicken completely through, just brown.)
Remove to a plate and repeat with remaining batch, adding more oil if necessary.
Add oil to pan if necessary to have about 2 Tbsp and heat.
Add onion, carrot and celery and sauté about 3 minutes.
Add snap peas and stir 1 minute.
Add garlic and stir 30 seconds to a minute just until aroma comes.
Stir sauce that you prepared earlier, so that cornstarch that settled to the bottom is mixed in, and pour into skillet, scraping bottom of skillet to release any browned bits.
Add back chicken and pineapple chunks and bring to a boil.
Cover, reduce heat and simmer about 3 minutes until sauce is thickened and chicken is cooked through.
Serve with brown or white rice.