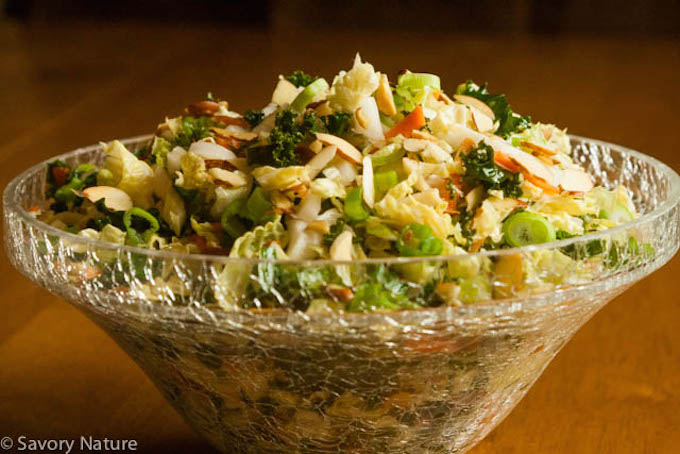 Slaws make such great sides… or toppings… or fillings. The crisp vegetables and sweet/tart dressing are so refreshing, especially as the weather gets warmer and yes, folks we're getting there! This Napa Cabbage and Kale Slaw has Asian flair and would go great with any sort of Asian inspired grilled meat, for instance Teriyaki chicken skewers. We had it the other night with grilled Korean short ribs (a winner from hubby – recipe coming!) It would be an awesome side for fried tofu or veggie burgers, too. Another yummy possibility: spring roll filling!
Napa cabbage and kale make this slaw light and airy!
Napa cabbage is lighter and fluffier than regular cabbage and gives this slaw a nice sort of light, airy quality and the curly kale helps with that as well. The carrots are sweet and colorful, and toasted almonds add a satisfying nutty crunch.
An Asian-inspired dressing brings complex flavor to this Napa Cabbage and Kale Slaw.
Sweet honey, sour rice vinegar, slightly bitter, aromatic ginger and garlic and umami-steeped miso and sesame oil bring the five tastes central to East Asian cuisine into palate-pleasing harmony in this dressing. Microwaving the dressing, briefly, brings out the flavor of the garlic and ginger and softens their bite. I use chickpea miso in this Napa Cabbage and Kale Slaw recipe to make it soy free, but you could use regular miso or soy sauce, too.
My resident guinea pigs, aka hubby and daughter, loved this slaw! Whip it up next time you've got Asian cravings!

Napa Cabbage and Kale Slaw
Ingredients
A medium head Napa cabbage (about 1 lb – about 6 cups sliced)
1 bunch kale (about 7 oz – about 4 cups sliced)
1 cup of grated carrot (about 3 medium carrots)
4 green onions, chopped
1 cup toasted sliced almonds
Dressing
¼ cup canola oil
½ cup rice vinegar
1 Tbsp honey
½" piece ginger root, peeled and grated
1 medium clove garlic, minced
1 tsp chickpea miso (or soy miso or soy sauce)
1 tsp toasted sesame oil
1 tsp salt
freshly ground black pepper to taste
Instructions
Mix together dressing ingredients and microwave 1 to 1 ½ minutes to get pretty hot (not to boiling). Set aside and let cool while you prep the veggies.
Remove tough stems from kale and slice leaves thinly.
Cut slices crosswise once or twice to make them shorter.
Mix sliced kale leaves and grated carrot and dressing and let sit 15 – 30 minutes to soften kale a bit.
Cut Napa cabbage in half, top to bottom and remove core.
Slice thinly and cut slices crosswise as necessary to get them to a good length.
Mix Napa cabbage, green onion and toasted almonds in with kale, carrot and dressing and let sit 30 minutes to an hour.
Serve at room temperature. (It can be served cold, too, but the flavors come through better at room temperature.)
Notes
Preparation time is 15 minutes, but there is an additional sitting/marinating time of 45 minutes.