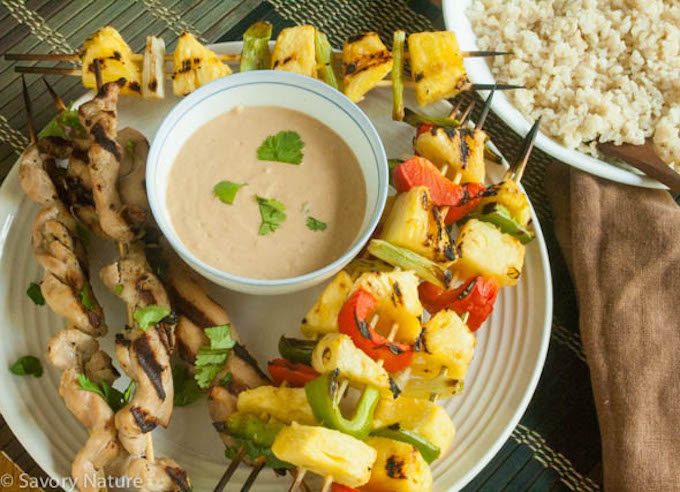 Quick, easy, colorful, healthy, bursting with flavor, and easy clean-up – does this sound like your perfect meal!? As the weather gets warmer, there's no better way to enhance flavor and minimize clean-up than grilling. That open flame imparts a wonderful smoky, sweet caramelization to meat, vegetables and fruits alike.
Chicken thighs, pineapple, peppers and green onion on skewers grill up tender and caramelized.
Sliced marinated chicken thighs, with their higher fat content than breasts, cook up juicy and tender on the grill. Colorful pineapple, pepper and green onion are tossed with the same miso, garlic, sesame marinade as the meat and grilled to crisp-tender, caramelized perfection.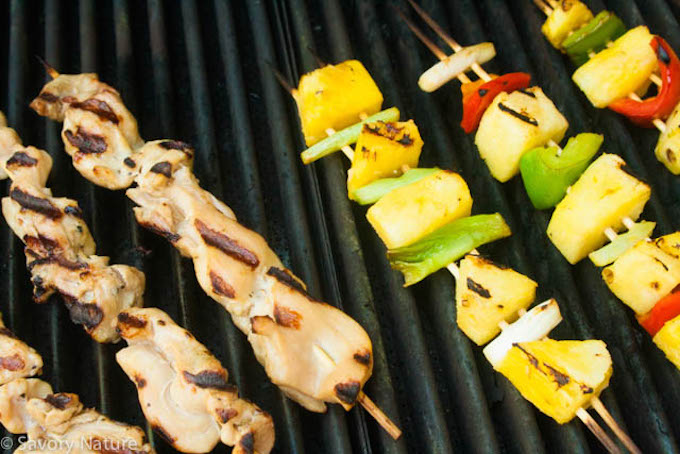 The Thai-style cashew sauce can be made soy-free, nut-free and/or nightshade-free.
This Thai-style cashew sauce is adapted from a recipe by Melissa Clark in the NY Times for Shrimp and Pineapple Skewers with Peanut Sauce. I've eliminated peanuts and soy from the sauce (with no loss of flavor!), but I provide the option of using them in the recipe. You could even use sunflower seed butter for a nut-free version as well. If you don't have cashew or sunflower seed butter on hand, you can also just grind an equal amount of roasted nuts or seeds to a paste in your blender/processor and add a little extra brown sugar. The sauce calls for Sriracha, which provides a nice kick, but if you're heat or nightshade sensitive leave it out. You can always omit the grilled peppers here, too and just do pineapple and green onion skewers in the event of nightshade sensitivity.
A mini-blender or mini-chopper makes the sauce with easy clean-up.
Whip this sauce up in any sort of blender or processor. I used a mini-blender attachment that came with my immersion blender for easy clean-up – it goes in the dishwasher – nice!
This tangy Thai cashew sauce adds zing to just about anything!
This sweet, nutty, tangy cashew sauce complements the grilled chicken perfectly. Any leftover sauce would make an excellent dip for raw veggies or for grilled shrimp. Some other ideas: spread a sandwich with the sauce or add it to lettuce rolls – it will perk up just about anything!
If you like, brown or white rice rounds out the meal nicely. Marinate the chicken, chop the veggies, make the sauce and get your rice going while the grill heats up. The grilling takes just about 10 minutes and it's dinner time!

Grilled Chicken, Pineapple and Peppers with Cashew Sauce
Recipe type:
Entree, Side, Meal
Ingredients
5 boneless skinless chicken thighs
½ of a pineapple
½ of a red bell pepper
½ of a green bell pepper
4 green onions
Cilantro for garnish (optional)
Oil for rubbing on grill ( A high smoke-point oil like rice bran oil works well for this.)
Marinade
3 Tbsp chickpea miso
3 Tbsp fish sauce
(Soy sauce can be substituted for the miso and/or fish sauce if you prefer.)
¼ cup dry sherry
2 Tbsp rice vinegar
2 cloves minced garlic
1 Tbsp toasted sesame oil
freshly ground black pepper
Sauce
¾ cup cashew butter (or sunflower butter or peanut butter depending on allergies)
(Or you can grind ¾ cup of roasted cashews or sunflower seeds plus 1 tsp brown sugar to a paste in a blender/processor.)
4 ½ Tbsp unsweetened coconut milk (the full fat variety in the can)
2 ½ Tbsp fresh lime juice plus more as needed to thin sauce (if you grind nuts rather than using a store-bought butter you will use more lime juice)
1 Tbsp brown sugar
1 ½ tsp chickpea miso
1 ½ tsp fish sauce
(You can substitute 1 Tbsp soy sauce for the miso plus fish sauce if you like.)
A 1-inch section of ginger root, peeled
2 large garlic cloves
¾ tsp Sriracha or other hot sauce (optional)
Instructions
If using wooden skewers, put them in water to soak.
If you want to serve this with brown rice, get it cooking now.
Trim chicken thighs of fat and slice into roughly 1-inch wide strips.
Mix marinade ingredients and add half of marinade to chicken, mix well and refrigerate.
Heat grill on high.
Slice the top, bottom and rind off the pineapple. Remove the core and chop into 1 to 1 ½ inch pieces. (You will only need half of a pineapple.)
Cut peppers and green onions into roughly 1 to 1 ½ inch pieces.
Mix vegetables and pineapple with rest of marinade and set aside.
To make sauce:
If starting with nuts, grind them to a paste first in a blender/processor/mini-blender and then add rest of sauce ingredients and blend until smooth.
If starting with a nut or seed butter, just combine all sauce ingredients and process until smooth.
Add more lime juice as necessary to reach desired consistency and reprocess.
Thread pineapple and vegetables on skewers (using 2 skewers spaced just a little bit apart prevents the veggies/pineapple from spinning when you turn the skewers on the grill.)
Thread chicken strips on skewers weaving strips under and over skewer.
Scrape grill clean and holding a folded up paper towel with tongs, dip it in oil and rub oil on grill to prevent sticking.
Grill chicken and veggies/pineapple skewers about 5 minutes with cover closed until grill marks form on bottoms.
Flip skewers and grill about 5 more minutes with cover closed until browned on other side and chicken is cooked through. (Cooking times will vary depending on your grill.)
Serve immediately with sauce.