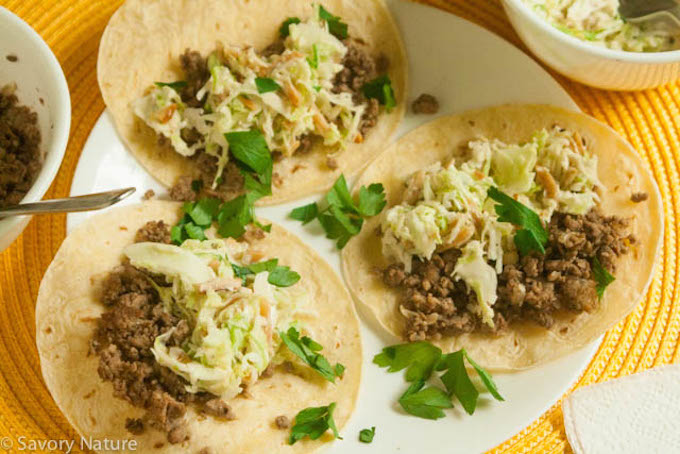 Day two and our final installment in Savory Nature's post Easter series – "What do you do with leftover roast lamb?" These Lambacos (as he calls them) are a creation of my husband, Greg, and, WOW, the flavors! They're kind of Greek meets Tex-Mex meets U.S. and it's a harmonious good time!
Greek spices give these Leftover Lamb Tacos international flair!
The lamb is ground in a processor with garlic and cooked with onion, cloves, cumin, coriander and cinnamon. It reminds me of the lamb in Greek Gyros – one of my most missed things since going gluten-free! There's a Mediterranean deli that opened near us in Chapel Hill, NC (called Mediterranean Deli –surprise!) and they make a gluten-free pita. Their lamb isn't gluten-free, but I had a chicken gyro that was pretty nostalgic there. They also sell their gluten-free pitas in a few local stores and online, so check them out if you have similar cravings, but I digress. Back to the tacos!
The Greek flavors are carried over into a mayo-dressed slaw.
The lamb is topped with a mayo-based slaw that's got a lovely Greek flavor and brightness, too. Hubby blooms the clove, cumin and coriander in oil and then combines some of that oil with mayo, fresh lemon juice and zest and a little rice vinegar to make the dressing. Toasted almonds add some nice crunch. The rest of that spice-infused oil plus some cinnamon is used to cook the onion and lamb. The lamb is really just cooked long enough to heat it through and mellow the garlic.
Toast some corn tortillas, fill with some lamb and slaw, and enjoy an international treat!

Leftover Lamb Tacos
Ingredients
½ cup slivered almonds
About 3 cups of trimmed roast lamb, cut into about ½ inch cubes
3-4 cloves of garlic
2 Tbsp olive oil
⅛ tsp ground cloves
¼ tsp ground cumin seed
¼ tsp ground coriander seed
1 medium onion, roughly chopped
¼ tsp ground cinnamon
One 10 oz bag of angel hair cole slaw
¼ cup mayonnaise
zest and juice from ½ lemon
2 tsp rice vinegar
Salt and freshly ground black pepper to taste
Corn tortillas (recipe makes about enough filling for 8 tortillas)
Chopped parsley for garnish (optional)
Instructions
Preheat oven to 200 degrees F (just to keep tortillas warm).
Pulse lamb and garlic cloves in a processor until roughly ground, stirring as necessary between pulses. Set lamb aside in a bowl.
Pulse chopped onion until finely chopped.
Heat a non-stick skillet and toast tortillas on each side just until brown spots start to appear. Keep warm in oven.
Toast almonds in same pan and set aside.
Heat 2 Tbsp olive oil in same pan, add cloves, cumin and coriander, stir about 1 minute, remove from heat and let sit a couple minutes.
Mix mayonnaise, lemon juice and zest and rice vinegar.
Stir 2 tsp of the spice-infused oil, cooked previously, into the mayonnaise mixture.
Toss cole slaw and toasted almonds with mayonnaise mixture, season with salt and pepper to taste and set aside.
Heat pan with remaining spiced oil, add pulsed onion and cinnamon and cook 1-2 minutes until almost tender.
Add lamb, season with salt and pepper to taste and warm through: about 4-5 minutes.
To serve, spoon a little lamb and a little slaw onto tortilla. Garnish with a little parsley if desired, fold and φάω or comer or eat!