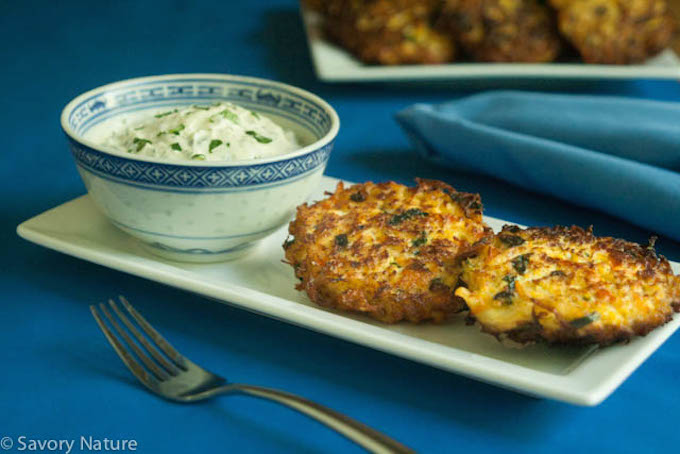 Fritters are such a fun way to prepare vegetables! You can do them with all sorts of different veggies. Cauliflower is a great candidate because it has some structure and heft. Carrots add a little sweet note and a splash of color. And why not have some green, too? The more colorful your diet, the healthier it is! Different colors mean different nutrients, many of which may protect against disease, according to the Harvard School of Public Health.
These cauliflower fritters with carrot and spinach are gluten-free and savory!
These cauliflower fritters are bound together with rice flour and egg making them gluten-free. I tried using some brown rice flour for extra fiber, but found it a bit gritty and it just didn't bind as well, so I recommend using white rice flour. The vegetables have plenty of fiber anyway. The cauliflower fritters are seasoned with cumin and coriander, which just seem to bring out the best in cauliflower. Onion, garlic and ginger round out the flavors and lime juice provides a little acidity.
Cauliflower Fritters with Carrot and Spinach – The Method
Start by coring the cauliflower, cutting into large florets and steaming for 7 minutes. A fork will insert easily, but it won't be super soft.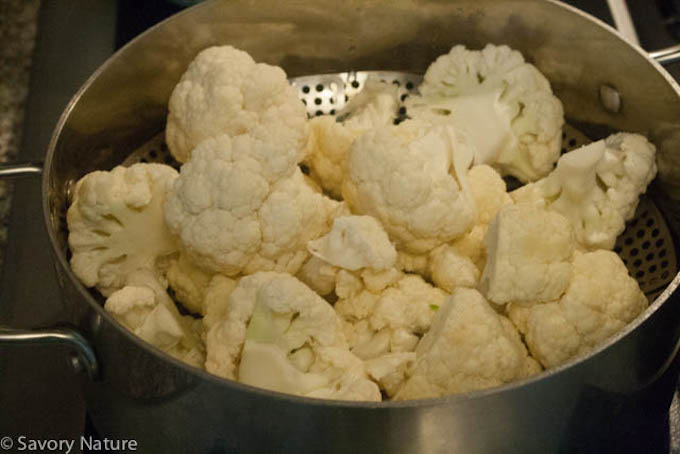 Mix the batter and then add the cauliflower and mash it with a potato masher. You want very small pieces, but not a puree.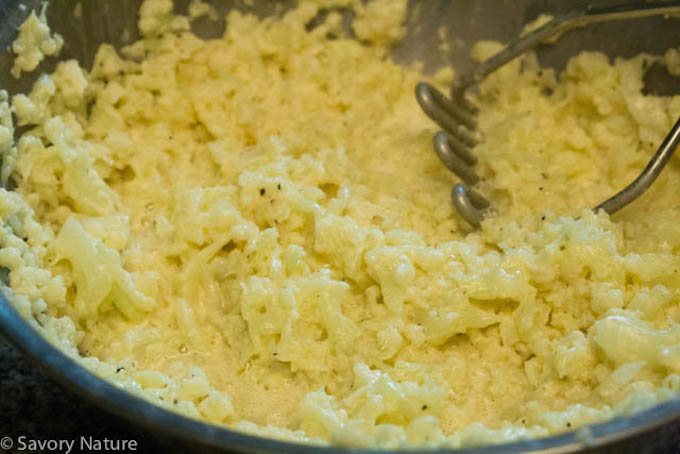 Cook the spices, grated carrot and onion for a couple minutes and then the garlic, ginger and spinach and add to the cauliflower mixture.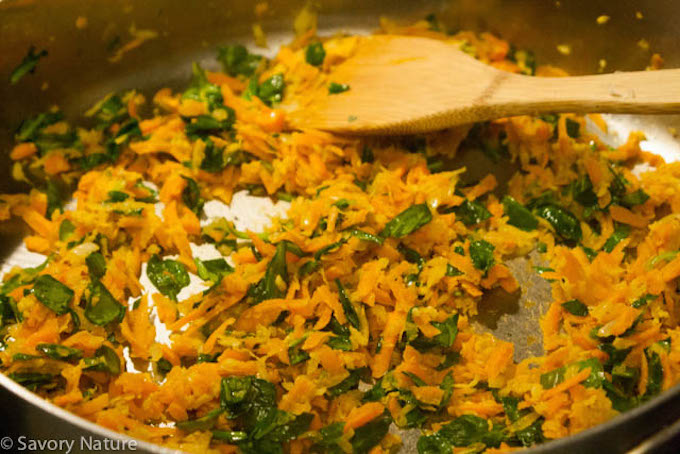 Heat ¼ inch oil in a large skillet – you can use the same pan you cooked the veggies in – just wipe it out. I tried this with just a coating of oil and you really do need the ¼ inch depth to get up into the crannies of the fritter and brown it well. Form about ½-inch thick patties with your hands. Don't drop them into the hot oil. Place them against a spatula and use the spatula to slide them into the hot oil.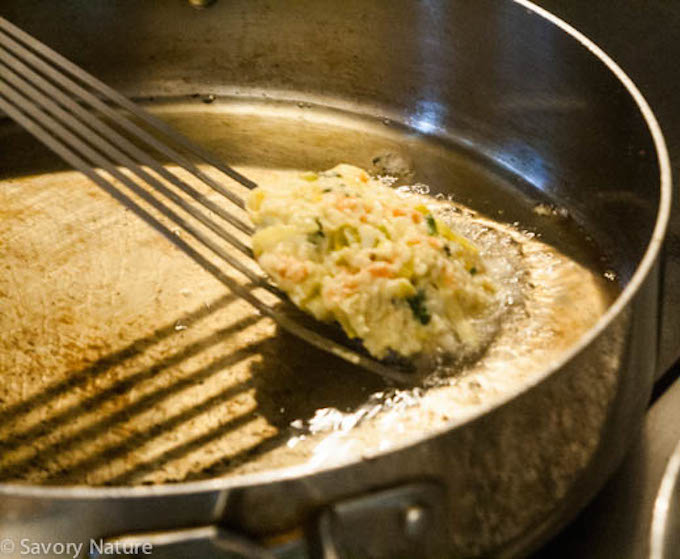 Cook about 2 minutes until browned on the bottom and then gently turn over and cook about another 2 minutes. Keep warm in a 200 degree F oven as you fry successive batches.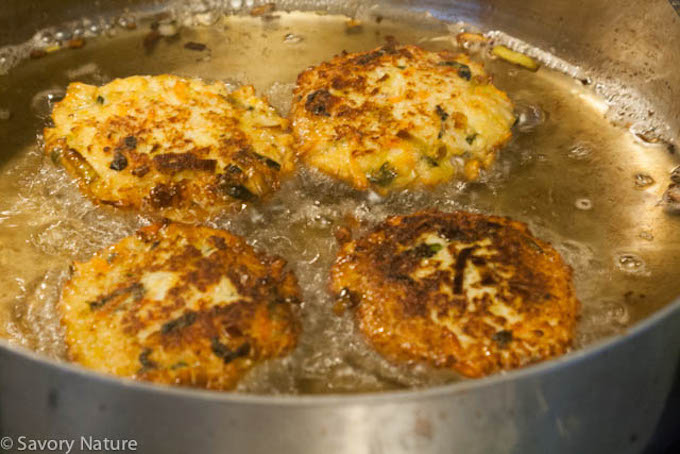 A dipping sauce is nice with these cauliflower fritters, although not a necessity. I served them with a cilantro lime aioli. The tangy garlicky mayo was the perfect accompaniment for the warmly spiced fritters. The very simple recipe is included below.
These cauliflower fritters with carrot and spinach can be a side dish or the focus of the meal!
You could have these cauliflower fritters as a fancy side dish, but really they're substantial enough to serve as a vegetarian entrée. They'd go great with a salad or some wilted greens. We had them with briefly sautéed beet and spinach greens, drizzled with a little balsamic vinegar, topped with roasted beets and some toasted pecans. My kind of meal – flavorful, colorful, satisfying, yet it doesn't weigh you down!

Cauliflower Fritters with Carrots and Spinach
Recipe type:
Entree or Side
Ingredients
Fritters
1 large head cauliflower (about 2 ½ pounds or more)
3 medium carrots, peeled and grated
1 yellow onion, peeled and grated
2 cups packed fresh spinach, chopped
3 medium cloves garlic, minced
½ inch piece ginger root, peeled and grated
1 tsp ground cumin seed
1 tsp ground coriander seed
2 Tbsp lime juice (can be fresh or bottled)
3 eggs
1 ¼ cups white rice flour
1 tsp salt
freshly ground black pepper to taste
High smoke point oil like rice bran oil
Cilantro Lime Aioli
1 medium garlic clove, minced
1 tsp cooking oil
2 Tbsp finely chopped fresh cilantro
½ cup mayonnaise
Juice of a small lime (about 5 tsp)
Instructions
To make the dip:
Place the minced garlic clove and the tsp oil in a bowl and microwave on high 20 seconds. Give it a stir and let it sit a couple minutes.
Stir in cilantro, mayonnaise and lime juice and set aside.
To make the cauliflower carrot and spinach fritters:
Preheat oven to 200 degrees F.
Remove core from cauliflower and cut rest of head coarsely into large florets.
Put about an inch of water in a large pot and set a steamer basket over water if you have one.
Heat to boiling.
Add cauliflower and steam covered for 7 minutes – it should be fork tender but not really soft. Remove from heat and drain.
Heat 2 Tbsp oil in a large skillet over medium heat (you can use this pan later for frying the fritters, too).
Add the cumin and coriander and stir 30 seconds.
Add the grated carrot and onion and stir about 2 minutes until tender.
Add garlic, ginger and spinach and stir until spinach wilts, 1-2 minutes.
Remove from heat and set aside.
In a large mixing bowl, beat eggs lightly, mix in lime juice, salt and pepper.
Mix in rice flour.
Add cooked cauliflower to batter and mash with a potato masher until mashed into small bits/pieces (not fully pureed).
Add cooked carrot, spinach mixture and toss to mix well.
Wipe out skillet with a paper towel.
Heat ¼ inch deep oil in skillet over medium high heat until quite hot, but not smoking. (If you run a little water over your fingers and shake them at the pan from a foot or two away, the water droplets should sizzle vigorously and perhaps splatter just a little, but if they splatter all over the place it's too hot.)
Form about ½ to ¾ inch - thick patties with your hands (don't drop them into the hot oil), put them against a slotted spatula and use the spatula to gently slip them into the hot oil.
Fry about 4 at a time, not crowding the pan.
Fry about 2 minutes until browned on the bottom, then turn gently with spatula and fry about another 2 minutes until browned on other side.
Remove to a platter lined with a paper towel and keep warm in oven as you fry successive batches.
Give vegetable mixture a stir before forming each batch of patties.
Serve warm with dip if desired.
Notes
Makes about sixteen 3-inch wide fritters.