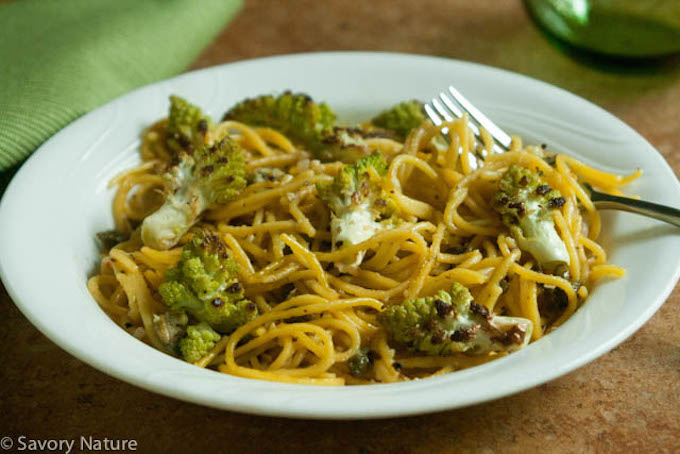 Are you the intuitive or logical type? I won't say right-brained or left-brained – apparently that theory's been debunked. In any case, whether you lean toward the artistic or mathematical, Romanesco's got something for you! It's the oddly beautiful, mathematically quirky cousin of cauliflower and broccoli. That intriguing spiral pattern you see on its surface is a fractal, a special sort of repetition on different scales that intersects beauty with math, all courtesy of Mother Nature! My husband has taken to calling it caulifractal ☺ .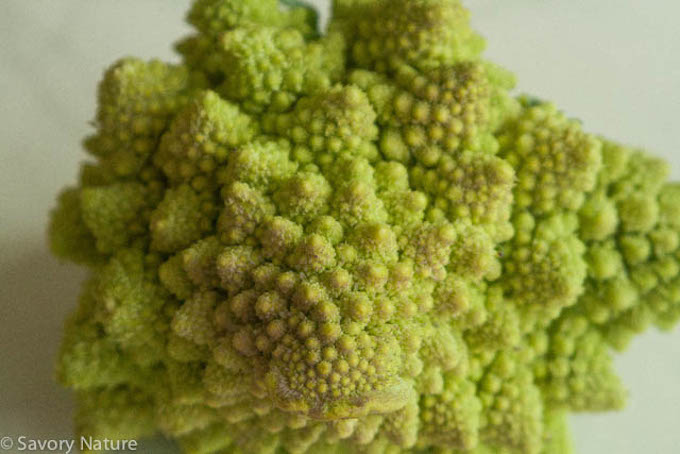 Roasted Romanesco is good eats!
Aside from being fun to look at, Romanesco makes for serious good eating. It's got a light nutty flavor, kind of in between broccoli and cauliflower. Romanesco florets are much smaller than cauliflower's and crunchier with a pretty light green on the tips, white on the inside coloring. Roasting brings out both the nutty flavor and the crunch.
Two simple recipes combine to make one great vegetarian meal in Quick Pasta with Roasted Romanesco!
This is kind of two recipes in one. You could just do the roasted Romanesco and serve it on its own as a side dish, maybe sprinkled with some Parmesan if you like. The heads are much smaller than cauliflower so you'd want a couple of them. But it makes a great accent for pasta, too, giving you a vegetarian meal that's out of the ordinary for very little effort.
This recipe is derived from a classic Italian quick pasta.
I've adapted this pasta, from a classic dish called Pasta Rapido that the Italian's whip up when they don't really have time to cook. In the classic version, you flavor olive oil by cooking garlic and hot peppers in it, add parsley, salt and cooked pasta and in 10-15 minutes a zesty dinner's on the table. This simple recipe is great on its own, but it lends itself really well to all sorts of variations, too.
Capers, shallots and the crowning glory: roasted Romanesco kick up this simple quick pasta.
In this version, I fry capers and shallot in the oil in addition to the garlic. I've also decreased the amount of oil a bit to cut back the calories and added a little white wine to the sauce instead. The icing on the cake or in this case the topping on the pasta is the roasted Romanesco. It adds the perfect roasty nutty flavor, crunch and visual appeal to elevate this quick weeknight supper to something special.
Substitutions are possible.
Romanesco tends to be available spring and fall. Regular grocery stores usually don't carry it, but CSA's, other local produce delivery services, and farmers markets will often have it. If you can't find it, you could substitute roasted broccoli here. Roasted cauliflower plus some parsley for color could work, too. Hopefully, the grocery stores will catch on to the appeal of this freakishly cute little vegetable soon!
Roasted Romanesco – The Method
Slice the bottom/leaves off the head of Romanesco. Cut it in half from top to bottom.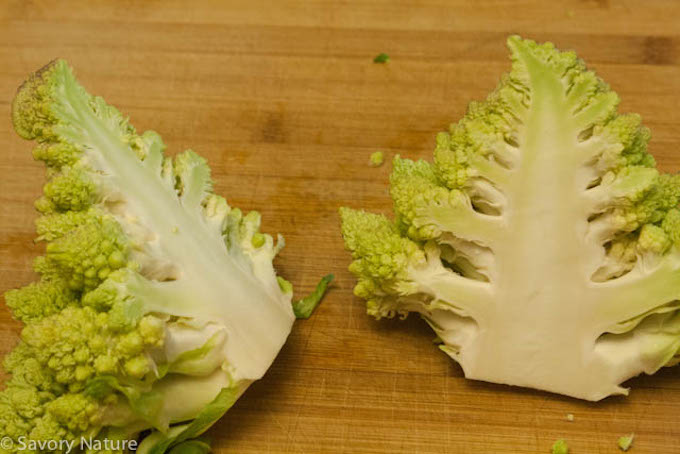 Cut each half in half again top to bottom and then slice the florets away from the core.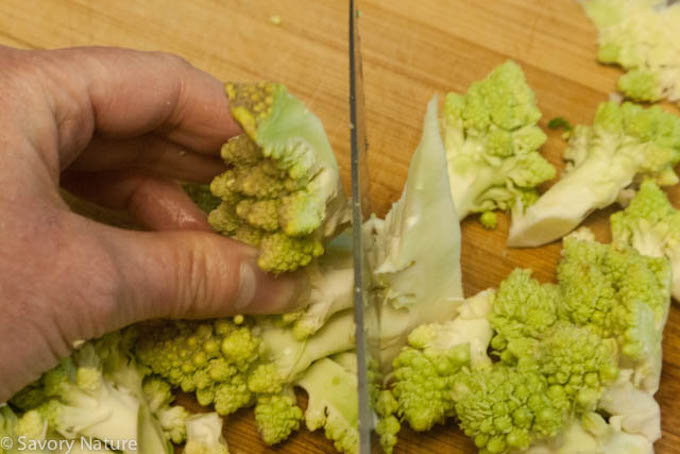 Separate/cut apart the florets as necessary to yield bite-sized pieces.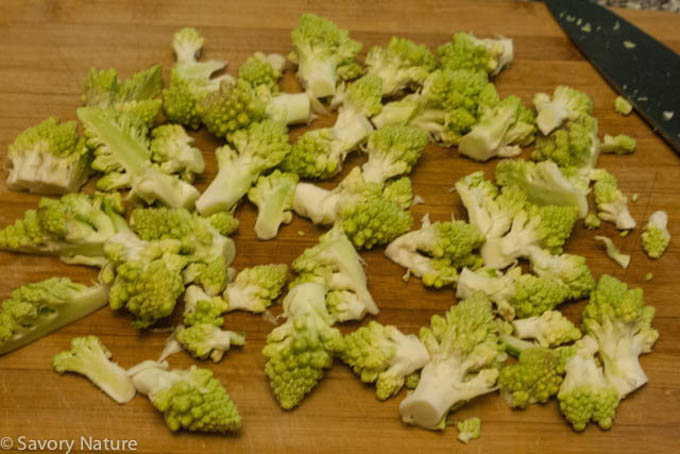 Toss with extra virgin olive oil and sprinkle with salt on a foil-lined baking sheet and roast at 400 degrees F for 20 minutes, turning after 10 minutes.
Quick Pasta – The Method
Cook 12 oz gluten-free pasta until al dente. Meanwhile, heat ¼ cup extra virgin olive oil in a large skillet and cook drained capers 2 minutes. Add sliced shallot and cook 1 minute. Add red pepper flakes and minced garlic and cook just about 20 seconds until aroma comes. Add wine and simmer, scraping browned bits from bottom of pan until reduced by about half. Add cooked pasta. Sprinkle with salt and pepper and toss until pasta is well coated and heated through.
Pulling the Meal Together Quickly
Overlap makes this meal come off in no time. You can cook your pasta and make the sauce, while the Romanesco is roasting. If the Romanesco finishes first, just turn off the oven and crack the door to keep it warm while you finish up the pasta. To serve just stir the roasted Romanesco into the finished pasta or arrange on top if serving individual portions. It's not necessary, but sprinkle with parmesan cheese if desired.

Quick Pasta with Roasted Romanesco
Ingredients
Roasted Romanesco
1 head Romanesco
2 Tbsp extra virgin olive oil
Salt to taste
Quick Pasta
12 oz gluten-free spaghetti (or whatever pasta you like)
¼ cup extra virgin olive oil
3 Tbsp capers, drained in a strainer
1 medium shallot, sliced thinly, slices cut in half
¼ to ½ tsp crushed red pepper flakes (optional)
3 cloves garlic, minced
½ cup dry white wine
½ tsp salt
Freshly ground black pepper
Grated parmesan if desired
Instructions
Roasted Romanesco
Preheat oven to 400 degrees F.
Cut base and leaves off Romanesco and discard.
Cut Romanesco head in half top to bottom.
Cut each half in half again, top to bottom.
Cut core away from florets and discard.
Separate/cut apart florets to give bite-sized pieces.
Put florets on a foil-lined baking sheet.
Drizzle with 2 Tbsp olive oil and toss so that florets are well coated.
Spread and sprinkle with salt.
Roast in oven 10 minutes, turn and roast another 10 minutes until browned and fork tender.
If you're not quite ready to add them to the pasta, turn off oven, crack door and leave them in to keep warm.
Quick Pasta
While Romanesco is roasting, cook pasta according to package directions until al dente. I recommend starting tasting a minute or two before it's supposed to be done so that it doesn't get overcooked. Drain.
Heat ¼ cup extra virgin olive oil in large skillet over medium to medium high heat. You want it moderately hot, not smoking or near smoking.
Add drained capers and cook 2 minutes.
Add shallot and cook another minute.
Add red pepper flakes and minced garlic and stir 20-30 seconds until aroma comes.
Add wine and simmer until wine is reduced by about half, scraping bottom of pan to release browned bits.
Add cooked and drained pasta, sprinkle with salt and pepper and toss well to coat and heat pasta through.
Stir in roasted Romanesco or top individual servings with Romanesco.
Sprinkle with grated Parmesan if desired.