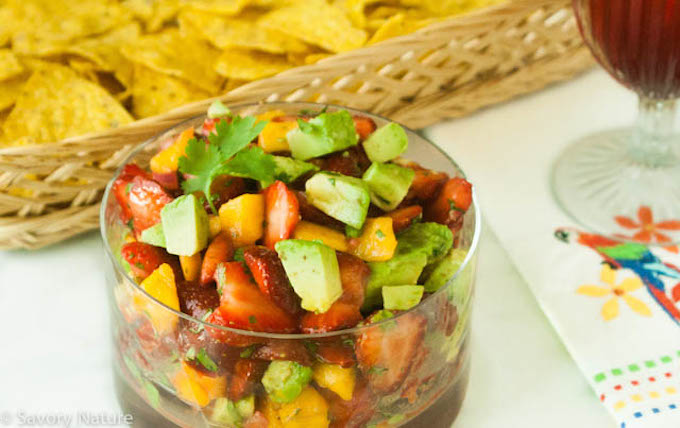 It's strawberry time! You can get them most of the year, but those bred-to-ship strawberries, just don't have the same sweetness and intensity of flavor that locally grown strawberries do. For most of us, late spring and early summer are the time we can partake of the local beauties with real old-fashioned strawberry taste!
Sweet, tart strawberries are naturals for salsas. This Strawberry Mango Avocado Salsa with a little bit of lemon is refreshing, delicious and colorful! You could serve the salsa as an appetizer with chips or as a side dish or topping. It complements poultry and fish especially well. We had this Strawberry Mango Avocado Salsa with some jerk chicken and the cool, sweet salsa was the perfect counterpoint to the hot, spicy chicken.
Strawberry Mango Avocado Salsa is ready in 15 minutes!
This salsa is quite easy to make. Mix the dressing first and let the red onion sit in it about 15 minutes to mellow its bite. Meanwhile you can slice the strawberries, mango and avocado and chop the cilantro. For prettiest presentation, toss the strawberry, mango, and cilantro with the dressing and then gently fold the avocado in and serve. That way the creamy avocado won't coat the fruit.
It's best to serve this salsa immediately after making it. The fruit softens as it sits in the dressing, and it won't be as pretty. If you want to prep things ahead of time, put the red onion in the dressing and chop the strawberries, mango and cilantro, but wait to chop the avocado and mix everything until you're ready to serve.
If you're new to chopping avocado or mango, they're both most easily handled by leaving the skin on and separating into halves (for the mango you have to slice each half away from the oblong pit that runs down the middle). Then you score the fruit in a crosshatch pattern and scoop (avocado) or slice (mango) the fruit cubes away from the peel. Want pictures? Check out Elise Bauer's Simply Recipes for a tutorial with pictures for cutting avocado and mango.
Variations you can do on this Strawberry Mango Avocado Salsa Recipe
Personally, I love cilantro, but to some people it tastes like soap. If you're one of them, fresh parsley or basil would be great in this, too. If you like a little bit of heat, you could finely chop one half to one seeded and deveined jalapeno pepper and mix it in.
What do you do with leftover Strawberry Mango Avocado Salsa?
As I said, the fruit softens in the dressing. By the next day this salsa will still taste good, but frankly it will look like mush. What to do? Why not a smoothie?! I put it in the blender – 1 part salsa to 1 part orange juice, and it was delicious and much more attractive! It reminded me a little of fruit gazpacho, because of the touch of vinegar and lemon juice.
Strawberry Mango Avocado Salsa
Recipe type:
Appetizer or Side
Ingredients
2 Tbsp finely chopped red onion
1 ½ tsp canola oil
1 Tbsp fresh lemon juice
1 Tbsp white wine vinegar
1 tsp honey
1 pint strawberries (about ¾ lb or 2 cups sliced)
1 ripe mango
1 firm ripe avocado
2 Tbsp finely chopped fresh cilantro (or fresh parsley or basil if you prefer)
Instructions
Mix oil, lemon juice, vinegar, and honey.
Add red onion and set aside.
Wash strawberries and pat dry.
Hull strawberries and slice in about ¼-inch slices. For very large berries, slice them in half crosswise first.
Chop mango and avocado into about ½ inch cubes.
Toss the strawberry, mango, cilantro and onion/dressing together.
Gently fold in the avocado and serve immediately.
Notes
If you'd like some heat, add ½ to 1 jalapeno, finely chopped.

Recipe makes about 4 cups salsa.