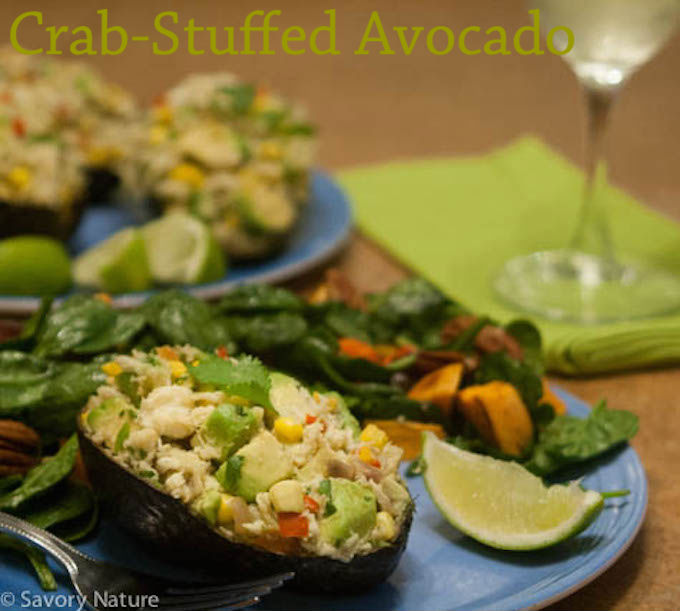 Sweet crabmeat and creamy avocado pair in a light, refreshing entrée perfect for a warm late spring or summer evening. I was inspired to create this recipe by a small dish I enjoyed at an innovative local restaurant called Buku. Their theme is global street food, and there are so many wonderful dishes to try! Greg and I picked five small dishes from their ample gluten-free menu and split them for lunch – what a treat!
A little curry powder gently warms the Crab-Stuffed Avocado.
The avocado we had at the restaurant was stuffed with crab, mango, tomato, red pepper, and red onion, accented with lime juice. I decided to warm up the flavor just a little for my recipe by briefly cooking fresh corn, red pepper and red onion with curry powder and adding it to the crab and avocado. It struck just the right balance between the light sweet crab, warmly spiced, sweet, crunchy veggies, bright lime juice and creamy avocado. I used large avocados and scooped them entirely out, allowing me to mix the avocado evenly in with the crab, and fill them with larger portions to make an entrée.
These Crab-Stuffed Avocados are quick, easy and delightful!
A little bit of chopping, a few minutes of sautéing, mix, stuff and you're ready to indulge. We paired the Crab-Stuffed Avocados with a green salad accented with roasted sweet potato cubes, grapes and pecans. It really hit the spot on a warm evening. Try this now and file it away to enjoy again when we get into those hot dog days of summer!

Crab-Stuffed Avocado
Ingredients
3 large firm ripe avocados
1 Tbsp extra virgin olive oil
½ tsp mild yellow curry powder
¼ cup finely chopped red onion
¼ cup finely chopped red pepper
¾ cup fresh corn kernels (about 1 good fat ear of corn)
1 clove garlic, minced
1 pound pasteurized crabmeat (from the refrigerated seafood case)
¼ tsp salt
3 Tbsp finely chopped cilantro plus a few leaves for garnish
2 Tbsp fresh lime juice
6 lime wedges for serving
Instructions
Heat oil in a large skillet over medium heat.
Add curry powder and stir about a minute until aroma comes.
Add red onion, red pepper, and corn and sauté 2 minutes.
Add garlic and stir about 30 seconds until aroma comes and remove from heat.
Place crabmeat in a large mixing bowl and remove any shell fragments.
Add salt, chopped cilantro, lime juice and sautéed vegetables and mix well.
Cut each avocado in half lengthwise and remove pit.
Score 4 of the avocado halves in a crosshatch pattern by cutting through with a knife down to but not through peel, making a pattern of roughly ½-inch cubes.
Scoop out avocado cubes with a spoon.
Cut rectangular pieces in half as necessary to make roughly ½-inch cubes.
Combine the avocado cubes with the crab mixture and gently mix in.
Scoop out the remaining 2 avocado halves and reserve avocado for another purpose – maybe a little guacamole?
Stuff crab mixture into avocado shells mounding it up generously.
Garnish with cilantro leaves.
Serve with lime wedges for spritzing.
Notes
This recipe could be done nightshade-free by substituting ¼ tsp ground cumin seed and ¼ tsp ground coriander seed for the ½ tsp curry powder, and omitting the red bell pepper. You could substitute chopped carrot for the red pepper if desired, but saute it a few minutes longer than the corn and onion.