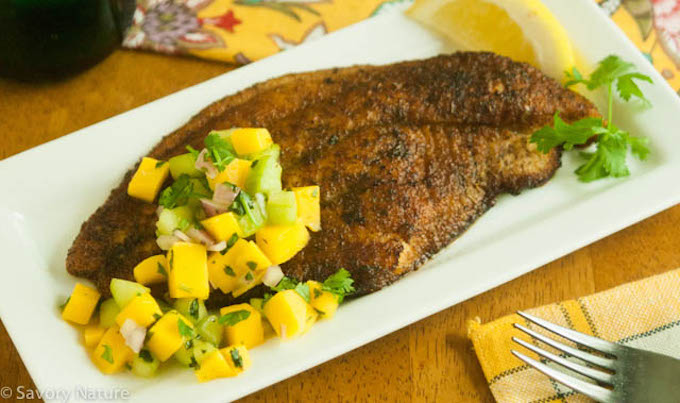 My husband is a long time fan of Blackened Catfish. He loves spice in general, both bold flavors and heat. He's blackened catfish several times over the years, and it's always great, but – WOW – can it smoke up the house!
The classic technique originated with Cajun food star, Paul Prudhomme, and involves coating the fish in melted butter and then a Cajun spice mix and searing it in a smoking hot, dry cast iron pan. Well, the butter smokes and the spices char (they really approach burned) and you wind up with tender fish with a hot, smoky blackened exterior – a spice lover's dream! However, the sensory experience extends to the spicy, smoky air, which may still remind you of dinner's robust flavors the next morning. That can be a little much for me, so Blackened Catfish tends to be a fairly infrequent indulgence of our spice cravings.
Blackened Catfish Smoke-Free Strategy # 1 – Cook Outdoors!
We had the hankering recently and we thought, hey we've got a regular burner on the side of the gas grill. Why not use that to heat the cast iron pan and eliminate the whole smoke-filled house problem? Greg went looking at recipes – we rarely make anything exactly the same twice – more fun to experiment! He came across several with the old butter then spice, dry pan technique. He also saw several where the catfish is coated with spice, let dry-marinate a little to absorb the flavors and then cooked in hot oil.
Blackened Catfish Smoke-Free Strategy # 2 – Cook in Oil.
We decided to try the latter route, and the dish rocked flavorwise! Plus there were several advantages. 1. There's was a lot less smoke, so if you're doing this inside, no smoke screen. 2. The fish was more moist, and the spices were browned nicely, but not burned. 3. With oil instead of butter, it's dairy free – great if you have a dairy intolerant diner like we do. Win, win, win – did I forget one… yeah, win!
This Blackened Catfish has bold flavor – either nightshade-free or with traditional Cajun fire.
Greg came up with his own super-flavorful spice blend. I've written the recipe with a couple variations on it. One is nightshade-free with the only heat coming from white pepper. White pepper is pretty sharp and hot and is a decent heat substitute if you can't tolerate hot peppers. Our daughter may be sensitive to nightshade vegetables (peppers among them) and has reflux trouble with heat. So we did it this way and it had plenty potent flavor. The other version has smoked paprika and cayenne pepper for plenty of Cajun heat.
A Mango Cucumber Salsa cools off the spicy Blackened Catfish.
The Mango Cucumber Salsa is sweet, tangy and cooling – the perfect accompaniment for the spicy Blackened Catfish. Cilantro and lime give the salsa a bright Latin flair.
This Blackened Catfish with Mango Cucumber Salsa is a little Cajun, a little Tex-Mex, a little tropical and the flavors play so well together! Enjoy it as the tropical heat of summer sets in!

Blackened Catfish with Mango Cucumber Salsa
Ingredients
Mango Cucumber Salsa
1 Tbsp fresh lime juice
2 Tbsp canola oil
1 Tbsp rice vinegar
1 Tbsp honey
¼ tsp salt
freshly ground black pepper to taste
¼ cup finely chopped red onion
1 ripe mango, peeled and chopped
1 large cucumber, peeled, seeded and chopped
3 Tbsp finely chopped fresh cilantro
Blackened Catfish
3 Catfish Fillets (about 1 ¾ lbs)
1 tsp ground coriander seed
2 tsp ground cumin
1 tsp smoked salt (or regular salt if you can't find it)
(We're fortunate to have a Savory Spice Shop near us and used their alderwood smoked salt for this. We did a search of local grocery stores and came up empty on the smoked salt availability, but you can order online from Savory Spice Shop.)
1 Tbsp onion powder
1 tsp white pepper
1 tsp roasted garlic powder (or garlic powder)
1 tsp dried oregano
1 tsp dried thyme
This spice mix is nightshade-free to this point. We had it this way and it was great!
However, if you're not nightshade sensitive and/or would like more heat, you can add
1 Tbsp smoked paprika and
½ - 1 tsp cayenne pepper (depending how hot you like it). In this case, you could substitute regular salt for the smoked salt and ½ tsp black pepper for the white pepper as well).
Good high smoke point oil like rice bran oil.
Instructions
Mango Cucumber Salsa
Mix dressing: lime juice, oil, vinegar, honey, salt, and pepper.
Toss red onion, mango, cucumber, cilantro and dressing and let sit 20 minutes or more to marinate.
Blackened Catfish
Mix spices.
Rinse catfish and pat dry.
Sprinkle spice mix all over catfish and pat it in.
Refrigerate 15 minutes or longer.
Heat a heavy skillet (cast iron works great for staying uniformly hot) over high heat until quite hot. If you have a burner on your outdoor grill, this is a great use of it to minimize smoke and mess.
Add about ⅛ inch deep oil to pan and add fish. Don't crowd the pan, do in batches if necessary.
Cook fish about 3 minutes per side until opaque throughout.
Serve fish immediately with Mango Cucumber Salsa.
Notes
Number of servings depends on the size of the catfish fillets and your diner's appetites. Small fillets will only serve 1, whereas larger fillets may serve 2.