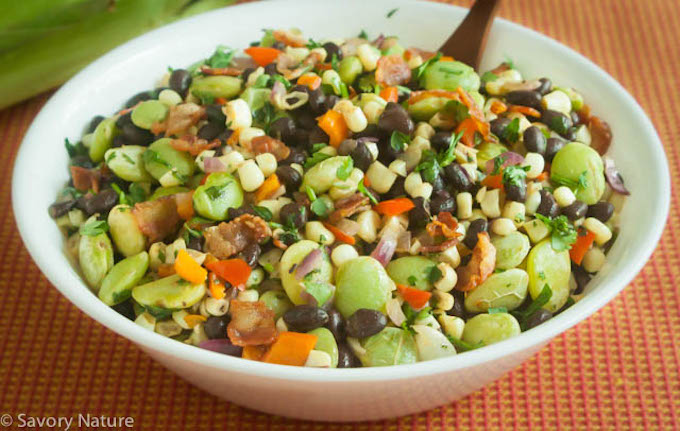 This Southwestern Succotash is a kicked-up Tex-Mex twist on a classic pairing: lima beans and corn. According to Wikipedia, succotash originated with the Narragansett Native Americans of Rhode Island. The Narragansett word Sohquttahhash meant broken corn kernels. Succotash is still a popular side dish in the northeastern and southern U.S.
This Southwestern Succotash has the typical lima beans, corn and red pepper, but that's where ordinary stops. Add black beans, red onion and bacon, and season it with cumin, cilantro and lime and it becomes a multi-regional mash-up of goodness!
This Southwestern Succotash recipe feeds a crowd, but is easily cut in half, too.
This Southwestern Succotash recipe makes a lot – about 10 servings. If you want to cut it in half and still use the whole can of black beans, that works out just fine. Who wants to have a half can of black beans around?
This Southwestern Succotash makes a great side for any sort of Tex-Mex/Southwest themed main dish. It's nice with simply grilled meat or fish, as well.

Southwestern Succotash
Ingredients
4 slices bacon, chopped
12 oz bag frozen lima beans
2 ears of fresh corn, kernels stripped from ears
½ cup chopped red pepper
½ cup chopped red onion
1 15-oz can of black beans, rinsed and drained
1 tsp ground cumin seed
½ tsp salt
freshly ground black pepper to taste
1 Tbsp margarine (or butter)
⅓ cup chopped fresh cilantro
Juice of half a lime (about 1 Tbsp)
Instructions
Bring water to boil in a large saucepan. Add lima beans. Bring back to a boil, and boil about 10 minutes until fork tender. Drain.
Meanwhile, cook bacon until browned in a large skillet.
Remove bacon to paper towel, and drain all but 2-3 Tbsp of bacon fat from pan.
Cook corn kernels, red pepper, onion and cumin in bacon fat over medium high heat about 2 minutes until softened.
Add in lima and black beans, bacon, salt, pepper, and margarine and stir just to heat through.
Sprinkle lime juice and cilantro over, stir to mix and serve.
This dish can be made ahead and reheated in the microwave.