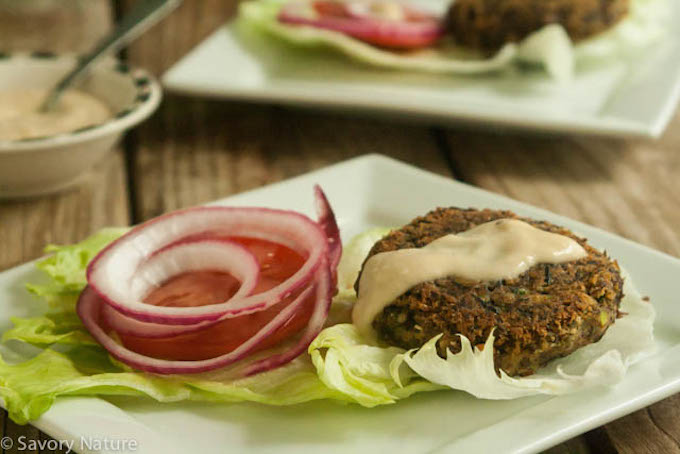 These Black, Wild Rice and Chickpea Patties make great vegan burgers, or smaller patties can be served as an appetizer or over a salad. They've got lots of flavor with cumin, coriander, garlic, lemon and fresh herbs. And they're a nutritional powerhouse with plenty of fiber, high quality protein and antioxidants.
This rice and chickpea patty recipe developed from an abundance of black and wild rice in the freezer. I posted a recipe recently for Black, Brown and Wild Rice Pilaf – shameless plug – great recipe – way more flavorful and interesting than your average pilaf! Anyway, I did a few batches of wild and black rice getting the moisture content just right, so I ended up with a bunch of rice in the freezer. I thought it would be great to combine it with some chickpeas to make a vegetarian burger and it came out awesome! The varied textures and flavors of the chickpeas and black and wild rices made perfect patties.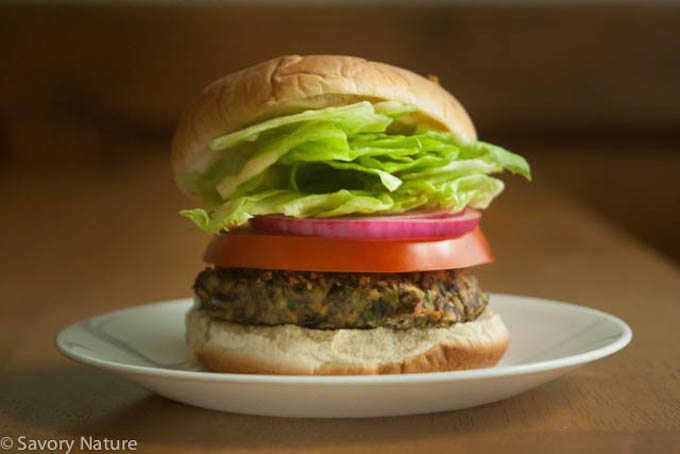 These Black, Wild Rice and Chickpea Patties deliver complete protein and healthy antioxidants.
This recipe is great if you're on a vegan diet, because aside from tasting wonderful, these patties are a great source of complete protein. Chickpeas have plentiful protein. Rice isn't typically thought of as a high protein food, but wild rice has about twice the protein of other rices (about the same as quinoa). Combining the chickpeas and rice makes for a complete source of all the essential amino acids. The dark color of the black rice and wild rice come from anthocyanins, the same healthy antioxidants found in blueberries. An added benefit: I swear when wild rice is cooking it smells like bacon! So if you're vegan or vegetarian and kind of miss that, breathe it in!
Day-old rice makes for firmer Rice and Chickpea Patties.
The first time I made these rice and chickpea patties, I used rice that had been refrigerated and then frozen and thawed and that worked great. Knowing what a difference it makes to use old rice vs. freshly cooked rice for fried rice, I thought I better see if it mattered here. I made some patties using fresh hot rice and they were good and didn't fall apart, but the ones using older rice were firmer. I suggest making the rice a day ahead and refrigerating it overnight or freezing a bunch to pull out as you need it. If you do need to make the rice the same day, try spreading it on a sheet pan and refrigerating it a while to help it firm and dry out before making the patties.
You can go in a Tex-Mex or Middle Eastern direction with the fresh herbs in these Rice and Chickpea Patties.
We've tried these Black, Wild Rice and Chickpea Patties Tex-Mex themed with cilantro and more Middle Eastern with parsley and they're great either way. Lemony tahini yogurt sauce is a great tangy Middle Eastern themed accompaniment to them, kind of reminiscent of falafel with tahini sauce.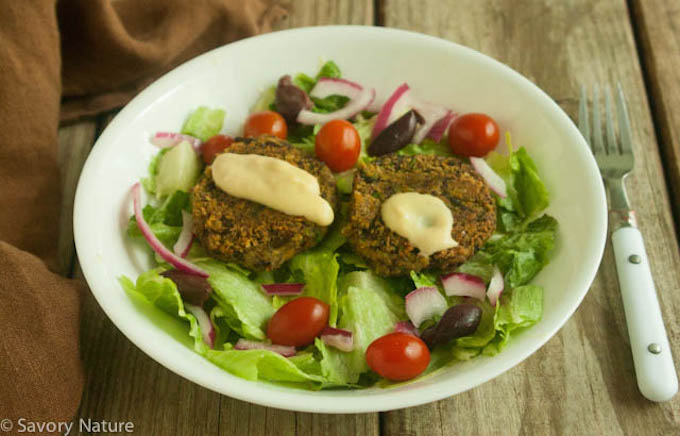 A hint for storing tahini
It's really best to refrigerate tahini after opening, but it separates and can be difficult to remix especially when it's cold. I mix it and then distribute it in an ice cube tray and freeze. Once frozen, you can pop the cubes into a ziplock bag, store frozen and just thaw perfectly mixed small portions as you need them.

Black, Wild Rice and Chickpea Patties with Tahini Yogurt Sauce
Recipe type:
Entree or Appetizer
Ingredients
Tahini Yogurt Sauce
One 6-oz container of plain coconut yogurt (or dairy or soy yogurt if you prefer)
2 Tbsp tahini
2 Tbsp fresh lemon juice
2 Tbsp extra virgin olive oil
1 clove garlic, minced
¼ tsp salt
1 tsp honey (or agave nectar for a vegan version)
Black, Wild Rice and Chickpea Patties
¼ cup black rice
¼ cup wild rice
1 cup water
½ tsp salt, divided
1 can chickpeas, rinsed and drained
2 green onions, chopped
¼ cup chopped parsley or cilantro
½ tsp roasted garlic powder or garlic powder
½ tsp ground cumin seed
¼ tsp ground coriander seed
freshly ground black pepper to taste
1 Tbsp fresh lemon juice
High temperature cooking oil like rice bran or safflower
Instructions
Tahini Yogurt Sauce
Mix all ingredients and let sit for at least a half hour. The tahini can have a bit of a bitter aftertaste, which will go away as the sauce sits.
Black, Wild Rice and Chickpea Patties
Rinse wild rice, drain and add to 1 cup water and ¼ tsp salt in a saucepan.
Bring to a boil, cover and reduce to a simmer. Set timer for 10 minutes.
Rinse and drain black rice.
When 10 minute timer goes off, add black rice to wild rice.
Turn up heat to bring back to a boil, reduce heat and simmer covered for about 45 minutes until liquid is absorbed.
Fluff and let stand 5 minutes.
If you have time, refrigerate overnight – it will give a firmer patty. Rice that has been frozen also works well. Alternatively, spreading it on a sheet pan and refrigerating it for a while will help dry and firm it up more quickly.
Combine chickpeas, half of rice mixture, ¼ tsp salt, green onions, herbs, spices, and lemon juice in a processor.
Pulse briefly until mashed and combined. Don't pulse too much – you don't want to puree.
Mix in rest of rice with a quick pulse.
Form patties – this recipe will make 5 burger-sized patties or about 8 smaller patties.
Heat a heavy skillet (cast iron works great) over medium high heat.
Coat pan generously with a good high temperature oil like safflower or rice bran.
Cook patties in batches, 2-3 minutes per side until well-browned. Cover pan for the first side and leave uncovered after flipping patties.