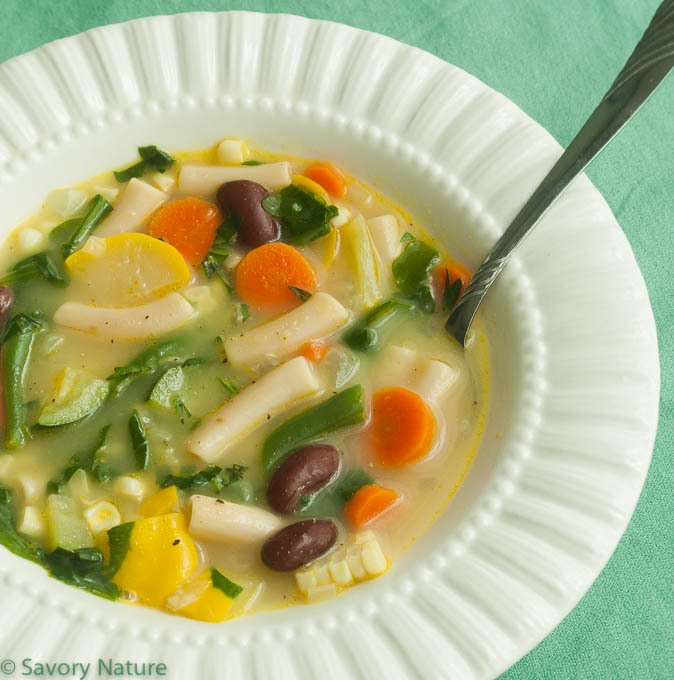 Even during the summer, there are bound to be a few of those dreary, rainy days when a hot bowl of soup just seems to hit the spot. A recent spell of such wet, stormy weather inspired this summer vegetable soup recipe. It's kind of a fresh summer take on minestrone. The vegetables don't cook long so they keep their fresh from the garden color and flavor. The amounts and types of vegetables aren't written in stone – there's plenty of room for variation. If you like, you could throw in some fresh tomatoes. We really liked the baby arugula in this soup – it's just a little peppery, but has a lighter flavor than many other greens and keeps its shape better. Spinach or other greens could work nicely, too though.
This Summer Vegetable Soup can be vegan/vegetarian or you can augment it with a little meat.
This soup makes a great Meatless Monday supper. I could eat vegetarian a lot, but hubby's hard to convince sometimes. The first time I made this, he sautéed some sliced kielbasa – we found some nitrate and soy free kielbasa from Simple Truth at Kroger – and that was nice in this, too. Either way – vegetarian or not – this soup makes a satisfying meal.
Enjoy this fresh summer vegetable soup next time the weather chases you indoors.

Summer Vegetable Soup
Ingredients
1 ½ Tbsp extra virgin olive oil
1 small yellow onion, chopped
3 carrots, peeled and sliced
2 cloves garlic, minced
32 oz vegetable stock (or chicken stock)
3 cups water
½ tsp salt
freshly ground pepper
¾ cup gluten free pasta (like penne or shells)
1 can kidney beans, rinsed and drained
1 medium zucchini, quartered lengthwise, then sliced
1 medium yellow squash, quartered lengthwise, then sliced
(Or any combination of summer squashes – patty pan, eight ball, zephyr)
1 ear of corn, corn kernels cut from cob
1 cup fresh green beans, ends trimmed and cut in 1 inch lengths
⅓ cup packed baby arugula
2 Tbsp chopped fresh basil and/or parsley
Instructions
Heat 1 ½ Tbsp extra virgin olive oil over medium heat in a large pot.
Add chopped onion and carrot and sauté about 3 minutes until onion is soft.
Add minced garlic and sauté about 30 seconds to a minute until aroma comes.
Add stock and water and bring to a boil.
Add pasta and boil gently.
When there are 5 minutes left for the required pasta cooking time (according to the package) add the beans and vegetables and half the herbs.
Boil gently 5 minutes, add the rest of the herbs, taste, adjust salt and pepper if necessary and serve.