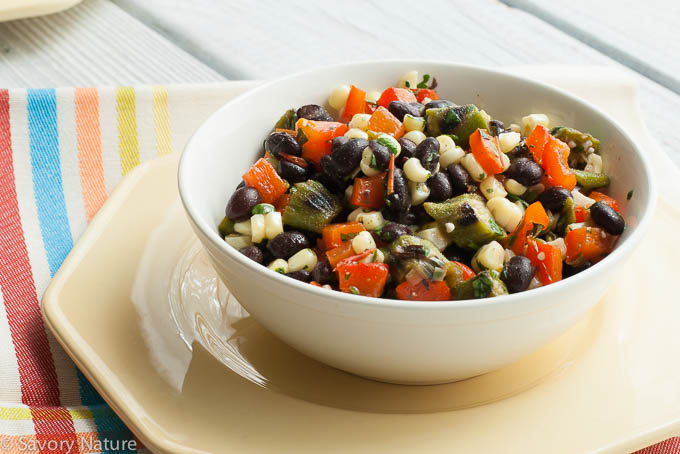 I'm continuing my vegetable grilling binge ☺ with this Grilled Summer Vegetable and Black Bean Salad. I love the smoky flavor the grilled vegetables have in this salad!
Take this Grilled Summer Vegetable and Black Bean Salad recipe as a guide and play with it to make it your own!
I've chosen to use corn, sweet red and jalapeno peppers, okra, and green onions, but… there are all sorts of variations you could make, like using some summer squash or green beans, in addition to or in place of some of the fresh vegetables. You could grill some yellow or red onion wedges. You could substitute other beans, like kidney beans or chickpeas, or you could even leave the beans out altogether if you want something lighter. Use what's available or what you like – it's that woodsy grilled flavor and the cumin spiced dressing that really make this salad stand out!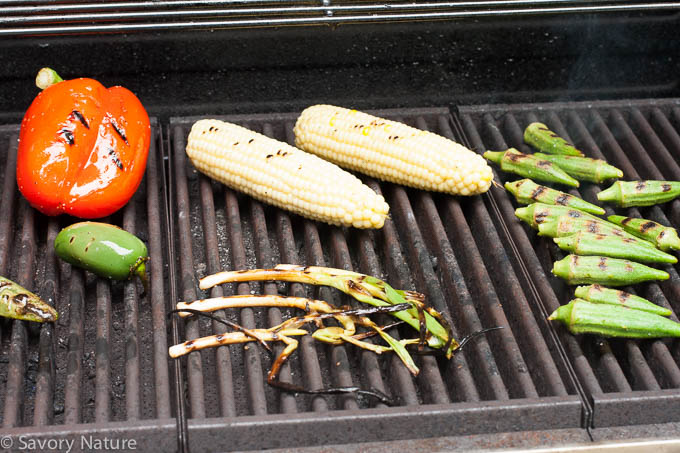 This Grilled Summer Vegetable and Black Bean Salad is so easy to make!
Just toss all the veggies with some oil, salt and pepper, and throw them on the grill together. The times will vary. The green onions only need about a minute per side  (they went too long for the sake of getting everything in the picture above ☹ ). The okra goes about 4 minutes per side, and the peppers and corn about 10-12 minutes rotating them frequently. Just pull things off once they've got some char on all sides. Let the veggies cool enough to handle, then chop and mix with the beans, dressing, and cilantro.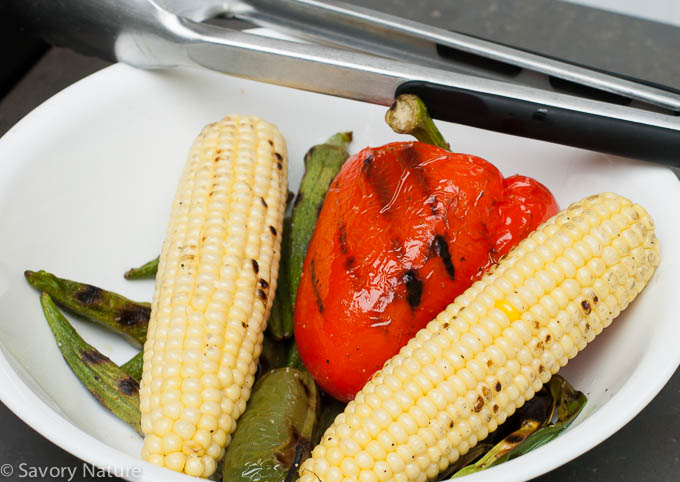 This salad is starchy enough to be filling, but not overly so, plenty of fiber, plenty of color and phytonutrients, and all those complementary flavors. It really fills out a meal. We didn't even bother with any other sides when we had it. Just the vegetable bean salad and some ribs – totally satisfying!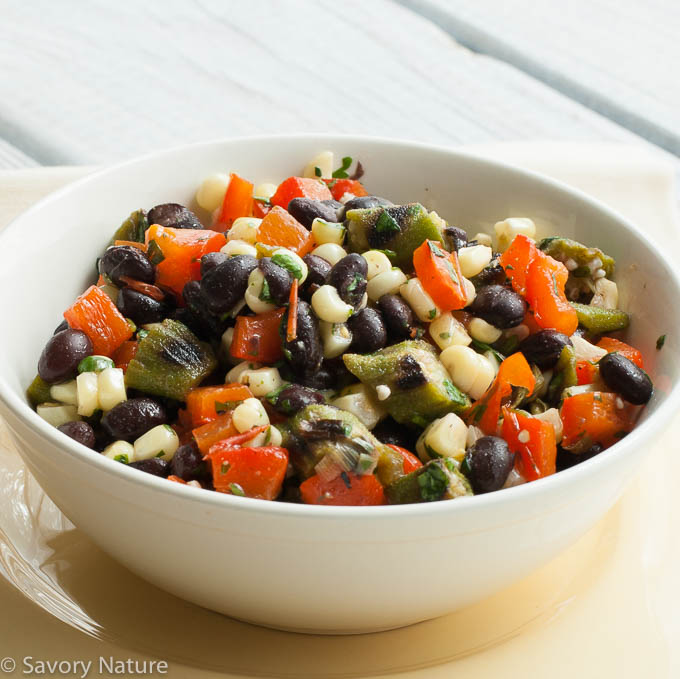 Grilling's not just for meat. You'll be amazed how it gives summer vegetables a whole new dimension!

Grilled Summer Vegetable and Black Bean Salad
Ingredients
Dressing
2 Tbsp canola oil
¼ tsp ground cumin seed
1 Tbsp apple cider vinegar
1 Tbsp fresh lime juice
¼ tsp salt or more to taste
freshly ground pepper
Vegetables
2 ears corn, husks removed
12 okra pods
2 jalapeno peppers
1 red bell pepper
6 green onions
2 Tbsp high temperature cooking oil like rice bran or safflower
½ tsp salt
freshly ground black pepper to taste
1 14-oz can black beans, rinsed and drained
2 Tbsp finely chopped fresh cilantro
Instructions
Heat grill on high.
Mix 2 Tbsp canola oil with cumin and microwave on high 1 minute (to heat the oil and get the cumin to release its flavor into the oil).
Add cider vinegar, lime juice, salt and pepper and set aside.
Rinse black beans and let drain.
Wash fresh vegetables, pat dry and place in a large mixing bowl.
Drizzle with 2 Tbsp high temperature oil, ½ tsp salt and pepper and toss to coat well. (I found it easier to do without the corn, and then pushed the other veggies aside and rubbed the excess oil in the bottom of the bowl on the corn.)
Place oiled veggies on preheated grill and grill with cover down until charred on all sides. (Green onions only go about 1 min per side, okra 4 min per side, corn and pepper about 10-12 minutes rotating every few minutes. We're not going for the puffed and blackened all over method of grilling peppers where you discard the skin – we're going to keep the lightly charred skin and all its smoky goodness.)
Let veggies cool enough to handle.
Cut tops off peppers, remove seeds and chop.
Slice kernels off corn cobs (and discard cobs or use for a stock).
Slice off stem ends of okra pods and slice okra into about ¼-inch thick circles.
Slice green onions – if any green tips are totally burned like paper you can discard those parts.
Combine grilled vegetables, beans and cilantro.
Stir dressing well to remix cumin and pour over vegetables. Toss well, taste, and adjust salt and pepper to your liking. Serve or refrigerate. (I think the flavors come through better if you let it get back to room temperature before serving.)