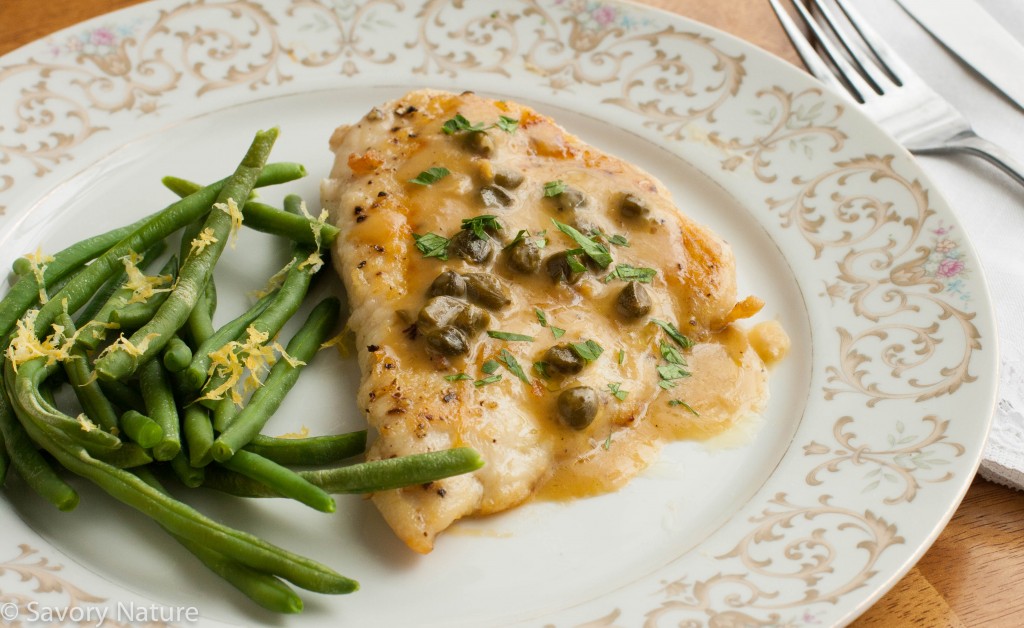 Chicken Piccata is one of my daughter's favorite dishes. She pretty much loves anything with capers. Put them in a lemony glossy sauce over perfectly tender browned chicken and you've got a winning combination!
Sweet rice flour helps brown the gluten free chicken piccata and thickens the sauce.
Usually chicken piccata contains gluten and dairy: gluten from the flour coating and dairy because the sauce is finished with butter. Fortunately it's quite easy to make it gluten and dairy free and it's just as delicious and beautiful! Sweet rice flour substitutes for wheat flour coating the chicken and also helps thicken the sauce.
Gluten free chicken piccata is fairly quick and simple to make!
The chicken is cut in half horizontally and then pounded to give thin tender cutlets. Then it's dredged in sweet rice flour (also called glutinous rice flour and found at Asian markets) and browned in a hot skillet with a little extra virgin olive oil and margarine. Remove the chicken, deglaze the pan with white wine and then add chicken stock mixed with sweet rice flour, juice from one lemon and the capers. Stir it up, add the chicken back and simmer covered a few minutes to cook the chicken through and thicken the sauce.
Gluten free chicken piccata is quick enough for a week night, fancy enough for company. It pairs nicely with green beans sprinkled with some zest from the lemon.

Gluten Free Chicken Piccata
Ingredients
2 chicken breasts
¼ cup sweet rice flour (also called glutinous rice flour, found in Asian markets) Retain ½ Tbsp for thickening sauce.
Salt and pepper to taste
1 ½ Tbsp margarine (Earth Balance is a good dairy-free choice)
1 ½ Tbsp extra virgin olive oil
¼ cup white wine
2 Tbsp capers, drained
¾ cup chicken stock
Juice from one lemon
1 Tbsp chopped parsley
Instructions
Trim fat from chicken breasts and slice through horizontally to give 2 thinner cutlets from each breast.
Lay out cutlets. Cover with plastic wrap and pound to about ⅜ inch thick.
Heat oil and margarine in a large skillet.
Dredge chicken in sweet rice flour in a shallow bowl and place in skillet.
Sprinkle chicken with salt and pepper.
Let brown on bottom side. Then flip and brown on other side.
Remove to a plate.
Pour wine and capers into pan and simmer scraping up browned bits on bottom of pan until reduced by half.
Mix lemon juice, chicken stock and sweet rice flour. Stir to make uniform mix.
Stir stock mixture into pan.
Add chicken back to pan.
Reduce heat and simmer covered 3-5 minutes until chicken is cooked through.
Put chicken on a plate.
Boil down sauce if necessary to thicken a bit.
Pour over chicken, sprinkle with parsley, and serve.