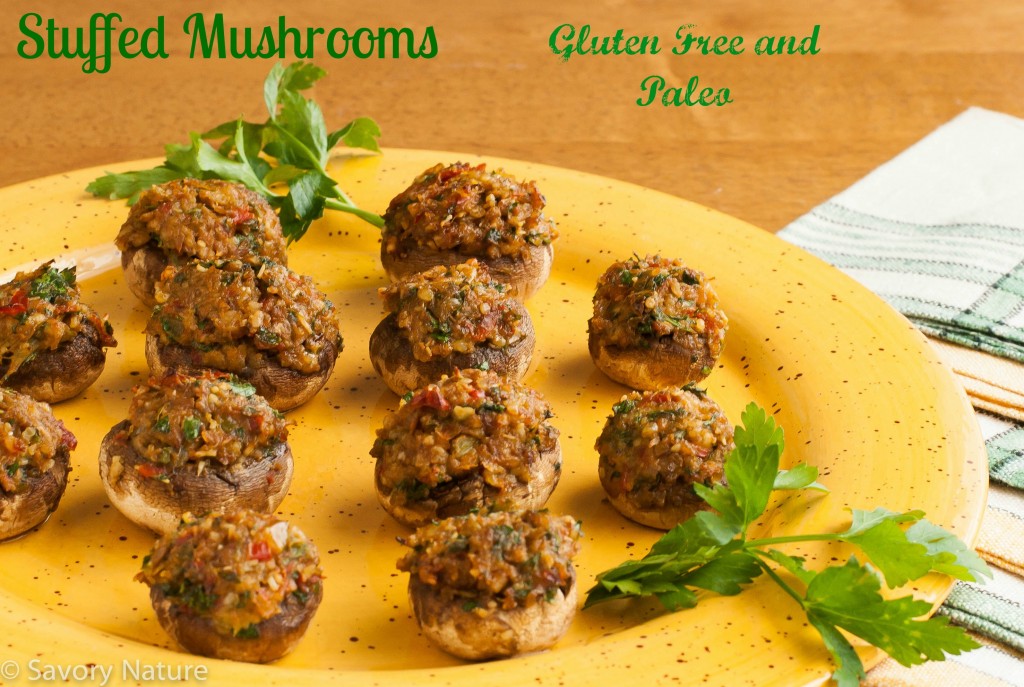 It's become somewhat of a tradition in our house, to decorate the Christmas tree together, while enjoying "snack dinner", basically appetizers. This year our spread included hummus stuffed jalapenos, polenta rounds with olive tapenade and salami/prosciutto, and stuffed mushrooms. I requested Christmas music, but the family managed to put me off on that – heard too much around the malls! It was a joyous good time, nonetheless!
Eating your veggies is a pleasure with these sumptuous stuffed mushrooms!
Stuffed mushrooms are a great way to get some veggies into the appetizer mix, but in a decadent way. Pine nuts add a richness and celery, peppers, onions, garlic, and Worcestershire and seafood seasoning jazz up the mix. And they're naturally gluten free, dairy free and paleo.
Worcester sauce doesn't have to contain soy.
My daughter is allergic to soy, which precludes Worcestershire sauce, but I discovered a Worcestershire sauce powder at Savory Spice Shop that is soy free – if you don't have one nearby, you can order from them online. And I'm not being paid anything to promote them, but love their fresh spices , herbs and blends at bargain prices.
Anyway, these stuffed mushrooms are delectable! They disappeared in a hurry!

Stuffed Mushrooms – Gluten Free and Paleo
Serves:
About 10 mushrooms
Ingredients
10 oz white mushrooms
¼ of a red bell pepper
¼ of a green pepper
½ of an onion
1 stalk of celery
¼ cup pine nuts
1 Tbsp olive oil
1 large garlic clove, minced
½ tsp seafood seasoning (like Old Bay)
1 tsp Worcestershire sauce (or ½ tsp Worcestershire powder from Savory Spice Shop for a soy free version)
½ tsp salt
freshly ground black pepper to taste
⅛ tsp cayenne pepper (optional)
2 Tbsp finely chopped parsley
Instructions
Preheat oven to 350 degrees F.
Wipe mushrooms clean if necessary.
Trim end of mushroom stems.
Remove mushroom stems and add to processor.
Coarsely cut up peppers, onion, and celery and add to processor.
Add pine nuts to processor and pulse just a few times to finely chop mixture.
Heat olive oil in a medium skillet over medium high heat and add vegetable mixture.
Season with seafood seasoning, Worcestershire, salt, pepper and cayenne pepper if desired.
Cook stirring 4-5 minutes until vegetables are tender and have released some moisture.
Mix in parsley.
Stuff mushroom caps generously with vegetable mixture and bake on an oven safe plate for 20 minutes until tender.