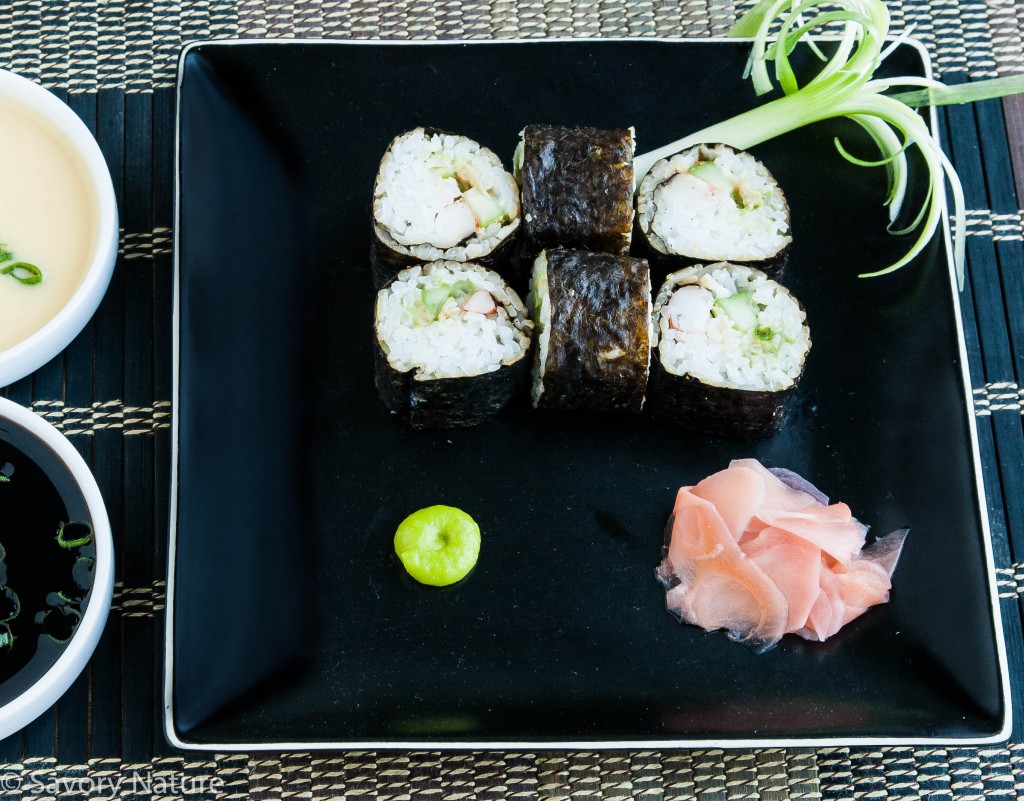 Like to order sushi? Well, it's a little time-consuming, but not hard to make at home. It's a bit of work so we don't do it often, but it's become a fun part of our New Year's Eve celebration. We like to do finger foods that are something a little special.
Pick your favorite sushi fillings!
Sushi is comprised of sushi rice (sticky short grained rice flavored with sweetened vinegar) rolled up with fish or meat and/or vegetables in toasted seaweed. For our version we usually use cooked shrimp, green onions, cucumber and avocado. You can let your imagination run wild with the vegetables: zucchini and carrot strips are a couple suggestions. If you want to try raw fish here's a link about types of fish that can be eaten raw and safely treating them. There is always some risk of illness with raw fish.
Chickpea miso sauce is a good alternative to soy sauce for those with soy allergy.
Sushi is typically served with pickled ginger, wasabi paste and soy sauce. We add a chickpea miso sauce for our soy allergic daughter. Chickpea miso can be found at Whole Foods or ordered from Miso Master.
The whole procedure with how-to pictures is given below in the recipe. Feel free to vary the fillings. And we wish you health and happiness in the New Year!

How to Make Sushi
Serves:
6 rolls or 36-48 pieces
Ingredients
Sushi Rice
2 cups short grain or sushi rice
2 cups water
½ cup rice vinegar
¼ cup sugar
1 Tbsp salt
Fillings
About ¾ lb shrimp cooked (add to boiling water and boil about 2 minutes until it turns pink), peeled and deveined
Cucumber, peeled, seeded and sliced thinly lengthwise
Green onion, sliced thinly lengthwise
Avocado, halved, pit removed, scooped from peel and, thinly sliced lengthwise
There are lots of other possibilities – let your imagination run wild!
Instructions
Sushi Rice
Rinse rice well under running water in a strainer until no more starch rinses off.
Combine rice and 2 cups water in a pan and bring to a boil.
Cover, reduce heat and simmer 15 minutes. Check if water is all absorbed. If not simmer up to 5 more minutes.
Let sit covered for 10 minutes.
Mix rice vinegar, sugar and salt and microwave 30 sec to 1 min to dissolve sugar.
Put rice in a large non-metal bowl and sprinkle sweetened vinegar over it.
Use a flat wooden spoon or sushi paddle to gently mix in the vinegar solution.
Filling and Rolling
Place Nori (toasted seaweed sheet) rough side up on a slightly dampened sushi mat.
Keep a small bowl with water and rice vinegar to keep your fingers moistened while handling the sticky rice.
Spread a layer of cooked and seasoned rice over nori leaving about half inch border close to you and 1 ½ inch border at far end of mat. Do not press the rice down – you want the individual grains to be distinguishable.
Starting near the close end make lines of each filling on the rice.
To roll, use your thumbs to lift the middle of mat edge near you and use your fingers to tuck the edge of the nori in past the fillings.
Use the mat to roll the nori and filling tightly and seal the edge.
Slice in 6-8 pieces with a slightly wet knife, wiping the knife between each slice.
Serve fresh with pickled ginger, wasabi paste and gluten free soy sauce.
We also make a sauce from 1 Tbsp chick pea miso and 2 Tbsp water to mimic soy sauce for my soy allergic daughter.