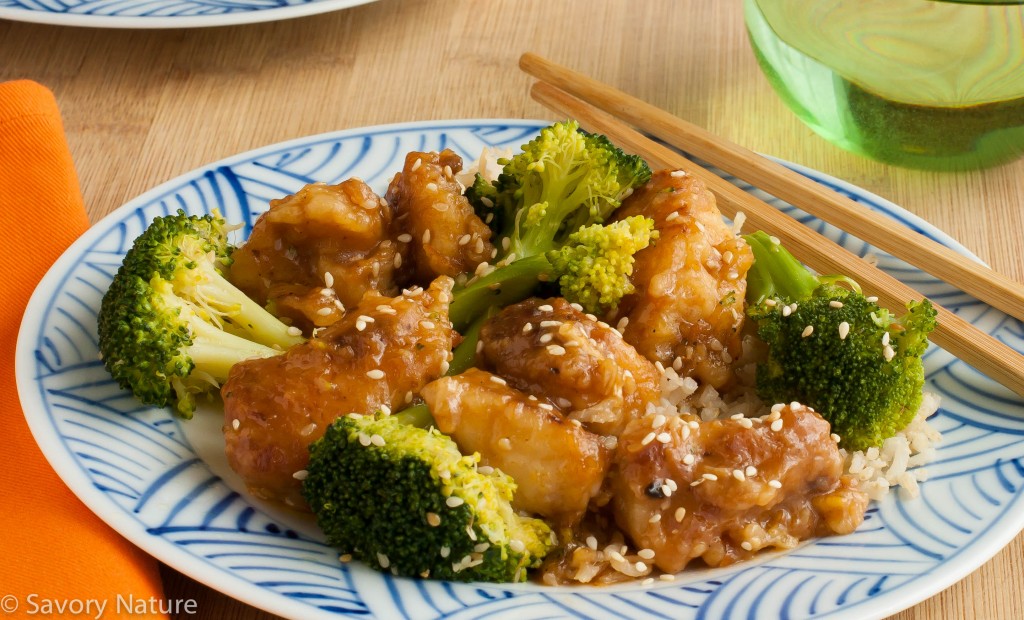 I've been developing this Gluten Free Orange Sesame Chicken recipe for a while and my family has been more than happy to eat every iteration of it! It's a little reminiscent of General Tso's chicken and was kind of inspired by both a General Tso's chicken post by Kenji Alt-Lopez at Serious Eats and a Green Beans with Sriracha Orange Glaze by Elise Bauer at Simply Recipes, two of my favorite food blogs. I pan fry the cornstarch and rice flour-coated chicken to minimize oil absorption. It still fries up nice and crunchy and the spicy sweet sauce is luscious.
You can make this Gluten Free Orange Sesame Chicken soy free or not depending on food allergies.
The chicken marinates in miso (or soy sauce), sherry, egg white, baking soda and cornstarch, which flavors as well as tenderizes the meat. I use chickpea miso both in the marinade and the sauce to make this recipe soy free for my allergic daughter, but gluten free soy sauce can be substituted.
Adding some stir-fried broccoli and serving over rice makes this Gluten Free Orange Sesame Chicken a delightful full meal.

Gluten Free Orange Sesame Chicken
Ingredients
1 ½ lbs boneless, skinless chicken breasts, cut into bite-sized cubes
1 bunch or 3 crowns fresh broccoli, cut up
4 green onions, chopped
2 Tbsp toasted white sesame seeds
2 Tbsp plus ½ cup divided, good high temperature cooking oil like safflower or rice bran oil.
Marinade
1 egg white
1 Tbsp chickpea miso (or 1 Tbsp gluten free soy sauce)
3 Tbsp dry sherry
¼ tsp baking soda
3 Tbsp corn starch
Flour Coating
½ cup white rice flour
½ cup cornstarch
½ tsp baking powder
½ tsp salt
Sauce
¾ cup orange marmalade
2 Tbsp Sriracha
1 Tbsp chickpea miso (or gluten free soy sauce)
1 Tbsp fish sauce
1 Tbsp sesame oil
1 cup chicken stock
2 Tbsp cornstarch
Instructions
Whisk egg white until frothy in a large bowl.
Add rest of marinade ingredients and whisk until smooth. Toss chicken in marinade and refrigerate a half hour.
Mix the sauce ingredients in a medium bowl.
Mix the flour coating ingredients in a medium bowl.
Heat 2 Tbsp oil in a large skillet over medium high heat.
Add broccoli and stir-fry 4 minutes. (It should still be crisp.)
Remove to a bowl.
Add ¼ cup oil to pan and heat on medium high heat.
Cook chicken in 2 batches.
Remove chicken pieces from marinade, dredge in flour mixture to coat well and place into hot oil. Wait until the chicken pieces are browned on the bottom, about 2 minutes. Then turn and brown the other side. Remove chicken to a sheet pan lined with paper towels to drain.
Add another ¼ cup oil and cook second batch. Remove to paper towel-lined pan.
Add sauce to pan and heat to boiling, scraping the bottom to get up any browned bits.
Add broccoli back to pan, turn down heat, cover and simmer 3 minutes.
Add chicken, green onions, and sesame seeds, recover and simmer about 2 minutes until chicken is heated and cooked through.
Serve over rice.